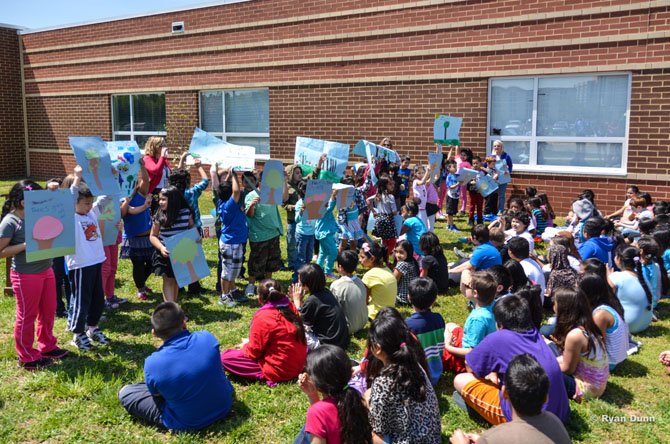 On April 26, Hutchison Elementary School in Herndon celebrated Arbor Day by planting a dogwood tree on the school grounds. The tree planting ceremony was attended by teachers and students from the third and fourth grade classes in addition to several guests.
Principal Judy Baldwin welcomed everyone to the event. Grade school students who had made posters celebrating Arbor Day were invited to stand up and display their work. Baldwin then introduced Herndon Town Forester John Dudzinsky, who has served the Town of Herndon for 24 years.
"It is very important that we take care of our trees and environment," said Dudzinsky.
Town council member Sheila Olem, whose children had attended Hutchison Elementary School, also spoke at the ceremony.
Jim McGlone, urban forest conservationist at the Virginia Department of Forestry, spoke about the Tree City USA awards and the requirements towns and cities must complete to achieve it. McGlone said Herndon had successfully met these requirements for its 24th year. McGlone announced, "You guys are part of Tree City USA so you should give yourselves a round of applause!" A Tree City USA flag was unraveled and presented to Dudzinsky.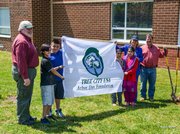 Dudzinsky and several students and teachers completed planting the tree. The flowering dogwood is the official flower and tree for the Commonwealth of Virginia. After the ceremony, students in the fourth grade classes were given a tree seedling.
Hutchinson Elementary has been aided in its efforts to make students environmentally aware through funding from the Time Warner Cable STEM (science, technology, engineering and math) program. "This has been the first tree planting ceremony we have had in collaboration with the Town of Herndon," said Principal Baldwin. "It is the first tree planting since we began the STEM program."
Time Warner Cable has been active in promoting nature awareness at Hutchison. Representing Time Warner Cable, Melissa Sokban said, "I am very excited about the Go Green Team we have here at Hutchison," said Sokban. "We are developing a garden, brought some Go Green speakers … and I have hopes we can develop some academic challenges such as a science contest."