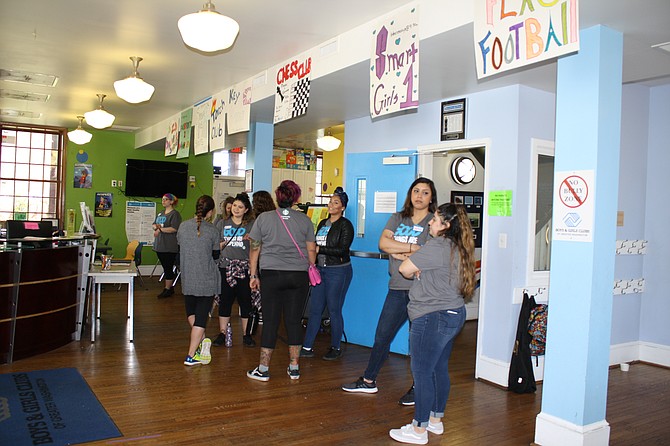 When Alston Waller was 5 years old, he first attended activities at the Dunbar Alexandria-Olympic Boys & Girls Club in Alexandria benefitting from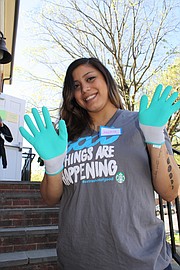 their mentoring even at that young age. Fast forward two decades and he is now the branch director at its location on North Payne Street, helping children in the area and providing a role model.
On April 10, he welcomed the group from Starbucks for the fifth year in a row to perform a "beautification project" on the facility as part of the City of Alexandria's "Spring2Action," event presented by ACT for Alexandria. He recognized some of the faces from years past. He called the group: "Another family."
They lucked out with a sunny day to plant bushes and shrubs outside, fix some of the club's dilapidated bicycles, and neaten some of the rooms inside in time for the 80-100 children that come to the club after school every day. Through the years, the Boys & Girls Club helped him overcome challenges that come from growing up in a lower income situation, and help pave the way for him to go to college. "They gave me my first care package for college," Waller said.
As Waller addressed the volunteers in the game room, he talked about the role-playing activities they do. "We do real-time situational activities" and told them about his history at the club. He mentioned the number of stories he hears from the youths about becoming pro football and basketball players that differ widely from reality in these children's lives, just as when he was growing up. "These are the real stories they need to hear," he said.
The Starbucks group divided up and took on various tasks. "When the kids get off the bus today, it will be totally different," said Mike Menchel, a volunteer who spends much time at the club.
For the Starbucks employees, who came from the Springfield, Kingstowne, Falls Church and Beacon Mall stores, it was part of the company's "Global Month of Service." There were 28 volunteers in all.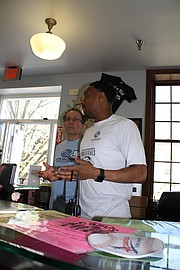 "I thought this was a perfect fit," said Jodi Hanaity, manager of the Springfield store on Frontier Drive. "I'm really good at house repairs," added Hannah Blackerby, a shift supervisor from the Beacon Mall store in the Fairfax County part of Alexandria. Mike Eckstone from Bailey's Crossroads had done this a few years before and took to the front garden, even though he does not have a green thumb. "We'll throw on some new mulch," he said.
The club in Alexandria is part of the Boys & Girls Clubs of Greater Washington which adheres to the motto "Great Futures Start Here." Activities include Standards of Learning Tutoring, Money Matters, Keystone Club, Sports, and Life Skills Training. The front room in Alexandria had signs for such activities as chess club, basketball, board games and XBox. There is a gym in the basement as well.