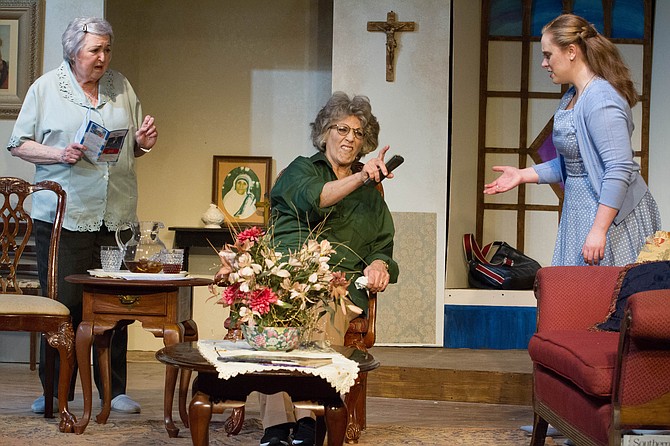 The Little Theatre of Alexandria (LTA) is presenting "The Savannah Disputation" from April 27 to May 18. Written by Evan Smith, the subject is damnation, but the show is as light and sweet as the iced tea served by the odd-couple sisters in their proper Southern home. But the sisters quickly lose their Southern charm when a young door-to-door evangelist comes knocking to save their souls. This theological comedy with a twist blends the sharpness of wit with the depth of character while telling a story of a crisis of faith.
As a director, Will Jarred said he found the subject matter compelling. "I have always been intrigued by the ways in which various denominations 'weaponize' the Bible toward their agenda and points of view. I like the way in which the subject matter was treated with humor and humanity. I also appreciated the opportunity to direct a show that featured strong senior women — not too many roles out there for that demographic," he said.
He said the biggest challenge is hopping into a creative project with a relatively unknown play and a new production team. "Will people come out to see a show they may not be familiar with? Will the subject matter be a turnoff? What can I expect in terms of talent and expertise to pull it all off? The staff and volunteers at LTA have been terrific partners in bringing this show to life, and I've been thrilled to work with such talented cast, crew and production team," he added.
Added co-producer Lynn O'Connell: "I find this short, sweet comedy a perfect evening's escape from today's real world of government shutdowns, political sex (and other) scandals, and computer glitches such as the one that 'likely' started the fire at Notre Dame. While the theme of the play seems to be religion, it really isn't. The theme is community and the importance of belonging and not being alone. And, at the end of this show, audience members will feel warmth and empathy for all four of the show's characters — Mary, Margaret, Melissa and Father Murphy. Besides, who doesn't love a show that is only 90 minutes long — and set in the beauty of Savannah, Georgia?" she said. The other co-producer is Kevin O'Dowd.
O'Connell said what she was trying to accomplish was: "Really an evening of relaxation and laughter with a subtle message, demonstrating that all of us are valued members of our community regardless of our religion, our marital status, or our individual personality quirks."
Patricia Smith plays the role of Margaret, a sweet, friendly older woman who is facing some challenges in her life. "She spends most of her time at home and is eager to make new friends. She is also curious about what lies ahead. She has had difficulties in her life that she carries within her. She doesn't share her troubles with others, but tries to manage them by herself. She is mainly easy going, but can be stubborn when something is important to her," she said.
She added: "The main challenges were keeping Margaret 'real,' and showing her many facets. This character is very reactive to the others. It is even more important than usual to always be in the moment."
Mary Jo Morgan plays the role of Mary, whose life has been hard and who does not fail to make sure everyone experiences her pain. "Mary knows a little kindness goes a long way but a little meanness goes a lot further — and she is determined to make it go as far as she can. With the freedom that elderly Southern women demand, Mary does not hold back her feelings but her rigidity gets questioned and her vulnerability exposed," she said.
"We see the essence of Mary is loneliness. But then that is also the essence of Margaret, Melissa and Father Murphy and maybe everyone. Funny, maybe everyone is trying to connect in some way — through religion, theatre, sports, literature, art, science, education, business; maybe everything is really just about connection," she said.
Ashley Amidon is playing the role of Melissa, a young(ish) evangelical who goes door to door. "She's not perfect, but she truly believes what she says; it's her rare sort of earnestness that initially attracted me to the character honestly. She is so passionate and so grounded in her belief of what is right and wrong that even when I disagree with what she says, I recognize the place it comes from," she said.
She added: "It is very much a show about belief: what we believe, how we hold on to it or don't, and how we react when others challenge what we think. It's fascinating, but I will admit I struggled with some of the dialogue initially because my character is so very rooted in what she thinks, and finds it hard to see any other side. I'm a lobbyist by day, and I am literally paid to see all sides to an issue and try to find a compromise, so this very right or wrong with no middle ground dichotomy Melissa employs was hard for me."
The Little Theatre of Alexandria (LTA) is presenting "The Savannah Disputation" from April 27 to May 18. Show times are Wednesdays through Saturdays at 8 p.m.; Sundays at 3 p.m. Tickets are $21 to $24. The venue is located at 600 Wolfe St., Alexandria. Visit www.thelittletheatre.com.