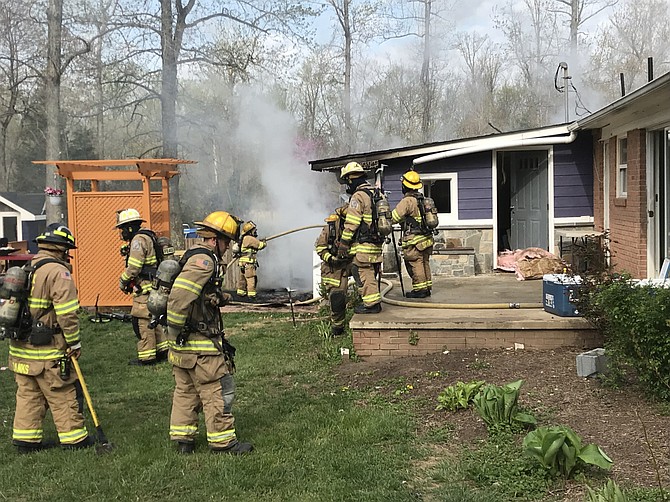 On Wednesday, April 17, at 9:16 a.m., units from Fairfax County Fire and Rescue and the City of Fairfax Fire Department were dispatched for a reported house fire in the 12000 block of Washington Street in the Fairfax area of Fairfax County.
Units arrived on scene of a one-story, single family house with fire showing from the rear of the home. Units quickly worked to extinguish the fire. There was some minor extension into the roof and attic. There were no reported civilian or firefighter injuries.
No one was home at the time of the fire. The fire was discovered by one of the occupants upon returning home who then called 9-1-1. There were no working smoke alarms present in the home.
Fire Investigators determined that the fire was accidental in nature and started on the exterior of the house. The cause of the fire was the improper disposal of smoking materials.
Three occupants were displaced because of the fire. Red Cross assistance was offered and declined. Damages as a result of the fire were approximately $18,750.
So far in 2019, there have been ten significant fires caused by improperly discarded smoking materials. Monetary damages for the ten fires is approximately $933,713.
All ten fires were totally preventable! Spring Into Safety and "Sink It or Soak It!"
If you smoke, take a moment to learn how to prevent starting a fire. Fairfax County Fire and Rescue Department urges all residents who smoke to "Sink It or Soak It!" and prevent careless fires.
Never dispose of cigarette butts in potted planting soil. The soil, when it gets too dry, can become highly flammable.
Never flick cigarettes into mulch or shrubbery. Dispose of them in a suitable ashtray or bucket with sand. Ensure designated outside smoking areas have an appropriate fireproof container, ashtray or bucket.
Completely douse butts and ashes with water before throwing them away, as they can smolder and cause a fire.
Never smoke in bed.
Provide large, deep ashtrays with a center support for smokers. Check furniture for any dropped ashes before going to bed. Empty ashes into a fireproof container with water and sand.
Keep smoking materials away from anything that can burn (i.e. mattresses, bedding, upholstered furniture, draperies, etc.).
Never smoke in a home where oxygen is being used.
If you smoke, choose fire-safe cigarettes. They are less likely to cause fires.
To prevent a deadly cigarette fire, you must be alert. You won't be if you are sleepy, have been drinking, or have taken medicine or other drugs.
Keep matches and lighters up high, out of children's sight and reach.