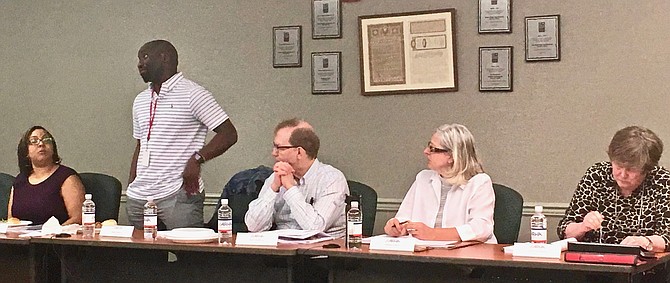 The recent appointment of a new public housing resident to the housing authority's governing board illustrated a selection process in which public housing residents don't have any binding say.
The Alexandria Redevelopment and Housing Authority — ARHA — is one of about 3,800 local housing authorities nationwide, including 40 in Virginia. ARHA administers federal housing programs, including public housing and "Section 8" vouchers, for some 2,700 Alexandria households.
Though it oversees federal resources, its chartered by the state and governed locally by a board of nine commissioners, serving staggered four-year terms, appointed by City Council. Federal law requires that council reserve at least one of those appointments for a resident who receives direct assistance from ARHA.
Council appointed Kevin Harris as the newest commissioner to fill that seat on Tuesday, April 9. Harris serves as president of the ARHA Resident Association, an independent organization representing public housing tenants, recently reconstituted after years of inactivity. He lives in Old Town with his wife and children.
But the previous public housing resident commissioner's term ended two months earlier, in February. Council deferred its decision on a new appointment twice while it cleared up confusion about the degree to which the Resident Association has a say in the matter.
Harris and incumbent Chyrell Bucksell vied for the open seat, but with competing endorsements. Five sitting commissioners and nine public housing residents at large wrote to council favoring Bucksell, according to electronic correspondence obtained under the Freedom of Information Act. On the other hand, the Resident Association's "City-Wide" officers (its central leadership), elected representatives or other officers from five public housing sites and 32 public housing residents at large wrote favoring Harris. No board member endorsed Harris and no one identifying him/herself as a Resident Association affiliate endorsed Bucksell.
Alexandria's practice has changed over time. A 1995 city resolution said that the public housing resident commissioner would "be selected by the Resident Council [Association] and appointed by City Council." That echoes how council currently makes appointments to a handful of other commissions: "members who are a representative of an organization shall be nominated by [their] organization and confirmed by City Council," according to the City Code.
A 2010 city resolution, which passed unanimously, changed the process. Council now appoints the public housing resident commissioner "without regard to selection by the Resident Council."
Organized public housing residents could petition the council to appoint someone in particular, but no more or less than any other citizen or group.
At the time, the resident organization had fallen defunct. Additionally, "quality of candidates / lack thereof" drove council's reasoning for the change, according to then-Councilman Rob Krupicka.
"As with most boards, getting good candidates for narrowly defined spots is tricky," he told Mayor Justin Wilson.
In the present case, council appointed the Resident Association's endorsee, but they didn't have to. Its April 9 decision reaffirmed that it was made "without regard to selection by the Resident Council."
Though under the same federal parameters, not all municipalities and housing authorities do things the same way.
In 1994, under then-Mayor Marc Morial, the Housing Authority of New Orleans' board comprised a majority of seats — four of seven — reserved for public housing residents. While the number has since been reduced to two, New Orleans' residents exercise a binding say in who fills those positions. According to Louisiana state law: "The two tenant commissioners shall be chosen from a list of names [three for each seat, six total] submitted to the mayor by the Citywide Tenants Council, Inc., of the housing authority."
Resident leaders from 10 public housing sites nominate and vote for the list of six, according to Cynthia Wiggins, former president of the Citywide Tenant Association of New Orleans. She thinks this practice guards against city officials appointing public housing residents with whom they have rapport, but who may not be well enough informed to represent residents adequately.
No state or local housing authority policy delineates the residents' internal selection process, according to Gregg Fortner, New Orleans' housing authority director, though he recommends such policy's development. He also thinks the process should include not only public housing residents, but also "Section 8" voucher holders.
Fulfilling a campaign promise to appoint a majority board of public housing resident commissioners, Morial says he picked "established leaders," though not through a formal process. Commenting on New Orleans' current method of the mayor choosing from a resident-vetted list, he said: "Those changes are good because it ensures that these positions are not going to be just given out to someone's favorite person, who happens to be a [public housing] resident, but that there's going to be resident empowerment. … It's a balance between the mayor's appointing ability and the residents' recommending ability."
As in Alexandria, other Virginia jurisdictions leave commissioner appointment decisions entirely to the mayor or other elected officials, according to HUD regional spokesperson Lisa Wolfe.
But, like New Orleans, two reserve more than one commissioner seat for public housing residents. Charlottesville reserves two such seats, plus a third for a current or former resident of the city's "Section 8" voucher program. Richmond also reserves two seats for housing authority tenants.
"The HUD regulations require a resident to be on the board. They don't specify, necessarily, how that resident should be selected. The HUD regulations [as of 1998] do allow the housing authority to hold some form of election — if they would like — to choose this member," said Wilson.
He plans to consult ARHA's board about "different ways to select this position going forward, because I think there's probably some better practices than having the council choose who should represent residents on the board."