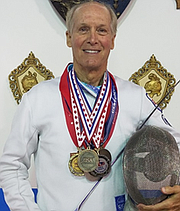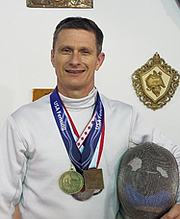 Springfield-based Virginia Academy of Fencing (VAF) has announced that two VAF fencers qualified for the 2019 Veterans Fencing World Championships taking place in Cairo, Egypt Oct. 5-11: Phil Sbarbaro of Vienna, a 3-time National Champion and Silver-Medalist at the recent US Fencing Association's (USFA) National Championships; and Chris Matt of Fairfax Station, a Gold-Medalist in the Men's Team Sabre and fifth place in the Veterans Men's 50-59 years events at Nationals. Both qualified due to impressive results after a tough year of USFA-sponsored national competitions.
Phil Sbarbaro of Vienna is a three-time National Champion sabre fencer who placed in the top eight in the world in 2008, 2011 and 2017 Veteran World Fencing Championships. This will be his seventh appearance at the World Championships representing the United States. Sbarbaro is a founding director of the National Fencing Foundation, a 501(c)3 non-profit based in Washington, D.C., dedicated to the academic and athletic advancement of underprivileged youth through the Olympic sport of fencing.
Sbarbaro holds a B.S. from Holy Cross College, an M.B.A. from Northwestern University, a J.D. from California Western University, and an LL.M. in Securities Law from Georgetown University. He served the country as a Second Lieutenant in the U.S. Army Reserve.
Chris Matt of Fairfax Station, a national medalist, has represented the United States at the Veterans Fencing World Championships three times from 2014-2016 prior to qualifying for the US Veterans fencing team again this year. After serving as a Naval Aviator flying the S-3B Viking, including during Operation Desert Shield, Matt entered the consulting profession and eventually became a small business owner. Matt holds both a B.S. in Systems Engineering and an M.B.A. from the University of Virginia.