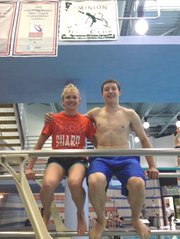 Dominion Dive Club, a top six nationally ranked USA Diving club, announced that two of its divers – current and former – have qualified for the 2012 USA Diving Olympic Trials.
Cory Bowersox, of Burke, and Kelli Stockton, of Fairfax, plan to compete in the USA Diving Olympic Trials June 19-24 in Federal Way, Wash. at the Weyerhaeuser King County Aquatic Center, located just outside of Seattle. Bowersox will be participating in the Men's 3-meter springboard event and Stockton will be participating in the Women's 10-meter platform event.
Bowersox is a graduating senior from James W. Robinson Secondary School and will be attending the University of Texas in Austin in the fall as a member of their dive team. Bowersox is a multiple Virgina State High School Champion, USA Diving Junior National Champion, and USA Diving Senior National Finalist.
Stockton just finished her freshman year at Virginia Polytechnic Institute and State University (Virginia Tech) under Ron Piemonte. At Olympic Trials, she is representing Dominion Dive Club and head coach John Appleman due to the fact that she qualified for the event while still a member of the team in 2011. Stockton won a Virginia State Championship during her time at Fairfax High School and was also a finalist at multiple USA Diving Junior and Senior National Championships.
Dominion Dive Club was founded in 2007 under Head Coach John Appleman. The team consists of over 140 local area divers ranging from ages 5-18. Since 2007, Dominion Dive Club has produced 12 National Champions, two Olympic Trials Qualifiers, two medalists in International Competition and 23 National Finalists. Dominion Dive Club is currently ranked as a top six USA Diving Club in the entire United Sates.