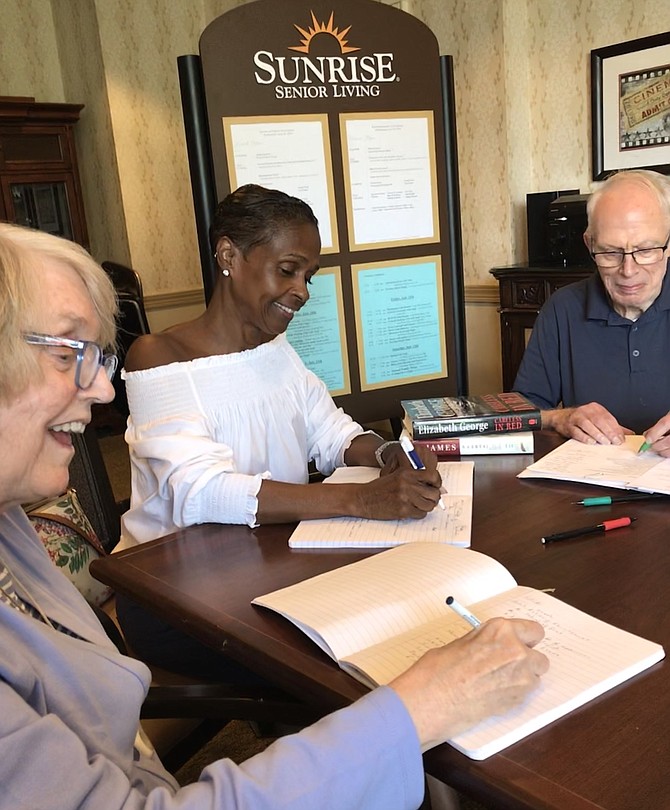 Pat O'Dwyer and John W. Beach of Reston are Sunrise Scribes. They are also advocates, championing the call for all generations to come and join them in the Writers Workshop Series and panel discussion program, Creative Conversations. Sunrise at Reston Town Center, Reston hosts the series.
O'Dwyer, Beach and most other Sunrise Scribes are members of the Silent Generation, born within the years 1925-1945 or the Baby Boomer Generation, born 1946-1964. However, O'Dwyer and Beach are not silent, especially when writing.
THEY BRING UP MEMORIES they have not thought about in decades and share them with other scribes, powerful messages based on experience and knowledge, according to Kristin Clark Taylor, founder and facilitator of the Writers Workshop Series and Creative Conversations.
Meanwhile, O'Dwyer and Beach push for all ages to join them and others of the Silent and Boomer generations, with the goal of five generations, their two and Gen X born between 1965-1979, Millennial born between 1980-1994 and Gen Z born 1995-2015, especially Gen Z, writing together and learning from each other through creative, intellectual and respectful dialogue.
O'Dwyer, Beach and Taylor discussed the programs' supportive environments and cross-generational benefits; qualifiers others might consider if joining.
"I think it would be interesting if teens came," said O'Dwyer. She said that during her first year as an educator, she worked as a teacher at a residential treatment center for disturbed boys. She recalled that while teaching, she needed to be patient, non-judgmental and supportive. What O'Dwyer wanted then, she said, "Was for the boys to come to their own truths." According to Taylor, the Writers Workshop Series provides a similar safe place, without judgment. "Here, we develop writing skills and share works with others in a trusting, creative environment," Taylor said.
Beach concurred with O'Dwyer about integrating younger people into the program and the need for a supportive atmosphere. He also agreed with Taylor on the need to give seniors their voices back and bridge the gap between generations as he had a message to share. "I am hopeful that my over 65 years of government service can be shared with the coming generations. Government leadership will be one of the strongest determinants of future generations," Beach said.
Right now, though, the earlier two generations are writing and listening to each other at Sunrise. Taylor said that what saddened her most was that the current society does not assign as much value to seniors as previous generations did. Taylor recalled at the end of the first day of class, a senior thanked her for "making his brain so happy." Her response was that she was always learning so much from them.
"It is their wisdom, knowledge and depth of their experiences. … It's not just giving them a voice; it's also good for everyone. We learn from everyone. The notion is that it's just not good and right to allow seniors the opportunity because when they share their wisdom, we all grow. Everyone gains something in multigenerational continuity, that is sorely lacking today," said Taylor.
TAYLOR, a prize-winning author, journalist and former White House communications strategist under President George H. W. Bush, designed the Writers Workshop Series and Creative Conversations. Both are free to attend and open to the public.
If you as an individual or your organization would like more information about either program, email Kristintay@aol.com.