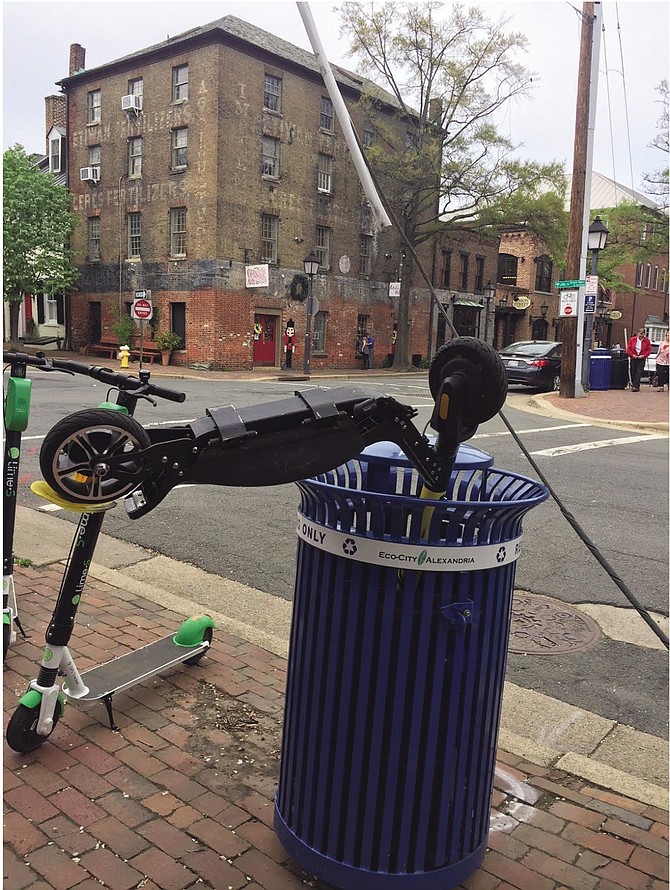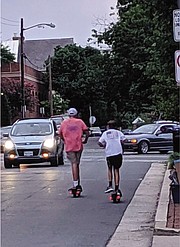 Old Town resident Hal Hardaway says the intersection where his street, South Union Street, and King Street meet has begun to feel like the "Wild West," and scooters are to blame. He is one of many residents speaking out against the scooter pilot program, a test run for seven electronic scooter companies in Alexandria which began in January and is set to continue through September.
In response to passionate opinions both for and against the program, city officials will be releasing an online feedback form sometime in the middle of this month.

"We've gotten a lot of questions about the program and there's a lot of misinformation out there," said Hillary Orr, deputy director of transportation. "The feedback form will be the best way to look at all the information we're getting from residents, compiled in a systematic format."
The pilot program began because participating e-scooter companies (Lime, Lyft, Jump, Bird, Bolt, Skip, and Spin) had already made appearances in Alexandria as users were bringing them in from Arlington and D.C., according to Orr. Officially allowing scooters into the city enabled officials to regulate the new technology, while also providing increased mobility convenience and a technologically progressive method of zipping around town.
"Scooters are a unique, low-cost, environmentally-friendly way for tourists and locals alike to experience the area," said city resident Abigail Hamilton. "I see dozens of commuters using them to get to work each day — I think they're increasing access to the city at large."
The current Memorandum of Understanding between the city and the participating e-scooter companies articulates several regulations for users, including a minimum age of 18 years and a maximum speed of 15 miles per hour. While these regulations are thorough in theory, residents are concerned by their lack of effectiveness.
Michael Doyle, founder of Alexandria Families for Safe Streets, said that, while scooters should be abiding by the same traffic laws as cars according to the MOU, he has seen them speed through crosswalks and fail to stop at stop signs, forcing pedestrians to move around them.
"It's another technology that can be useful or deadly," said Doyle. "Right now, it's a challenge to both pedestrians and drivers because the operators feel empowered to try high-risk maneuvers, let their kids play on the scooters, and violate traffic laws, endangering both themselves and those around them."
Hardaway, a retiree, said he sees violations of the MOU every time he walks through Old Town.
"Regardless of the MOU, one regulation has always been in place. It's called traffic law," said Hardaway. "I'd like to see more enforcement of that. I've seen at least one scooter violating every provision laid out by the city and I don't see a lot being done about it."
In the past week, the Alexandria police department investigated two scooter-related accidents: a parked car damaged by a scooter and a crash sending the scooter user to the hospital. Chief of Police Michael Brown says that the police department has no tools to issue citations for scooter-related traffic violations.
"There were indications that the scooter driver was under the influence in one of these cases, but under the current laws of the commonwealth we can't do anything about that," said Brown. "The most we can do in almost every situation is to stop the conductor of the scooter and give them a verbal warning or talk to them about safe practices on the road."
Brown said this "gap" in the law stems from the commonwealth's definition of "scooter." According to the state of Virginia, scooters are defined in a way that separates them from motor vehicle violations, even though they are expected to abide by the same traffic laws. The police department has requested to speak with the city's departments of transportation and environmental services "quickly" concerning laws the city could adopt specifically for scooters.
Another concern residents have expressed is the threat of scooters parked in hazardous locations. While companies encourage those affected to report scooters parked inappropriately by calling or emailing their individual support teams and will send out employees to remove scooters from affected areas upon request, this system has not stopped the problem.
"The main danger to pedestrians is that the scooters are driving them into the streets," Doyle said. "A scooter parked in the sidewalk causes those in wheelchairs to have to go into the street to get around them, for example, and dropping a heavy scooter in the driveway of an elderly person is a big issue. The problem isn't so much the scooters themselves, it's the operators who choose convenience over safety."
The Virginia General Assembly passed a new law in July giving individual city councils until January to pass legislation prohibiting scooters on sidewalks, according to local business attorney Barbara Beach. Beach, who has dealt with the MOU and scooter companies in the past, said there has been no movement in City Council as of yet to push scooters to the streets.
"Whether you want scooters around or not, I've seen very few people saying they want scooters on the sidewalk," said Beach. "I don't know why the council and staff are not moving to prohibit it. It seems like the state law and the city laws are constantly playing catch-up with scooters."
The city has, however, begun several initiatives to increase pedestrian safety while simultaneously maintaining as much convenience as possible for scooter enthusiasts. Scooter parking corals were installed last week to encourage users to park in a less obstructive space, according to Orr, and certain areas where the majority of complaints come from have now been labeled "no ride zones."
"When you have a disruptive, new technology you just have to learn how to manage it," said Orr. "The biggest challenge we face right now is watching the behavior of the people using the scooters, making sure they are following the rules of the road, and ensuring that they are using their scooters appropriately."
The feedback form will be available on www.alexandriava.gov. Until then, visit https://www.alexandriava.gov/DocklessMobility to read more information concerning the scooter pilot program or email dockless.mobility@alexandriava.govto comment.