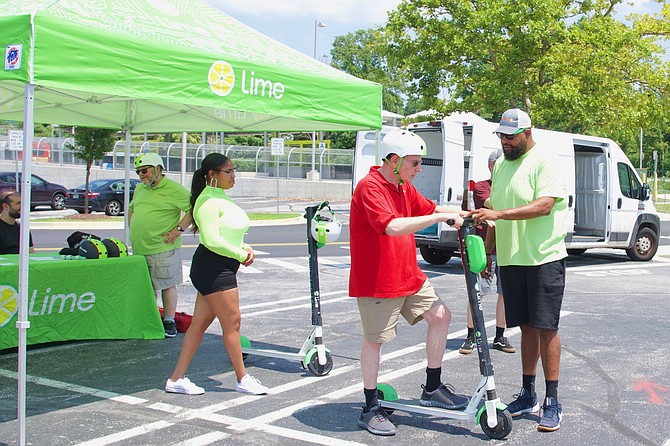 "During the peak of when Lime has been here, we've had 900 rides a day, and we know from studies that a lot of those rides would've been in a car, so look at all the traffic we're taking off with just a few scooters." — Gary Erenrich, MCDOT
Local residents in Bethesda and Silver Spring were given the opportunity to learn how to ride e-scooters, become aware of the laws and safety concerns surrounding the scooters and even a free helmet in training sessions hosted by the Montgomery County Department of Transportation.
Following the rise in popularity of shared bikes, electric scooters have overtaken docked bikes to become the most popular method of shared transportation.
According to a report by the National Association of City Transportation Officials, 38.5 million trips were taken on shared e-scooters in 2018, while 36.5 rides were taken on docked bikes.
With increased popularity comes increased safety concerns. But training might help, as a report from the CDC stated that approximately one in every three e-scooter accidents involved a first-time rider.
At the training, safety was a central theme that brought e-scooter companies Lime and Lyft to the event as they allowed people to ride their scooters around cones set up a parking lot, with Lime handing out free helmets to participants to emphasize the importance of safety.
"We're really trying to get people comfortable using our scooters," Lime Operations Manager John Usry said, "get people familiar with how to use them, where to find them and rules of the road."
The training session was the second the county has hosted, Gary Erenrich of the Department of Transportation said. Erenrich, who is spearheading the county's e-scooter pilot program, noted that even though Lime and Lyft have only been in the area for the past month, they have already made a big impact.
"During the peak of when Lime has been here we've had 900 rides a day," Erenrich said, "and we know from studies that a lot rides would've been in a car, so look at all the traffic we're taking off with just a few scooters."
Part of the reason for e-scooter's rapid growth has to do with cost and convenience, Usry said. In crowded downtown areas, e-scooters are often able to travel short distances faster than cars, don't have the same difficulties finding parking as a car and with Lime's rate of one dollar to unlock the scooter and 24 cents a minute often prove cheaper than an Uber or Lyft ride.
Many who attended the session had never ridden an e-scooter before, nor were they aware of the local laws surrounding their usage. Those laws include only being allowed to ride on the road, not the sidewalk, a 15 mile-per-hour speed limit and riders are prohibited from riding from 10 p.m. to 5 a.m.
One new rider was Silver Spring resident Terri Torain, who said she had an enjoyable first experience riding an e-scooter. Torain, who frequently uses public transportation, said that as a result of the training session she is much more likely to use an e-scooter as an alternative to riding the bus now that she feels comfortable riding a scooter. Torain's only complaint about the session was the legal requirement to ride on the street, instead of the sidewalk which she felt would be more safe, at least until bike lanes become more consistent throughout the county.
Katherine Nelson said her first experience riding an e-scooter proved to be challenging. Nelson, an avid biker, said it was an adjustment going from balancing on a bike sitting down to balancing standing up on the scooter. She said she "really appreciated" the practice session, as it allowed her to get a feel for manually slowing down and speeding up on the scooter in tight areas, and she slowly mastered the accelerator and brake equipped on the scooter's handlebars. For Nelson, with the hassle that comes with parking combined with her newfound confidence riding a scooter, she sees herself riding an e-scooter frequently in the future.
"My motto in life is why walk when you can fly," Nelson said, "and I feel like I can fly on one of these."
To find out more, go to montgomerycountymd.gov