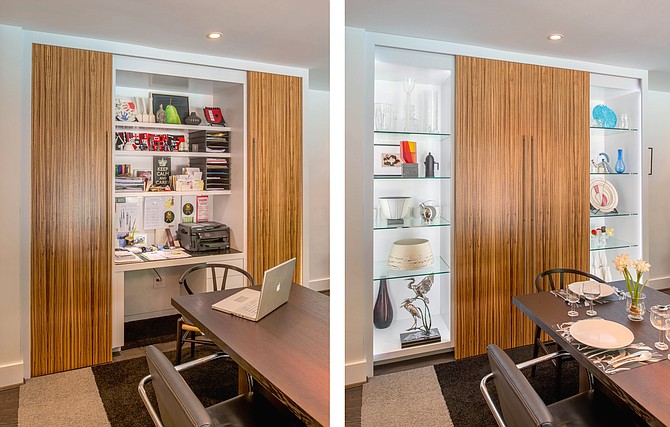 As a new school year looms large over the horizon, the hectic reality of packing lunches, buying school supplies and making space for new backpacks comes into focus. Making time for home organization can decrease stress before the school bus arrives.
The kitchen is often the of nucleus or command center of a family's home, especially during the school year. To help quell the chaos, Shannon Kadwell of Anthony Wilder Design/Build suggests centralization. "A snack station and breakfast center can be great for letting the kids get food on their own while you get together meals and lunches," she said. "The snack station [can be] a drawer in the kitchen that kids can go into at anytime to get healthy snacks. Granola bars, nuts, crackers, dried fruit, can be pre-measured for individual servings for easy grab and go."
Getting dressed in the morning can become a source of tension, but Sallie Finney Kjos of Grey Hunt Interiors says that she incorporates an elegant design solution into the bedrooms of her clients homes that helps ease the daybreak anxiety.
"Get a basket for each kid and roll their outfits for the day, tie them together and place them upright in the basket," she said. "Give your kid independence and let them pick out their own clothes. Not only will their outfits match, but you'll know that they didn't create a mess finding the perfect shirt."
In fact, baskets can offer a versatile and chic method of organization throughout one's home says, Courtney Thomas of home accessories store, The Picket Fence. "They are available in endless sizes and styles," she said. "Baskets are an easy and often inexpensive way to contain clutter. Larger ones are perfect for blankets and pillows, smaller ones keep toys corralled, and there are even baskets with file hangers to keep … papers organized. If baskets aren't your style, we also love using vintage boxes and crates to serve the same function."
Getting creative with clear containers can help maintain order without sacrificing a home's aesthetic, says Thomas. "You can find options that are much more stylish than the traditional plastic tub," she said. "Since they are see-through it's easy to see what's inside and find what you need. Use mason jars for pencils and crayons."
A coffee table can serve double duty as both a home accessory and a clandestine storage space, says Kjos. "They can be a catch all for busy families," she said. "Consider topping them with a few decorative boxes to hold needed items."
Over the course of a school year, a home's mud room can become a black hole of backpacks, soccer cleats and lacrosse sticks. "Having a locker with a door for each child gives the mudroom a clean, organized feel," said Kadwell. "The kids don't need to be neat and tidy inside their own spaces."
Back-to-school organization can extend to the laundry rooms, continues Kadwell. "Set up drop stations to have kids drop off clothes that are in need of washing," she said. "Have bins in an easy to get to space for the kids that are labeled whites, darks and towels. Kids can place their clothing in them according to the labels. This helps cut down the laundry time by having them already sorted."
A family calendar to keep track of deadlines, appointments, and events is a must-have, continued Kadwell. "[Place it] at a level kids can see," she said. "This can be a whole wall that you can paint with a magnetic chalk paint and create a paneled wall effect."