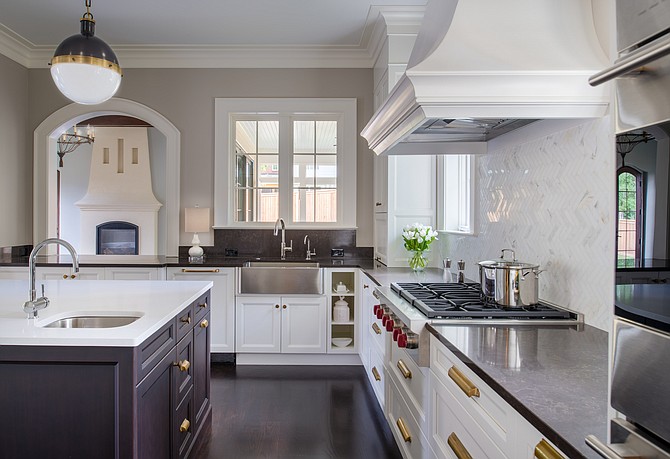 As the command station for many households, kitchens are for more than just cooking. They've become spaces for Zoom meetings, homework sessions, or just gathering to spend time with family during a season of hunkering down.
As we begin to see a slow return to some version of normal, thoughts of hosting small dinner parties and intimate gatherings with close friends could be on the horizon. Those visions spark a desire for a kitchen spruce-up. Whether simply switching out light fixtures or embarking on a complete renovation, a few of the area's top designers share the trends they're seeing in kitchen design this year.
Faucets that operate with motion-activated sensors are one of Nicely Done Kitchens and Baths designer Jackie Lluy's favorite emerging trends. "The touchless faucets are great for a messy cook, plus they help keep the kitchen and cook more sanitary," she said.
"Smart technology, such as … appliances that turn on remotely, is also trending," added Nadia Subaran of Aidan Design.
Kitchen accessories with a touch of whimsy are popular this year, says Subaran. "Add fun elements with light fixtures, such as library lights that make a kitchen feel like a living space, and fabrics on stools and banquettes," she said.

Homeowners are now asking for kitchens that are personalized, says designer Cathy Goss, also of Nicely Done Kitchens and Baths. "I'm seeing character pieces, statement-making fixtures, personalized art and accessories are helping to customize spaces," she said.
"Add personality with your backsplash, said Kirsten Gable of Anthony Wilder Design/Build. "Stone, subway and glass tiles are great options.
After a mellow year of near solitude, many homeowners are seeking spaces that are bright and expressive, suggests Goss. "My favorite trend is to add more pops of color," she said. "The new kitchen has a mix of metals, texture, and weathered or light wood accents. It also has more color and pattern with the tile and a mix of painted colors on the cabinets."

Bold colors, especially in shades of blue and green, are what homeowners are requesting, added Subaran. "There's a move away from all white kitchens," she said. "Try wallpaper, open shelving and mixed metals, such as black and aged brass, for a layered look."
Homeowners asking for kitchens with features that make organization a breeze, says Gable. "Custom storage solutions to hide clutter makes a big difference in a kitchen's overall appearance," she said.
Kitchens that are built to stand the test of time are growing in popularity, says designer Shannon Kadwell, also of Anthony Wilder Design/Build. Kadwell recently completed a kitchen with a white Caesarstone island and dark Silestone perimeter counters "Durable quartz counters, such as Caesarstone or Silestone, are popular, low-maintenance choices."

"I love quartz countertops with a matte finish. Most manufacturers are coming out with that option," added Kate Couchman of Nicely Done Kitchens and Baths.
Kadwell is in the midst of designing a kitchen that has a sink with two faucets, a corner drain and a ledge for cutting boards and bins. "Specialty sinks offer versatility," she said. Homeowners are asking for custom range hoods in metal or wood. Dedicated coffee and beverage stations are also in demand. "If I were going to design my own kitchen again, I'd definitely add a beverage refrigerator, which frees up space in the main refrigerator."