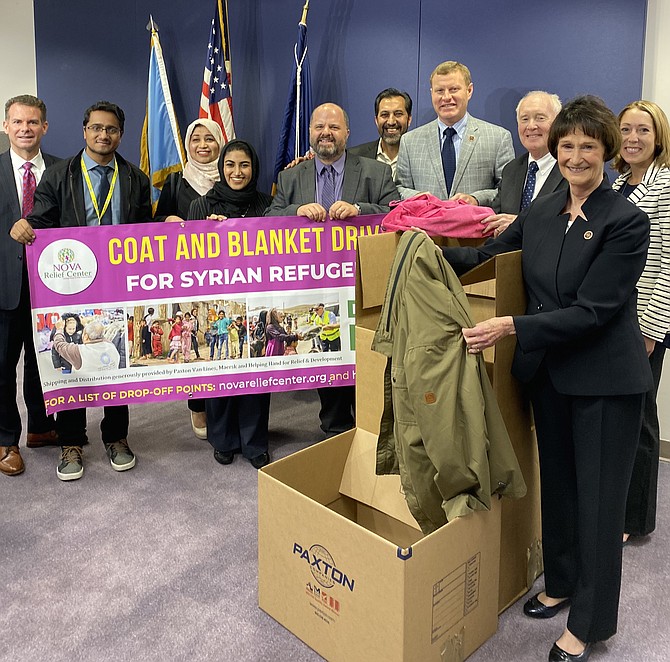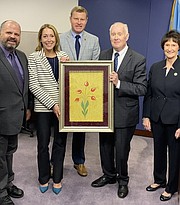 "I am pleased that Fairfax County has once again hosted this important humanitarian effort by partnering with local organizations and jurisdictions to help provide winter coats and warm blankets to Syrian refugees abroad…The Syrian Blanket Drive is special to me," said Sharon Bulova, Chairman of the Fairfax County Board of Supervisors, Nov. 21, at the Fairfax County Government Center, to announce the start of the Blanket & Coat Drive for Syrian Refugees 2019.
According to Mark Gibb, President and Executive Director of NOVA Relief Center, the drive originated seven years ago when he and a small delegation of local leaders from Northern Virginia, among them Chairman Bulova, traveled to Turkey in part to encourage friendship and understanding with local governments. The American Turkish Friendship Association headquartered in Fairfax, formed to address the social and cultural needs of Turkish and American people living in the Washington, D.C. Metropolitan Area arranged the trip. "(It) forever altered the lives of all those who went there that day," said Gibb. NOVA Relief Center is coordinating the Blanket & Coat Drive. This year's donations will be distributed to three camps in Jordan: Mafraq, Jerash and Irbid. According to the organization's website, since 2011, Syrians have been trying to escape the civil war at home, with a reported 6 million people displaced within Syria and another 5 million seeking haven as refugees, especially in the neighboring countries of Turkey, Iraq, Lebanon and Jordan.
"I am always impressed with how generous, caring and compassionate our community is. Since we began this drive, Northern Virginia has sent more than 300,000 blankets and coats to Syrian refugees overseas. It is a great example of what happens when people of all faiths and backgrounds come together," said Bulova.
The Northern Virginia delegation went to a city in the southern part of Turkey called Adana, Gibb said. As part of the tour, the mayor and governor of the region asked if they would like to visit a Syrian refugee camp. "I'm not sure if any of us knew exactly what we were being invited to see," said Gibb. "The war in Syria was not a large news item here in the United States, and Syrian refugees were barely a blip on our radar screen. …We discovered a fenced, tent city of more than 50,000 people, the majority of which, 60 percent, were children under the age of 12. To say they had nothing would be an understatement. We discovered that these were normal, average, every day, people- policemen, firemen, teachers (who) through no fault of their own, had become refugees of this tragic war – no place to call home, no country to pay allegiance. They were all in need of the basic necessities – food, water, clothing. We were invited to go to one man's tent who had a family of four children. There was nothing in the tent except for some old ground covering rugs…As we talked to this man through a translator, we asked (him)… how we could help… He told us it was getting cold. Could we send him some blankets?" "That broke our hearts," said Bulova.
According to Gibb, given the gentleman's request, when the delegation returned home to the United States, they launched the first Northern Virginia Blanket Drive in coordination with other Northern Virginia jurisdictions, faith-based organizations and businesses. That first year they filled an entire 55-foot Paxton Companies moving van with blankets which they shipped overseas at no cost to the same refugee camp. "A few of us were fortunate enough to return to that camp and met the same man again who had requested the blankets. We told him we didn't bring just a few blankets we brought 50,000. This man wept, said we were from God as we delivered this precious cargo," said Gibb.
"So here we are today to continue our efforts to assist these somewhat forgotten people. It has been described as the greatest humanitarian crisis in the world. A few years ago, we added coats as well as blankets, and over the six-year period, we have collected enough blankets and coats to fill over 12 full moving vans. The numbers of coats and blankets are staggering, but the needs are still more than our collective efforts…We cannot do this alone. We partner with a worldwide nonprofit group by the name of the 'Helping Hand for Relief and Development.' Without their assistance, we could not accomplish this task."
Gibb said he learned another significant need is education. "The children are not receiving any education as they are not allowed to attend the local school system as the number of children would completely overwhelm the schools… We are asking this year, in addition to our Coat and Blanket Drive, that a small monetary donation be made to help with teachers, building structures and school supplies for these refugee children. We have added a donation button on our website, www.novareliefcenter.org, for this purpose. All donations will be used to help educate these refugee children."
"In this country, the holiday season is a time for giving. And there is nothing more meaningful than helping our brothers and sisters around the world find warmth and comfort during difficult times," said Bulova. She thanked the many individuals and organizations that are making this year's drive possible: "Mark Gibb and the NOVA Relief Center for organizing this drive every year; the faith communities and organizations in the private and public sectors for helping children and families as they seek safety from violence; elected officials across Northern Virginia who are using their offices as donation sites and finally, a special thank you to Bill Paxton and Paxton Van Lines of Springfield, Virginia for donating their time, manpower and equipment."
LEE DISTRICT SUPERVISOR and Chairman-elect Jeff McKay said he was happy to support and participate in the effort. "I've always held the belief that we, as a community, must help those most vulnerable whenever we have an opportunity. We must not forget all of those who face hardship, especially those who flee from persecution in other countries. In this time of divisiveness, it's important that we remember our humanity and come together to help our fellow man. Through the NOVA Relief Center's Blanket and Coat Drive for Syrian refugees, we can ensure that Syrian refugee camps will have supplies to stay warm this winter. It's a small, but necessary and important role we can all play," said Supervisor McKay.
Bulova's office and other sites such as those of elected officials, including several members of the Fairfax County Board of Supervisors, serve as drop-off locations for gently used coats and blankets. Participants can stop by her office, Suite 530 of the Fairfax Government Center (5th floor), any time between 9 a.m. and 5 p.m., Monday through Friday with donations. "There is nothing more meaningful than helping our brothers and sisters around the world find warmth and comfort during difficult times," said Bulova.
The Blanket & Coat Drive for Syrian Refugees 2019 is currently underway and extended to Dec. 15, according to Mark Gibb. Visit, www.NOVAReliefCenter.org, for a complete list of drop-off locations and to donate to the education fund.
Fairfax County Donation Drop-Off Locations
Government
Office of Chairman Sharon Bulova, Fairfax County Government Center, 12000 Government Center Parkway. Suite 530 Fairfax, VA 22035
Office of Supervisor John Foust, McLean Governmental Center 1437 Balls Hill Road, McLean, VA 22101
Office of Supervisor Kathy Smith, Sully District Government Center 4900 Stonecroft Boulevard Chantilly, VA 20151
Office of Supervisor Cathy Hudgins, North County Governmental Center 1801 Cameron Glen Drive, Reston, VA 20190
Office of Supervisor Pat Herrity, Springfield Governmental Center 6140 Rolling Road, Springfield, VA 22152
Office of Supervisor John Cook, 9002 Burke Lake Road Burke, VA 22015
Office of Supervisor Jeff McKay, Franconia Governmental Center 6121 Franconia Road, Alexandria, VA 22310
Office of Supervisor Dan Storck, Mount Vernon Governmental Center 2511 Parkers Lane, Mt. Vernon, VA 22306
City of Fairfax-City Hall 10455 Armstrong Street, Fairfax, VA 22030
City of Falls Church Community Center, 223 Little Falls Street Falls Church, VA 22046
Faith-Based
The Church of Jesus Christ of Latter-day Saints - Oakton Stake Center Boxing Event: Saturday, Dec 8, 8 a.m., 2719 Hunter Mill Rd., Oakton, VA 22124 (Sundays only)
The Church of Jesus Christ of Latter-day Saints - Franklin building 2727 Centreville Rd., Herndon, VA 20171 (Sundays only)
The Church of Jesus Christ of Latter-day Saints - Reston building 1515 Poplar Grove Dr., Reston, VA 20194 (Sundays only)
The Church of Jesus Christ of Latter-day Saints Centreville Stake Center, 14150 Upper Ridge Dr., Centreville, VA 20121 (Sundays only)
The Church of Jesus Christ of Latter-day Saints Annandale Stake Center, 3900 Howard St., Annandale, VA 22003 (Sundays only)
The Church of Jesus Christ of Latter-day Saints McLean Stake Center, 2034 Great Falls St., Falls Church, VA 22043 (Sundays only) Final Community Drop-off Day: December 8, 11 a.m.-1 p.m.
The Church of Jesus Christ of Latter-day Saints Ox Road Building, 4911 Ox Rd., Fairfax, VA 22030 (Sundays only)
The Church of Jesus Christ of Latter-day Saints Sydenstricker building, 6942 Sydenstricker Rd., Springfield VA 22152 (Sundays only)
The Church of Jesus Christ of Latter-day Saints Tall Cedars Building, 42530 Tall Cedars Pkwy., Chantilly, VA 20152 (Sundays only)
The Church of Jesus Christ of Latter-day Saints Scotts Run Building, 1325 Scotts Run Rd., Mclean, VA 22102 (Sundays only)
Dar AL Hijrah Islamic Center, 3159 Row St., Falls Church, VA 22044
Ezher Mosque, 10359 Democracy Ln., Fairfax, VA 22030
St. Mark Catholic Church, 9970 Vale Rd., Vienna, VA 22181
Fairfax Presbyterian Church, 10723 Main St., Fairfax, VA 22030
Schools
Louise Archer Elementary School 324 Nutley St. NW, Vienna, VA 22180
Mosby Woods Elementary School, 9819 Five Oaks Rd., Fairfax, VA 22031
Navy Elementary School, 3500 West Ox Rd., Fairfax, VA 22033
New School of Northern Virginia, 9431 Silver King Ct., Fairfax, VA 22031
Vienna Elementary School, 128 Center St. S., Vienna, VA 22180
Key Middle School, 6402 Franconia Rd., Springfield, VA 22150
Westfield High School Clubs: NHS, UNICEF, and MSA 4700 Stonecroft Blvd., Chantilly, VA 20151
Thomas Jefferson High School for Science and Technology (Red Cross Club: Nov. 30- Dec. 7), 6560 Braddock Rd., Alexandria, VA 22312
Northern Virginia Community College: Medical Education Campus, 6699 Springfield Center Dr., Springfield, VA 22150
Northern Virginia Community College, 8333 Little River Turnpike, Annandale, VA 22003
Other
Paxton Van Lines, 5300 Port Royal Rd., Springfield, VA 22151
Merrifield VA CITGO, 8318 Lee Hwy., Fairfax, VA 22031