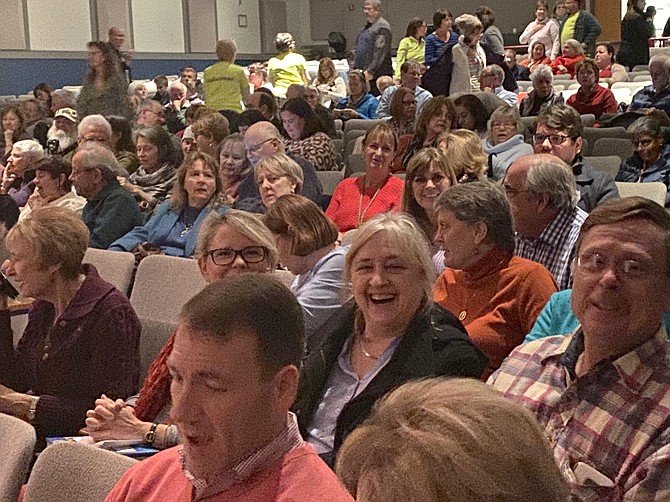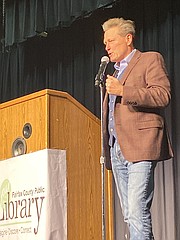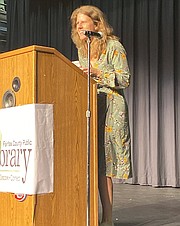 Fans of one of the world's bestselling fiction-writers and storytellers, David Baldacci, attended the book launch for the second novel in his Atlee Pine Thriller, "A Minute to Midnight" by Grand Central Publishing. Held at Herndon Middle School on Nov. 19, an estimated crowd of 200 book enthusiasts from across the region and as far as Woodstock, Va. poured into the auditorium. Each hoped to be one of the lucky winners in the giveaway of 100 free signed copies of the new thriller and to hear Baldacci speak. Bards Alley in Vienna, an Indie bookstore owned by Jen Morrow, partnered with Reston Regional Library to produce the book launch. The Friends of the Reston Regional Library supported the event.
Igor Birman of Herndon sat in the auditorium's tiered theatre seats and waited for the author talk and signing to begin. "I like Baldacci's books," he said. "They are always entertaining. The last one, 'Long Road to Mercy' (Atlee Pine #1), was set in the Grand Canyon, and now I would like to visit there again. I look forward to reading his latest Atlee Pine Book," Birman said.
For Deb Tangren of Woodstock, Va., Baldacci's ability to develop his characters drew her to his novels. "You feel like you know them," she said. It was the opportunity, though, for the author to sign the 21 books she brought to the event that drew Tangren to make the 90-minute drive to Herndon.
Evelyn Valdez of Alexandria also attended the book launch. She described herself as "one of David Baldacci's biggest fans," something she said she shared with her 90-year-old grandfather. "He is only Spanish-speaking, so we have to wait a year for the book to be translated for him," she said.
According to Tracey Key of Reston, she found Baldacci "uniquely relevant in his ability to connect and communicate not only through his books but in personal storytelling during his book signings and interviews," she said.
Jen Morrow, the owner of Bards Alley, introduced Baldacci. "On the book birthday of 'A Minute to Midnight,' you really don't need a long introduction. A lifelong Virginian... (David) practiced law in Washington, D.C., but he was always a lifelong writer. He published his first novel, 'Absolute Power,' in 1996. A featured film adaptation followed with Clint Eastwood as its director and star. In total, David has published 40 novels. Is it 41 now... all national and international bestsellers and several have been adapted for film and television. His novels are published in over 45 languages and in more than 80 countries, with over $130 million worldwide sales. David has also published seven novels for younger readers. Now, in addition to being a prolific writer, David is a devoted philanthropist, and his greatest efforts are dedicated to his family's Wish You Well Foundation... fostering literacy and educational programs."
BALDACCI provided the audience with a snapshot of the first two chapters of "A Minute to Midnight." Baldacci said he brought back the main character, FBI Agent Atlee Pine. According to Baldacci, Pine finds herself interviewing a serial killer she thinks might have abducted her twin sister, Mercy, thirty years ago. While driving home following the interview, Pine receives an Amber Alert on her phone, sees the suspect and gives chase. "They have a confrontation, and he comes out on the worse end of it... She saw thirty years of frustration and anger building of not knowing what happened to her sister, and she almost beats this guy to death. And that's really bad for an FBI agent. They frown on stuff like that. So she's given an ultimatum. Get your head straight, figure this out. Find out what happened, and if you don't do that, you have no more future at the Federal Bureau of Investigation," he said.
Transitioning to a different topic during his remarks, Baldacci said he grew up in segregated Richmond, Va., as a self-described library rat. "I don't think I'd be a writer today except for the fact I was a huge reader as a kid. I know what libraries meant to me... I was able to see the world through books. I read about people who didn't look like me, talk like me... dress like me, pray like me. But we all had one common factor among us all, and that was our humanity. That's what I got out of books growing up as a kid in a world that maybe wasn't as fair-minded or equal as it should have been...Libraries can change you completely," he said.
"I find readers to be more open, more tolerant, curious about life and talkative. They want to know things, and they can change their minds. They don't mind having spirited debates with people because they understand the power of knowledge and information. And I've always felt if every community, every street had a library packed with books, and people went there every day and read books, we'd have a far better world than we do today," said Baldacci.
IN 2003, Baldacci co-founded the Wish You Well Foundation with his wife, Michelle. It is a 501(c)(3) non-profit organization whose mission is "supporting family literacy in the United States by fostering and promoting the development and expansion of new and existing literacy and educational programs." Based in Reston, the Foundation partnered with Feeding America on the Feeding Body & Mind Initiative to address the connection between literacy, poverty and hunger. Hosts of the Nov. 19 Book Launch collected new and gently used books at the event to be distributed through food banks to families in need.
Wish You Well Foundation
12359 Sunrise Valley Drive, Suite 360
Reston, VA 20191
Office: 703-476-6032
wywf@wishyouwellfoundation.org
https://www.wishyouwellfoundation.org/