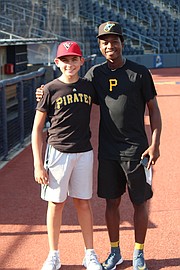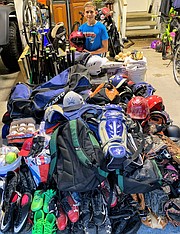 I'm Sasha Minsky from Great Falls, and I'm an eighth grader at Cooper Middle School. For this year's school service project, I collected used ("pre-loved") baseball equipment from kids across Northern Virginia and donated it on Dec. 4 to the underprivileged baseball players in the impoverished township of Alexandra, South Africa.
I chose this project because I wanted to make a difference in the lives of kids far less fortunate than me. I also wanted to do something that I could start and see through to completion. And finally, I targeted a market where I felt that sport could uplift kids and offer them a much better option than what they otherwise faced.
Alexandra makes up a 2.5 square mile area populated by 650,000 people. Despite these overcrowded and oppressive conditions, kids of all ages play baseball in a league organized by the Alex Baseball club, who I partnered with.
I also enlisted the help of Great Falls Little League to promote my project on their website, via their Facebook page, and through direct mail to their past and current members. I provided promotional banners for GFLL to use.
Between September-November of this year, I organized a series of drop-off dates to collect bats, gloves, helmets, uniforms, cleats and balls. I then separated the equipment and packaged it in 10 x 50 pound capacity duffel bags.
The 500+ pounds of equipment were transported to Johannesburg on Nov. 30, via South African Airways, which agreed to lift their baggage limitations to accommodate this large haul. I paid the excess baggage fees from the kind contributions made by friends and family for my recent Bar Mitzvah (this project doubled as my 'Mitzvah project').

On Dec. 4, the equipment was distributed at a ceremony in Alexandra, South Africa where nearly 50 senior and junior members of the Alex Baseball club attended. The summer weather was unseasonably cold and rainy, but the kids were overjoyed when receiving the equipment.
As much as I wanted to go to South Africa for the handover of the equipment, I was unable to make this trip while school is in session, so I recruited Victor Ngoepe to manage this process. Victor grew up playing baseball in South Africa and now plays professionally in the U.S.
I interviewed Victor this past August in Morgantown, WV. (where he plays for a Pittsburgh Pirates farm team) in preparation for this project. Victor and his brother Gift – who was the first player from continental Africa to play in Major League Baseball – grew up in a baseball clubhouse that their mother maintained. Victor still lives there in the off season.
I was very motivated by Victor's story and felt that my project could potentially help others in Alexandra to follow in his footsteps.
Bringing the Project to Life
Following are various Youtube videos that I believe bring this project to life:
My interview with Victor Ngoepe (8/30/2019): https://youtu.be/5iw8T8c1PME
My Bar Mitzvah speech (10/20/2019): https://youtu.be/H4C4AClpfDU
Meet the Alex Baseball club (12/4/2019): https://youtu.be/3J9g-syersk