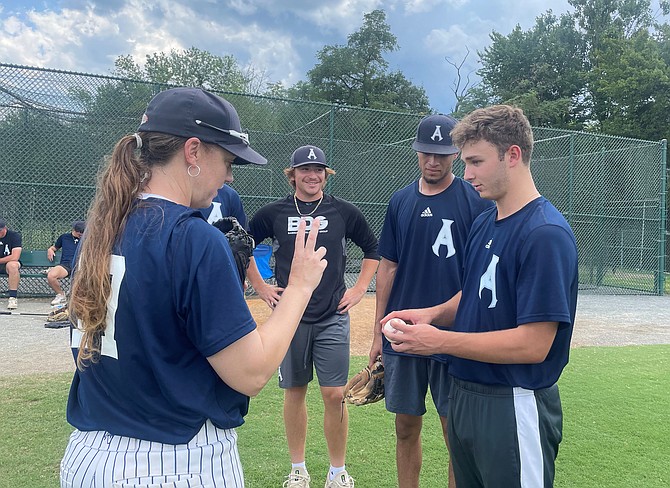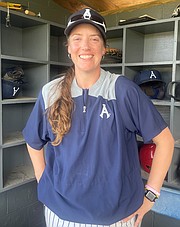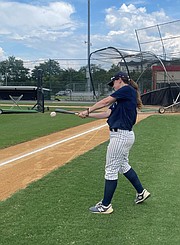 Jennifer Hammond may be the new kid on the block when it comes to the coaching staff of the Alexandria Aces, but she is no stranger to a baseball field. The Alexandria native is well known as a player and coach throughout the region and as the Cal Ripken Collegiate Baseball League begins its playoffs, she is blazing a trail as the league's lone female baseball coach.
"Unfortunately, it is still a rarity to see females coaching baseball," said Hammond during the team's July 14 practice at Frank Mann Field. "I think that some of the players were a little unsure at first but they have been very respectful and have come to recognize that I've been around the game and have some knowledge of the sport."
In her first season with the Aces, Hammond has helped lead the team to second place in the standings as they head into the playoffs, which run July 24-31.
Hammond grew up playing fastpitch softball in the Northern Virginia area but baseball was her first love. After planning to play softball in college, she instead jumped at the chance to play baseball after discovering the Eastern Women's Baseball Conference, an all-women's baseball league. She spent her summers playing with their DC Thunder tournament team, traveling around the country playing with and against the best women's players in the United States and Canada.
"I grew up playing softball," Hammond said. "I was a girl, therefore there was no choice — girls played softball, boys played baseball. It's just what you did. But the EWBC changed everything. For the first time in my life I actually got to play baseball and I loved it."
Hammond continues to participate as a player/coach with the EWBC/DC Thunder and with several area men's leagues. She recently completed her seventh season as a high school baseball coach in Fairfax County. After spending five years at Falls Church High School as the Junior Varsity Associate Head Coach and a member of the Varsity Staff, she moved on to Thomas Jefferson High School for Science and Technology where she took on the role of Varsity Associate Head Coach and Catching Specialist.
"Jen has exceeded expectations," said Aces head coach Chris Berset. "You never know how it's going to be with a woman going into a male world, especially with college kids. Are they going to accept her? Will she have a voice that is listened to? She was able to capture that and the boys respect her. It's a win-win for everyone and we are lucky to have her."
Aces pitcher Adam Scwartz agrees.

"Coach Jen is so encouraging to our bullpen," Schwartz said. "She always has something positive to say after each outing but also gives us great constructive criticism. She is especially great at pitch sequencing – telling us when and how to use our pitches."
Hammond also serves as a Head Coach with DC Girls Baseball, a nonprofit program dedicated to developing opportunities for girls to play baseball. In the five years she has been with the program, Hammond has grown the program to provide a welcoming arena for girls to play baseball; to help them develop solid fundamental skill sets and baseball knowledge; and to provide competitive opportunities for more advanced players who wish to play at the high school level and beyond.
"Many of the players in the DC Girls Baseball program are one of only a few girls on their little league, travel or school teams," Hammond added. "When they play with us they find community. No longer are they sticking out or drawing a lot of attention as the only girl. It's been amazing to see the girls as they grow into confident and capable young women and I am hopeful that they will be exposed to many more opportunities in the baseball world than existed when I was their age."
Hammond credits Berset and the other Aces coaches for making her feel welcome and valued as part of the team.
"I am looking forward to the day when women are seen simply as 'coach,' when this is less of a novelty that sticks out," Hammond said. "I hope there comes a time when we don't have to worry that every move we make or the outcome of a game is a reflection on our gender's ability to be successful in this field."
The Aces will take on the league-leading Bethesda Big Train in their final regular season home game July 22 at Frank Mann Field at 6:30 p.m. Playoffs run July 24-31.
"Baseball is a great vehicle to learn life skills," Hammond said. "It is a game full of failure and helping players learn to confront that, to handle disappointment and learn from it and go right back at it is one of my favorite parts of coaching. That resiliency, that mental strength, that ability to reset and grind — these are all skills that translate to life outside the lines."