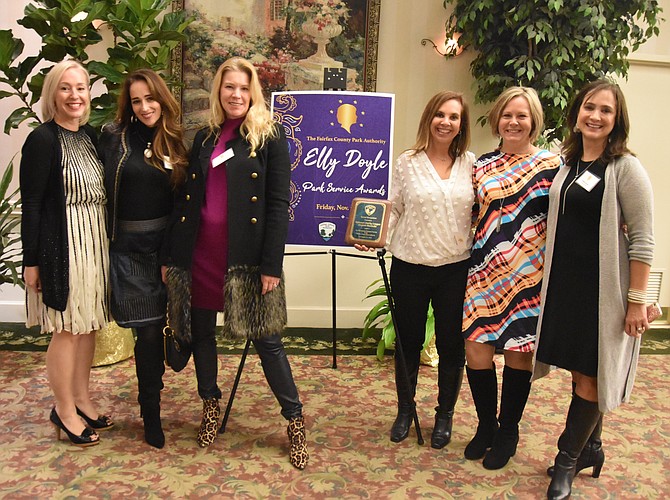 The National Charity League – Virginia Bluebell Chapter was one of six honorees to receive the 2019 Elly Doyle Special Recognition Award from the Fairfax County Park Authority. The award was given to select groups or individuals who have contributed substantial time or expertise to the Fairfax County Park Authority for the advancement of recreational and/or educational opportunities or the protection of natural, cultural or historic resources in Fairfax County. These awards recognize outstanding volunteer service to the Park Authority and are the agency's top honor for volunteer service.
The NCL Virginia Bluebell Chapter is a mother/daughter philanthropy group that addresses key needs in the community. They have volunteered and supported the Fairfax County Parks in many ways, including participating in the following:
Cub Run: Watershed cleanups; provided volunteers for special solar eclipse event; the 2020 Bluebell class donated $200 to Cub Run from their philanthropy budget to plant a field of Bluebells
Ellanor Lawrence Park: Habitat Heroes; Arts in the Park
Frying Pan Park: Bluegrass concerts; children's holiday events; Harvest Festival; 4-H Festival; Special events ("You Gouda Brie Kidding Me" for National Grilled Cheese Day)
Sully Park: Classic cars automobile show; Sully by Candlelight; Halloween at Sully
The NCL Virginia Bluebell Chapter also participated in Spring Fest (Fairfax County's earth day event).
For more information, prospective members are encouraged to visit the Virginia Bluebell Chapter's website at https://virginiabluebell.nationalcharityleague.org/. Applications for membership can be found at https://members.nationalcharityleague.org/?nd=intake&entry_point_id=258&unit_id=421
For more information or for Alumnae interested in reconnecting, visit www.nationalcharityleague.org to find a chapter in your area.