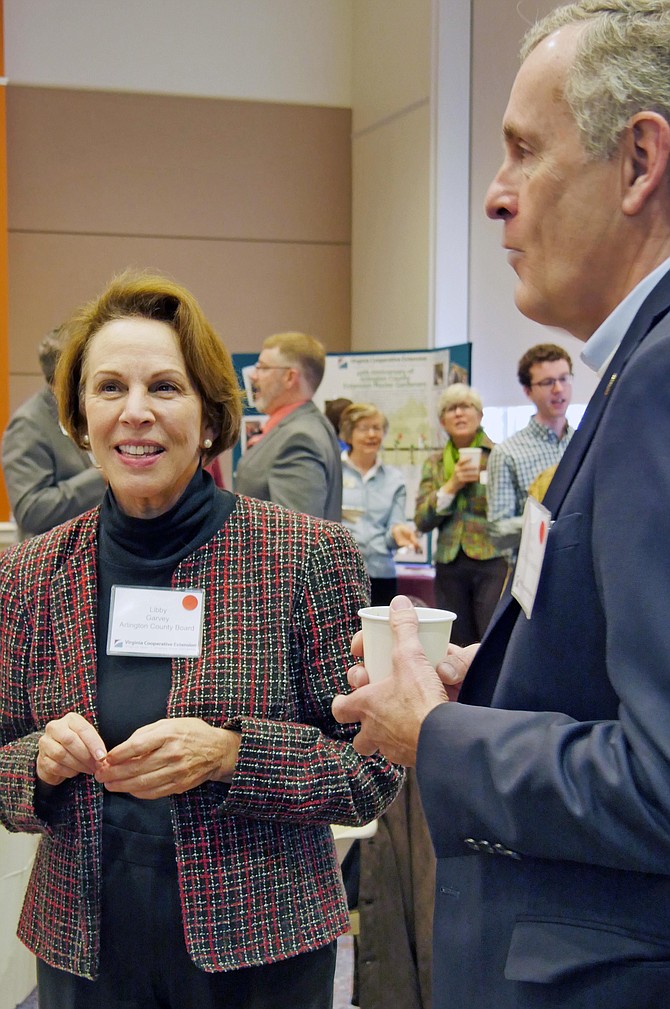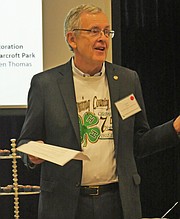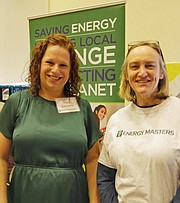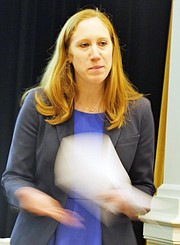 Alexandria City Manager Mark Jenks, sporting his 4-H T-shirt and speaking to the annual Virginia Cooperative Extension breakfast at Fairlington Community Center, recounts the values he learned as a long time 4-H member. "The kids in my family started at seven, got cows, ponies (we called them a big horses.) We managed expenses."

He says, "I had a Christmas tree farm with my brother. The values we learned to carry out our duties to help out around the farm were core to becoming adults."
Later, his dad went on to become 4-H director of the state of Pennsylvania and to work out how to make these values relevant to kids in Pittsburgh and Philadelphia.
Reggie Morris, head of the 4-H office of Alexandria, says his job is "to provide education for kids who don't really like to go outside much anymore. They are out in the dirt. Kids are our future."

Vice Mayor Elizabeth Bennett-Parker spoke about the Master Food Volunteers, another of the important Virginia Cooperative Extension programs important to her that target nutrition and health cooking including SNAP outreach, cooking classes for children, and senior citizens and cooking demonstrations at food pantries.
Bennett-Parker co-leads Together We Bake in Alexandria and is the founder of Fruitcycle that produces healthy snacks from locally-sourced produce that would otherwise go to waste while also providing jobs for women who had been homeless or formerly incarcerated. She said since she was elected to the City Council she has been focusing on food issues such as Meals on Wheels, ALIVE, and the City budget which she explains doubled this year for certain food programs.
The Fairlington Community Center is filled with booths focused on the many extension activities offered to the community. Mary Sanders, Coordinator for the Energy Masters program, explains they train volunteers in six classes followed by a work day. They focus on tenant education, a typical workday for volunteers. The volunteers work in low-income housing on caulking around windows and doors, sealing air holes, changing out shower heads, insulation of outlets. She says in a year they complete conservation efforts in over 100 apartments.
Virginia Smith, a new volunteer who has just finished training, says they do light work on site but it isn't difficult. Sanders says the volunteers have a very broad range of skills and level of expertise from building their own addition to "what is a screwdriver." When she makes up teams, she says she creates a mix of skills.
Bill Lee is a Master Financial Education volunteer who has been working on financial training, especially with youth since 2013. "We have two youth simulations, one for elementary school that uses monopoly money in a Kids Marketplace. The second version is a Reality Store for middle school kids where we use a spreadsheet instead of monopoly money.' He explains they figure out their household dollars each month on a sheet of paper. "Sometimes they find they have to buy a cheaper used car."
Virginia Cooperative Extension also sponsors Master Food Volunteers to teach nutrition and health cooking as well as Extension Master Gardeners to provide public classes and workshops on container gardening, pest management and composting.
This Virginia Cooperative Extension breakfast is held every year with a buffet of healthy nutritious foods provided by the Master Food volunteers. This year, attendees choose from avocado toast with fresh veggies or goat cheeses, mini spinach frittatas, build-your-own parfaits and flour-free chocolate chip muffins.
Arlington School Board and County Board members as well as Alexandria School Board and City Council joined community leaders and Virginia Cooperative Extension volunteers in celebrating the achievements made during the last year through the many extension activities and programs.
Virginia Agricultural Experiment Station researchers and specialists work in Blacksburg and at the state's 11 Agricultural Research and Extension Centers to create the knowledge that they share with VCE agents. This information is passed down through the research-based education programs to help the people of Arlington County and the City of Alexandria improve their lives.
Last year the return on investment for every dollar invested in the extension by Arlington County was $11.60, and the value of extension volunteer hours was $1,139,972.
More like this story