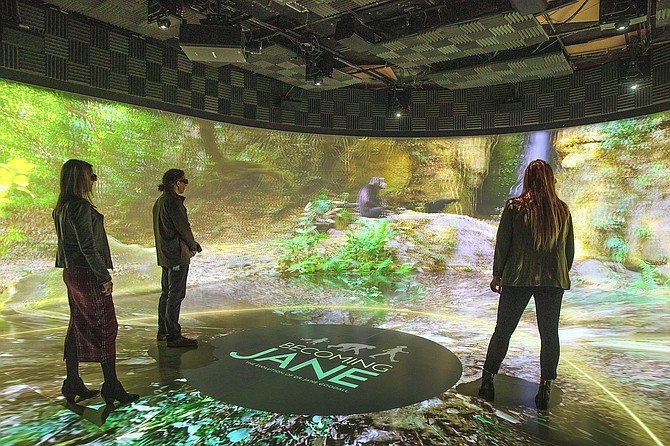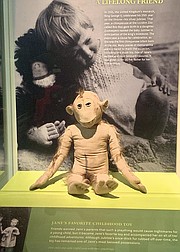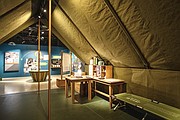 The Jane Goodall Institute (JGI) in Tysons Corner, in partnership with the National Geographic Museum in Washington, D.C., recently premiered "Becoming Jane: The Evolution of Dr. Jane Goodall." It is an inspiring exhibition celebrating the legacy of world-renowned chimpanzee expert, Dr. Jane Goodall.
"Becoming Jane" marks the 60th anniversary (in July of 2020) of Dr. Goodall's arrival in Gombe Stream National Park in Tanzania to observe and research wild chimpanzees. It also celebrates the acclaimed scientist's 85th birthday, who through her groundbreaking work over the years has paved the way for female trailblazers in science.

"Jane and JGI have had a long and fruitful near 60 year relationship with the National Geographic Society supporting Dr. Goodall's research in Gombe National Park with the wild chimpanzees there. It is a great opportunity to highlight our partnership and the impact of Dr. Goodall's legacy together," said Shawn Sweeney, JGI's Senior Director of Community Engagement.
Arlington resident, Alan Parente, vice president and creative director at National Geographic, said: "I encourage my neighbors in NoVa and throughout the DMV to experience the exhibition. The show is a fun, informative, and inspiring story of one woman's dedication to understanding and conserving animal life and habitats," said Parente.
"Becoming Jane" features state-of-the-art technology and transports visitors through an evolution of Goodall's life: from her earliest childhood in war-torn Europe as she developed a love for animals, to fulfilling her dreams of living amongst and studying wild chimpanzees in Africa, and ultimately a passionate conservationist.
First, a multi-screened short film introduces Dr. Goodall's work along with virtually-rendered chimpanzees. Exhibits with memorabilia depict her early childhood and family, and a thirst for learning about animals and exploring nature. One can explore a replica of her research tent and participate in hands-on activities. Visitors can then sit back and listen to Dr. Goodall, as a fascinating life-sized hologram projection, share memories of her years with wild chimpanzees.
Perhaps one of the most innovative exhibits is an immersive virtual-reality 3D theatre depicting the vast jungles of Gombe in Tanzania.
"With a sophisticated 3D/8k camera I hiked to Jane's favorite places… My goal was to transport people to the world of the chimpanzees and experience the world in which Jane has lived for so many years," said Bill Willauer, JGI's research videographer and filmmaker.
Interactive augmented reality (AR) stations allow people to mimic the diverse vocalizations of a chimpanzee, or explore the jungles of Gombe through virtual reality. Visitors may learn about current facts on Gombe, Africa's chimpanzee range, and the work of conservationists and scientists "following in Dr. Goodall's footsteps," according to the JGI.
As the exhibition draws to a close, Dr. Goodall urges visitors to "ensure a more sustainable future" with JGI and National Geographic. An innovative pledge station projects each supporter's name onto a graphic of a tree in support of the mission.
"Becoming Jane" leaves visitors inspired and willing to join Dr. Goodall's call to action. In her own words, "I have to work with young people today so that we try and raise new generations to look after this poor old planet better than we have, before it's too late."
"Becoming Jane" will be at the National Geographic Museum through Labor Day in 2020. For more information, visit www.janegoodall.org and https://www.nationalgeographic.org/events/exhibition/becoming-jane