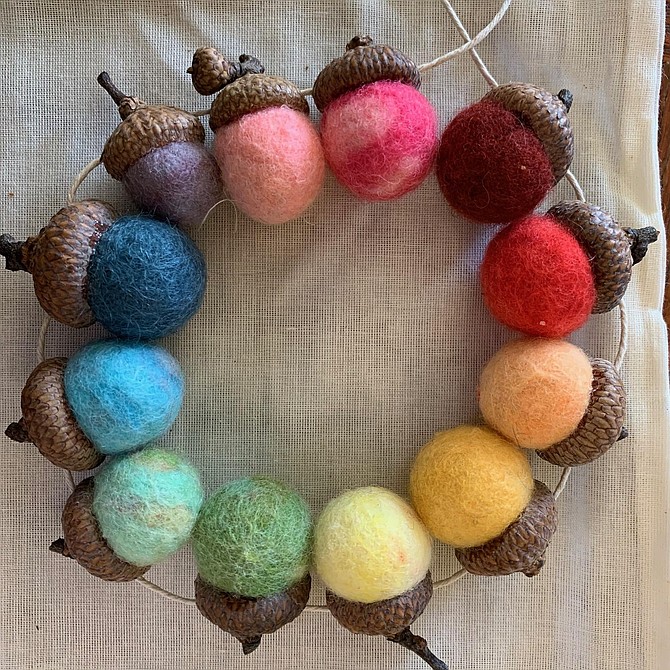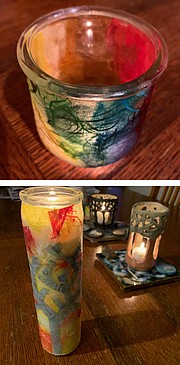 Textured papers, glue, candles and foliage are materials that local artist Kathryn Coneway uses to teach her students to express some of the thoughts and feelings that arise during the holiday season. Whether creating a sense of calm amid the holiday bustle, dealing with intense emotions or simply providing a time to spend with family and friends, making art can bring about a space for self-expression.
"It allows a time for us to be still and connect with family without worrying about buying presents or being perfect," said Coneway, who is also an art therapist and author of the book "Collette, A Collage Adventure." "You can just spend time together making Christmas decorations or holiday presents without judgement. It allows us to be fully present to those we love."
One family-crafting making project that Coneway teaches involves tissue paper glued to mason jars become candle holders and gifts to give during the holidays.
In Conway's classes, which include collage and clay labyrinth making, students aren taught to use art as a form of meditation. "I also encourage students to find materials in nature like leaves or branches, said Coneway who teachers classes and workshops in Mount Vernon, Alexandria and Great Falls. "My own family made garland out of papers and other decorations with natural items we found in our backyard."
Fresh mixed evergreen, berries and pine cones tied with a ribbon, were the materials used in a wreath-making class at Falls Church Arts, said Barb Cram, president of the organization. "We're [also] offering a holiday-themed collage class," said she said. "We have folks in their own classes like Abstract Expressionism, (or process painting) and watercolor do their own painting of [holiday] subject matter as well."
Creating art is a form of self-expression which can lead to self-awareness and a connection to others, two practices which are particularly important during times of stress, like the holiday season. "As a lifelong artist [and] educator, I love hearing stories about students who participate in … a holiday arts fundraiser [or] exhibition," said David Epstein, dean of NOVAarts, the arts program at Northern Virginia Community College. "This shows the impact of the arts and the reach it has in our communities. The arts connects us to our human spirit and brings people together."
Even those who are not professionally trained artists can benefit from using art as a distraction from the chaotic or less-than-merry aspects or the holiday season, advises Coneway. "Creative practice opens up spaces to live together with uncertainty and vulnerability and to connect through allowing ourselves to be seen and heard," she said.