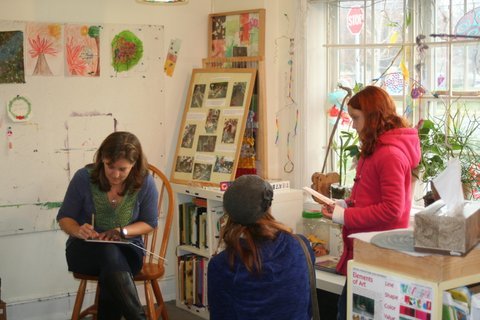 Elizabeth Augenblick Smith, 10, spent a recent Saturday afternoon gluing strips of brightly hued tissue paper to create a collage. There were no rules or guides to follow. Smith was allowed to create her project in her own vision and felt supported. Her project wasn't part of an art class. She was at a launch party and book signing for two books written by her art teacher, Kathryn Horn Coneway of Art at the Center in Mount Vernon.
"The thing I like most about classes at Art at the Center is you choose what you want to do and there's no right or wrong about it," said Elizabeth. "I really liked that it was collage and you could tell how much work went into it. I like [the fact that] now I know a published author."
Elizabeth's project was based on one of the books, "Collette: A Collage Adventure," which tells the story of a bottle of glue that wants to get in on the artistic action at a studio. The other book released at the party is called "Oops Paint" and is aimed at toddlers and preschool children. It introduces stamping with everyday objects through a fun story of a family accidentally dropping things in paint.
The books were inspired by Coneway's work at Art at the Center and incorporate her art education philosophy of giving children opportunities to explore art in a supportive environment without judgment. Both books conclude with a letter for parents that offers tips for getting started with art at home.
"I want the books to be starting points for people to start creating together," said Coneway, who has worked as an art teacher, an artist-in-residence and an art therapist. "The best feedback I get is when people tell me they read 'Collette' and want to get some scraps and make collages, or that they read 'Oops Paint' and start noticing everyday objects and imagining shapes and patterns they might print."
Elizabeth's mother, Amy B. Augenblick, of Great Falls, said the books are an extension of the classes at Art at the Center. "Children are given the freedom to create art without being told 'this is the way you have to do it.' Their art projects are not treated as a craft from Pinterest," she said. "They are given the freedom to create their own art in support, nurturing environment."
Elizabeth Rees, the mother of three children ages 10, 7 and 3, attended the launch party and said all of her children have taken classes at Art at the Center. She appreciates the books' underlying messages.
"The 'Oops Paint' book is especially good for younger kids as an introduction to the possibilities of paint and stamping," said Rees, of Mount Vernon. "'Collette' is a more complex story line, but the beautiful collages engaged all of my children. The mix of simple ideas to try along with a creative storyline helped make a book that was enjoyable for kids and could also be used in art instruction. Both books beautifully reaffirm the idea that any direction in art can lead to interesting results and that anyone can be an artist."
Rees, the associate rector at Saint Aidan's Episcopal Church in Alexandria, took a parent-child class with her 3-year-old daughter. She has also found professional inspiration in the books and art classes. "I get to experiment and create and learn and follow wherever my creativity leads right along with the kids," she said. "I'm a priest and I've had several sermons take shape from my time there. Art at the Center is one of my favorite places to be."
Art at the Center will hold drop-in classes in December based on the themes of the books. For more information on the classes or books, visit www.artatthecenter.org.