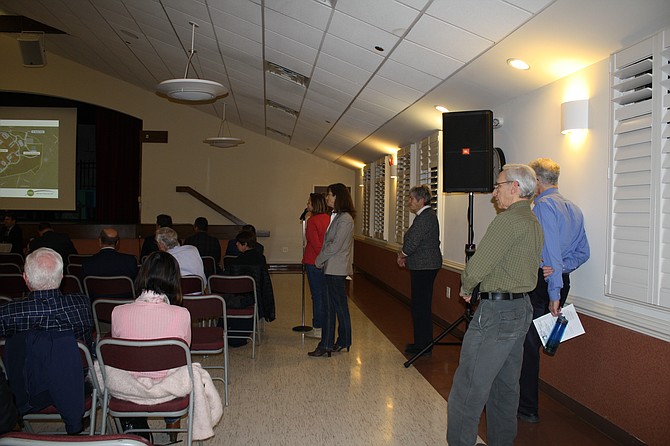 With any project along Braddock Road, transportation has always been at the top of the list on the agenda. The "Erickson Living Proposal for the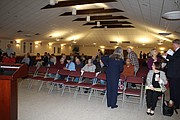 NVTC Site," is no different, and transportation was the topic at the meeting on Monday, Feb. 4 at the Good Shepherd Church where Supervisor John Cook (R-Braddock) hosted a panel of engineers and county officials to lay out what might be coming with this project.
The meeting is not the first about a land use project that will involve 1050 senior independent living units and 175 senior assisted living units, a recreational facility and parking, all on the property that was previously the Northern Virginia Training Center. "Tonight we're here to talk about transportation," Cook said.
The Erickson plan will use the existing site and the existing entrances and exits onto Braddock Road, with a modification here and there. Since the NVTC did not generate as much traffic as say a townhouse development of the same size, the Erickson project is planned to have the same traffic impacts, with seniors and assisted care tenants that don't drive as much. William Johnson, a traffic engineer with Wells & Associates, discussed the traffic on Braddock Road and their plan, using Greenspring Village as a good comparison. Greenspring is another Erickson property in Springfield. "We actually took counts at the existing Greenspring, a pretty sharp drop around four, five or six p.m." he said.
THE AUDIENCE didn't go for some of his analysis, or his traffic simulation. For example, when he talked about the peak traffic at five p.m., a lot of moans and laughter could be heard in the audience.
"The former NVTC, that generated trips comparable to what we're programming here," he said.
The intersections at Roberts Road, Burke Center Parkway, Twinbrook Shopping Center and Herrend Place were all looked at. With the existing conditions, "there is no break in traffic," said someone from the audience. Judith Chamot of Burke was at the meeting to hear more about the recreation center part of the project, and looked at the traffic figures with doubt. "I have very little faith in the traffic analysis," she said.
The Erickson Living Proposal is just one project that is being proposed for the Braddock Road corridor. There is also "One University," housing near the Braddock and Route 123 that is proposing 100 senior affordable housing units for residents aged 62 and older; a second part with 140 affordable multifamily units; and another part is a five-story structure with up to 362 units (designed specifically for 819 college students), their information stated, with a structured garage for 800+ parking spaces.
THE COMBINATION of these two projects could add more than 2,000 additional cars to Braddock Road and area traffic.
Jim and Michelle McDaniel came from Springfield to hear about the project and additional options for senior living. "We need more different types of housing for aging seniors," Jim McDaniel said. "This offers an opportunity to live without worries of shoveling snow or a leaky faucet," he said. There is a demand too, according to the Erickson official, who said there was currently a wait list of 1,200 people for Greenspring Village.
Nancy Grant with the Kings Park West HOA was gathering information to take back to the HOA. "They've been talking about all kinds of things," she said. "Early on, they were talking about a shopping center," she said.
Cook and other officials are about half-way through this process with these two projects. They are gathering feedback and will have a zoning hearing in June.