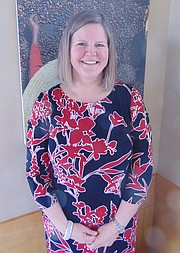 Sara Van Aalst, 40, of Manassas became the new principal of Fairview Elementary School in Fairfax Station on Monday, Jan. 28, 2019. With 18 years in education, she replaces Lynn Mayer who retired after 31 years.
Aalst is thrilled to be working at the Fairview School site off Ox Road, which is one of the oldest in Fairfax County -- dating back to 1899. "I knew I wanted to be an educator as a child and I frequently talked about wanting to teach in a one-room schoolhouse, even as an undergraduate. But returning to Fairfax County to teach, that opportunity was not going to present itself. So, when I found out the history of Fairview, I felt a great calling to serve its community," she said.
She continued: "From what I know of the school, Fairview continues to serve its community just as it did as a one room schoolhouse. There are very strong connections between the teachers, students and their families. At the end of my first year of teaching at Franklin Sherman, I was given a photo of a one-room schoolhouse and I put that in my office. I just hope to continue that legacy that was started at that school house in 1899."
THIS YEAR, Aalst will lead the Falcons (mascot) with 700 students and a staff of about 100. The demographic breakdown of Fairview is: 8.9 percent Asian; 5.74 percent Black; 12.21 percent Hispanic; 65 percent White; and 8.6 percent Other. There are 86 percent of students in General Education; 14.26 percent in Special Education; and 6.62 percent in Advanced Academics, Level IV. Some 9.26 percent of students are on Free or Reduced Fees on Meal plan.
"From what I know of the demographics, our goal at Fairview is to provide vigorous and relevant instruction and an inclusive environment, and at the same time we want to be ensuring that all of our students are developing high self-esteem and learning how to be resilient," she said.
She said that Fairview, which is in the Robinson Pyramid, offers a local Level IV program for students who have qualified for advanced academic instruction in all content areas based on a screening process established by Fairfax County.
As far as new challenges, besides being on the job for a week, she's looking forward to "having consistency in the school day so I have the opportunity to be in the classroom to see all the wonderful learning that's occurring. I'm just eager for the opportunity to get to know students as individuals," she said.
She added: "I am a lifelong learner and want to provide the opportunity for my staff to continue to feed their passions for learning about teaching. So, I think targeted professional development is something I want to continue to provide. I am very passionate about being an advocate for every student and I think it's important that we consider each child's individual needs and help that child obtain high levels of success."
What she loves most about the job is "I get to see the K-6 grade spectrum on any given day and to see a student's progress through all those academic years – it's really an incredible experience," she said.
She is also looking forward to partnering with the school's PTA. "They provide a wealth of enrichment opportunities for our students as well as a cadre of volunteers that support our teacher's work, and I look forward to being able to nurture that relationship that has been established and continue to look for ways to partner with our families," she said.
According to Jessica Boger, Special Ed. teacher at Willow Springs Elementary: "Sara Van Aalst will be a great principal because of her willingness to be in the trenches with teachers, students, and parents. On many occasions Sara has come into my special education resource classroom to get to know students, not because I asked her to, not because of a behavior issue, but to build strong relationships with children."
VAN AALST grew up in Falls Church and attended Fairfax County Public Schools for her entire K-12 education. She graduated from Randolph-Macon Woman's College in 2000 with a bachelor of arts; and a master's from George Mason University in 2008; as well as an administration and supervision certificate from UVA in 2009.
While at Randolph-Macon, she worked at a preschool on campus all four years. "That was a great experience in early childhood education and offered an experience to be a part of children's early development in language, their social skills and early academics. I think it gave me a good grounding for the work that I've done as an educator and I have wonderful memories of the great passion that the preschool teachers had, and I'm thankful for them allowing me to be part of their classrooms."
She began her Fairfax County career in 2000, teaching second-, fifth-, and sixth-grades, as well as serving as an afterschool remediation and Jump Start Coordinator. In 2010, she was appointed assistant principal, serving at Laurel Ridge Elementary School, Bull Run Elementary School, and Willow Springs Elementary School. At Laurel Ridge, she initiated a mentor program between staff and identified students; at Bull Run, she developed and opened a Family Resource Center in collaboration with the Office of Communication and Community Relations and collaborated with Special Services, Procedural Support, and Special Education teachers to implement specialized reading programs aligned with student needs.
Sara is married to husband Neil, 45, who works for the Department of Homeland Security. They have a daughter named Cecilia, age 2.