Lynn Mayer of Fairfax was named the new principal of Fairview Elementary in Fairfax Station on July 1. The school originally built on Ox Road in 1899 inherited one third of the Clifton Elementary students when it closed two years ago.
"It's a very high-performing community," she said of her new school of nearly 600 students. "My job is to work together with staff, parents and students to learn as much about the community and continue that growth."
She said her challenge is to raise the level of learning for all of her students. Fairview offers advanced academics, with Level 4 or AAP being the highest, so there's an advanced curriculum for students who are eligible.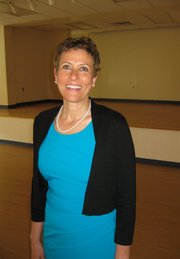 "The AAP program is so incredibly rich and in-depth, and includes those 21st century learning skills such as problem-solving and critical thinking," she said. "So I want to make sure all of our students have opportunities to access that AAP curriculum."
At the same time, Fairview is a Cluster 6 site for students receiving enhanced autism services. It has about 100 special ed students and its teachers are highly trained.
She added: "They require more services that their own base schools are not able to provide."
Fairview's demographic makeup for 2011-12 is as follows: Asian 10.31 percent, black 3.76 percent, Hispanic 10.03 percent, white 72.70 percent and other 3.20 percent. To this mix, she says: "I think the challenge is always meeting individual student needs."
As principal of Centreville Elementary, Dwayne Young worked with Mayer when she was his assistant principal. He says she has a "calm, thoughtful and super compassionate" personality. "And she has a very strong sense of ethicacy," he said. "She has her focus on the right things that are the best for the kids … Fairview is a wonderful match for her."
Born in the District and raised in Columbus, Ohio (her dad was a chemist), Mayer said Fairview also offers Chinese in grades first through sixth, one hour per week. "I would like to learn Chinese. My goal is to learn along with the first grade," she said.
She would also like to continue Fairview's unique handbell program for grades four through six, which she inherited from the previous principal, and that two music teachers are developing. Mayer hopes to further enhance the school's Outdoor Learning Program, which also has a Green Team on staff that grows its own summer vegetables, composting and recycling projects.
Robyn Ake has known Mayer for six years as a first grade teacher at Centreville Elementary. Mayer listens carefully and collaborates with teachers to find the most effective way to proceed, she said. "Lynn focuses on building relationships between students and teachers."
Ake said Mayer can be seen walking around the classrooms, and calling parents to communicate the things she's observed about their children. "She gets down at the children's level and has meaningful interactions with them," said Ake. "The children love it when she comes into the classroom."
"When I'm in the classrooms, I love for students to share with me the greatest things they're doing," said Mayer. "I feel that my main job is to be in the classrooms, greeting [students] when they come in and saying goodbye to them at the end of the day."
She likes to have fun too—by climbing into a dunk tank or dressing up on holidays in her pilgrim and Colonial Day outfits.
Mayer attended the University of Michigan where she was a near Eastern studies major. After graduation, she worked as an instructional assistant and discovered that she loved it. "I was bitten by the bug," she said.
She went back for a degree in special education from GMU in 1992 and taught kindergarten at Gesher Jewish Day School. She then pursued a master's degree in administration from Virginia Tech. Mayer started at Timber Lane Elementary, where she worked as a special education teacher for K-3. From there, she went to Little Run and taught special education in grades four through six. She moved to Thoreau Middle School and taught special education. She went on to become the pyramid resource specialist for nine schools in the Madison Pyramid. From there, she went to the central office and was program manager for emotional and learning disabilities for the elementary level, overseeing 140 schools in the county. Afterwards, she became the assistant principal at Centreville Elementary.
She is married to husband Robert, a director at the GAO, and the couple has two daughters: Adriana, 25, and Elana, 17.