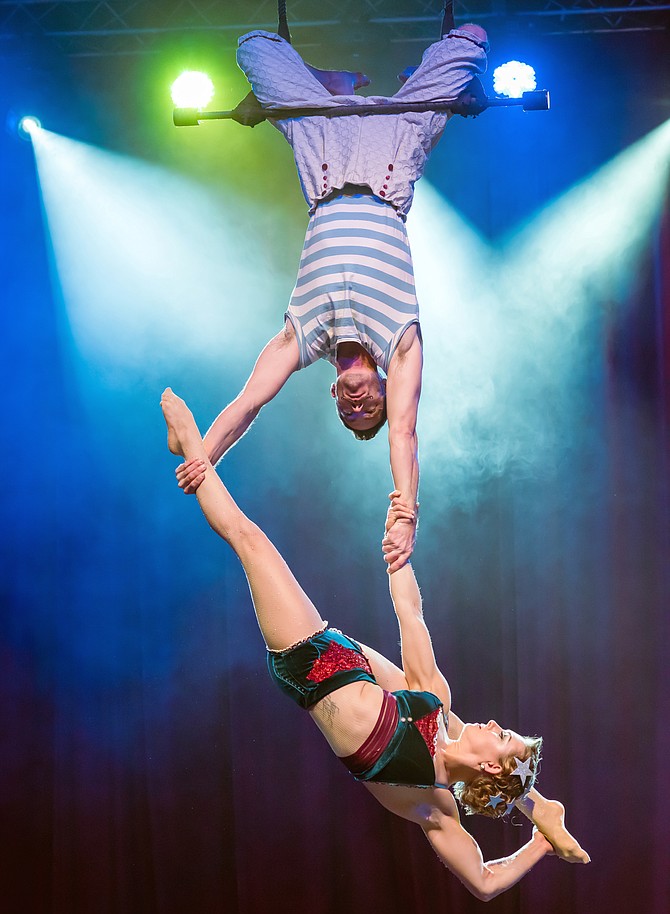 "The Center for the Arts is thrilled to be sharing Cirque Mechanics with our community. Audiences of all ages will be mesmerized by the acrobatic feats performed, and the humor inherent in the clowning ensures patrons are engaged and entertained," said Adrienne Godwin, Programming Manager, Center for the Arts (CFA).
"Cirque Mechanics takes a unique approach by including innovative mechanical staging that you don't see with other American circus troupes, which means that circus novices and aficionados alike will see something new and inspiring," added Godwin.
Cirque Mechanics, an American circus, was founded in 2004 with roots for its performances in the mechanical. At the CFA performance patrons will experience "42FT-A Menagerie of Mechanical Marvels." It is a singular blend of acrobatics as well as impressive array of mechanical marvels including a stunningly lifelike mechanical horse. There will be plenty of clowning and the ageless wonder of circus artistry such as traditional circus acts like the Strongman and juggling.
"We create circus shows that showcase the relationship between the mechanical and the acrobatic worlds. The Center for the Arts show has all the big wow moments we expect from a circus show with a great story and a unique stage set that allows us to see the action in the ring and behind the scenes," said Chris Lashua, Founder and Creative Director, Cirque Mechanics.
Cirque Mechanics: "42FT-A Menagerie of Mechanical Marvels" displays life in a circus tent show. It will follow the story of a down and out roustabout filled with wanderlust and enamored with the circus, willing to persevere in order to reach his dream of performing under the big top. It takes place in an rotating tent frame.
"In '42ft' we sought to pay tribute to the classic one ring circus. The central element of the circus has been the circus ring itself (42' in diameter), and this ring provides the perfect boundary to allow an acrobat to perform tricks on horseback at a full gallop," added Lashua.
Lashua is a circus performer in his own right. He created and performed visionary circus acts using an innovative aerial apparatus before forming his own circus company, Cirque Mechanics. Before the circus, Lashua was in professional bicycle freestyle competitions and performance.
Cirque Mechanics is "to be enjoyed by audiences of all ages," said Lashua.

Where and When
George Mason University, Center for the Arts presents "Cirque Mechanics: 42FT-A Menagerie of Mechanical Marvels" at 4400 University Drive, Fairfax, VA 22030. Performance Saturday, February 22, 2019 at 8 p.m. Tickets: $48, $41, $29. Call 888-945-2468, or visit https://cfa.gmu.edu/.