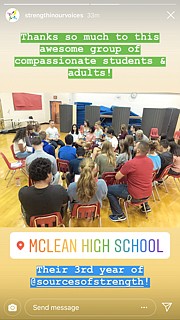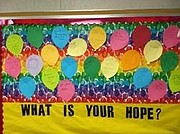 Fairfax-Falls Church Community Services Board (CSB) is once again offering mini-grants for youth-led projects to reduce stigma among their peers, using funds from a suicide prevention grant from the Virginia Department of Behavioral Health and Developmental Services.
These mini-grants will fund youth-planned, youth-led projects within Fairfax County, Fairfax City, and Falls Church City.
Here are some ideas from previous years' grant awardees:
Mountain View Alternative Learning Center conducted a project titled "I'm MINDING My Health," where 24 students participated in 2-3 days of student-led group activities around the theme of mental health awareness. The group planned for and participated in group activities facilitated by the school's psychologist, social worker and counselor. They discussed definitions of mental health and strategies they can use to help maintain positive mental health. Using funds from the grant, the students designed posters on that theme and a special bulletin board was set up where students were encouraged to write statements of support for mental health awareness.

The Community Preservation and Development Corporation met with 32 youth, from ages 6 to 18 years enrolled in the Summer Learning Loss Prevention Program in the Island Walk community center in Reston. The collective taught the youth how to stop, reduce and cope with stigma relating to mental health conditions. They also learned how to help someone with a mental health challenge and how to find resources for them.

McLean High School ran a suicide prevention program, "Sources of Strength," and paid for training for 40 students to serve as peer leaders and 10 teachers to serve as adult advisors. Sources of Strength is an evidence-based mental health program shown to positively change school culture using an upstream approach to enhance the protective factors among youth, increasing the number of assets in students' lives. The program trains students as peer leaders and connects them with adult advisors at school and in the community.
Proposals are due Feb. 1, 2019. Review the Request for Proposals to find out how to apply, and email csb-prevention@fairfaxcounty.gov with questions.