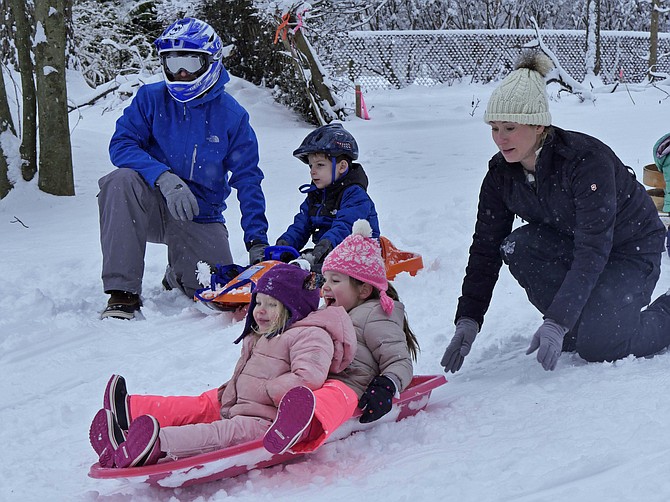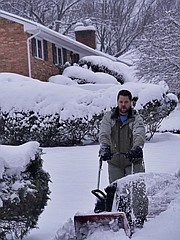 Joe Bermudez is pushing the only snow blower on the block between waves of snow late Sunday morning. "The kids with my daughter Julianna, will be sledding around the block in a few minutes, third house down. The Boyles have a hill in their backyard."
Shrieks can be heard the nearer you get to the activity. The hill in the backyard is scattered with 2 to 4-year-old children with some pushed by mom or dad and others trying to wedge into a head start by themselves. Grayson and Quinn Pekey take turns riding together or solo down the hill. "You want to go down together or what?" Dad yells to mom up the hill, "you push and I'll catch."
A mother can be heard saying, "You need to carry your swing to the top. Look out; here comes a sled."
On the top of the hill, Guinevere Boyle hangs tightly to the tire swing as mom pushes her around in circles. "She's just really gotten into this tire swing. I think it is the first year time she has ridden it in the snow."
Libby and Anna Board pick up speed as they near the bottom of the hill. A parents yells, "Get out of the way. I got 'em." Another sled overturns by the fence. "You OK?" A giggle answers that question. Meanwhile the snow has started again. Looks like nice long naps will be in order.