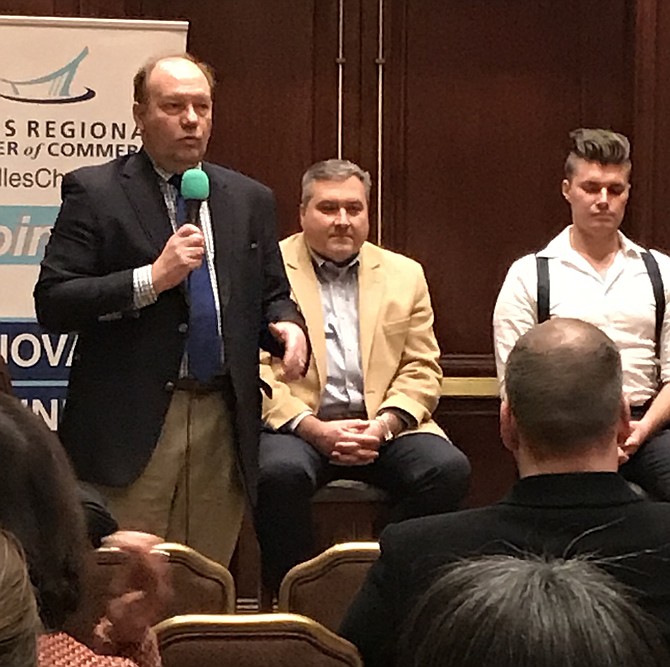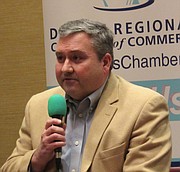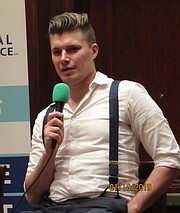 "Both businesses and people need to prepare for the extended federal government shutdown. The impact to federal contractors and their workforce, as well as impact to local retail, is already being felt," said John P. Boylan, President & CEO, Dulles Regional Chamber. The Chamber hosted a free panel, "Survival Guide for Businesses Impacted by the Federal Government Shutdown" at the Hilton Washington Dulles in Herndon on Thursday, Jan. 10, 2019.
Membership heard from CPAs, bankers, insurance experts and lawyers on steps to protect themselves, their families and assets, businesses and employees. Presenters discussed the direct and indirect costs of the partial shutdown, advised how companies could remain solvent, provided options for employees and employers, described remedies available to government contractors and more. "We will be practical, not political. We will talk about solutions," Boylan said in his opening remarks.
Boylan explained that while people talk about the partial government shutdown that's left 800,000 essential and non-essential federal employees without a paycheck, federal contractors are also impacted. In addition, the missed payments on Friday will begin to ripple down to affect local retail, restaurants and entertainment. "We need to get ahead of the problem and allow people to ask questions," Boylan expressed.
Jeff Bentley, CEO & President Northwest Federal Credit Union (NWFCU) spoke first at the panel. "We've kind of jumped into the fray … We are in the community, and we're here to help," he said. Bentley outlined NWFCU's Furlough Relief line of credit available to members and prospective members given a credit check for up to $10,000 at an introductory 0% APR for 90 days after which it converts to 7.00% APR for the life of the balance. Bentley added that for those who already have a loan with NWFCU, it is offering a "skip a pay … put that payment at the back of the loan."
Michael T. Westwick, Senior Accountant Stitely & Karstetter, PLLC provided financial guidance for small government businesses with contract workers. "The name of the game is cash flow," he said. Income is not coming in so watch expenses, Westwick cautioned. As for retaining key employees not being paid now, Westwick said, "Let them go...and have them file Virginia unemployment. They will receive some money there; then you can rehire them right back." Westwick noted that the Virginia Unemployment Tax would go up, "maybe a couple hundred a year," but it may be worth it to retain the employees.
Maureen Schultz, McLean Insurance Group, spoke about business and personal solutions. She said that if companies with contractors see a big drop in employees, call the insurance agent; they can decrease the Workers Compensation exposure. If insurance is based on sales, give a call too. "Have that talk," Schultz said.
ON A PERSONAL LEVEL, Schultz did not recommend individuals impacted by the partial government shutdown cancel their life, auto, homeowners or health insurance policies. "I do not recommend that … disasters happen every day, bad disasters. Instead, increase the deductibles on your auto or homeowners. Have the conversation with your agent," she said. Inquire if benefits can be reduced, not canceled for a time.
Schultz cautioned those present not to miss an insurance payment because the policy would be canceled. She stated whole and variable life insurance policies can have very low-interest loans at 3 and 5 percent that can be paid off at any time. "Tap into that," Schultz said.
Lavanya K. Carrithers, Attorney at Law, The Carrithers Law Office in Reston provided strategies for employees and employers. For employees, she urged them to review contracts and talk to the other party in the agreement about temporarily renegotiating the contract in light of the partial shutdown.
As for employers, review contracts and communicate with third parties and employees Carrithers said. Government contracts that are funded and funds received should be performed unless there is stop work status." Know your burn rate obligations, she said. As for compliance with the law during the shutdown and how to prepare for shutdowns in the future, Carrithers said, "Talk to an attorney...see what your obligations are."
Fairfax County government and Fairfax County Public Schools are aware of the challenges that lie ahead and are preparing, said speaker Supervisor John Foust, (D-Dranesville). "We have an infrastructure in place to deal with the challenges that we think will get much worse over the coming weeks if the shutdown does not get resolved."
FOUST said there are about 361,000 federal workers in the Washington Metropolitan region, and about 40 percent of those, which is 145,000, are impacted by the partial shutdown. There are 400,000 contract workers, Foust reported. "The ones you see that work till 9 at night. They are cleaning your office. They are really low-paid," he said. "They do not have the resources to get through losing a paycheck for long."
Fairfax County Public Schools are offering support to families though. "They came right out front and said, they are not going to let any kid go hungry," Foust said.
Foust detailed information about hiring fairs offered by Fairfax County Public Schools for furloughed federal employees interested in substitute teaching positions.