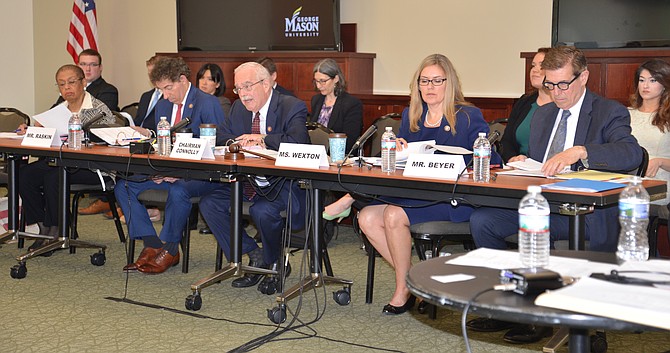 Thousands of furloughed government employees suffered during the shutdown. Many were forced to seek public and and/or private assistance to meet basic needs and financial obligations. But during their ordeals, those government employees knew that when they returned to work they would eventually receive back pay.
The same is not true for the businesses and employees who contract their services to the federal government. There is no provision for lost personal compensation or company revenues from projects that came to a grinding halt on Dec. 22. For many of them, the shutdown hasn't really ended, as they continue to struggle with late payment notices, loss of revenue, negative impacts to future business, the risk to security clearance statuses, and in some more severe cases, the loss of health benefits, means of transportation, and even their homes.
U.S. Rep. Gerry Connolly (D-VA 11) took his US House of Representatives Committee on Oversight and Reform Subcommittee on Government Operations for a road trip on May 6. Connolly and colleagues Rep. Eleanor Holmes Norton (D-D.C. at-large), Jamie Raskin (D-MD 8), Jennifer Wexton (D-VA 10), and Don Beyer (D-VA 8) convened the session in a meeting room at George Mason University in Fairfax to hear testimony from area federal contract business leaders, and individuals who had been personally affected by the latest – and longest – partial government shutdown.
TO GET THE "REAL PICTURE" of the shutdown's effect on the government contracting world is what brought Connolly and the other subcommittee members out of their House Chambers and into the virtual streets.
"Virginia's 11th District is home to about 55,000 federal employees … for every federal employee in my district, we estimate there are roughly about 1.5 contractors," Connolly said in his opening statement. That means an additional 82,000+ residents of just this one area were not performing the work of government in cybersecurity, general security, technology, analytics, communications, maintenance, and much more – and not getting paid – during the shutdown, or compensated for wages lost after government resumed on Jan. 25, 2019.
"Contractors serve important roles alongside federal employees, they respond to citizens in need by answering phones in call centers, they analyze classified intelligence information, and they help maintain agency information technology (IT) systems, secure federal buildings, and provide the federal government and American taxpayers with goods and services. They are laboratory technicians, machinists, janitors, cafeteria workers, cybersecurity experts, and engineers. Our government would not function without them," Connolly said.
Government employees received their back pay. Federal contractors did not.
"This disparity is wrong," declared Connolly.
On the first panel to provide testimony were Ed Grabowski, Pres. Local 2016, International Association of Machinists and Aerospace Workers; Roger Krone, CEO, Leidos; David Berteau, President and CEO, Professional Services Council; Alba Aleman, Founder and CEO, Citizant; and Michael Niggel, CEO, Advanced Concepts & Technologies.
Grabowski's Local 2016 represents about 700 workers in aerospace, including lab technicians, crane operators, helicopter pilots, propellant mechanics and other highly-skilled and difficult-to-replace and quickly train employees. A large percentage of Local 2016's membership, including Grabowski himself, are veterans of the armed services. The shutdown and the lack of "make-whole compensation" has had a profoundly negative impact on them. "We must remember that the financial loss experienced by these workers ripples through the communities they live in, … not to mention the deep financial impacts … that will affect retirement investment, education funding, and general savings for emergencies," said Grabowski.
Reston-based Fortune 500 giant Leidos, with 32,000 employees in more than 30 locations may have fared better than smaller government contractors, but CEO Krone reported that they still lost an estimated $14million in revenue.
"But more importantly," said Krone, "we saw work on 22 programs of significant importance to our country stall or come to a screeching halt."
Company financials and concerns for country aside, Krone said the focus of his testimony would be "on the people side."
Leidos used an Employee Redeployment Team to transfer some impacted employees, assisted others financially through the Leidos Relief Foundation, and collected donated paid-time-off from other Leidos employees to help offset the financial burdens of employees who would not be paid otherwise.
David Berteau of the Professional Services Council had a similar story to tell about the shutdown's effect.
Berteau highlighted how, in addition to the direct negative financial impact on furloughed employees, the uncertainty of employment also makes recruiting and retention of employees more difficult in a time of low unemployment. Competition for employees includes employers like Amazon and Google whose workforce is generally immune to the instabilities of government work.
Berteau and Alba Aleman of Chantilly-based Citizant, both testified about the difficulties of keeping small and mid-sized government contract business afloat when invoices from before the shutdown remain unpaid. Agency contract officers are so buried from work left to pile up during the shutdown that even future contracts and payments are in jeopardy they said.
Twenty years in business, Aleman's Citizant has weathered other shutdowns and events like 9/11 and Y2k. and the CEO thought they had done everything possible to shield company and employees from the "next one." But as invoices went unpaid even into March – even effecting payment for projects not shutdown and which Citizant was contractually obligated to continue to support – the company found itself more than $4 million in debt, maxed out of its borrowing capacity, having to postpone paying their own vendors and with Aleman looking at using her own retirement and savings funds to meet payroll for her 180 employees.
"I can't begin to tell you the level of stress and panic that strikes at the heart of a business owner," said Aleman.
AFTER A BRIEF RECESS, the second panel included more personal stories of hardship because of the shutdown.
Wesley Ford, the owner of TKI Coffee Shop, described the continuing struggle to bring his business back to the profitable state it had enjoyed prior to the shutdown. The business employs several ex-felons, "because people deserve a second chance," says Ford, but he had to lay off 40 percent of his workforce. "It will be especially hard for them with their backgrounds." Ford was "terminating a good employee for their own good – so they could qualify for unemployment."
Ford's landlord is the Federal Government, and he asked for a rent abatement. His request was denied. "I came to understand that my landlord has no real understanding of what it's like to operate a small business."
"Coffee and such are non-essentials when people are uncertain about the next paycheck." Ford's business slowed even before the actual shutdown and is only now starting to recover.
Tamela Worthen, a security officer with the Smithsonian Institute, experienced a health crisis during the shutdown when she was unable to pay for necessary medication. After years of working to build good credit, buy a car and a home, the shutdown and no back pay are putting her efforts at risk.
"Yes, we are back at work and getting paid, but I am still far behind now with no way to make it up. At least getting the back pay would get me closer to where I was."
ServiSource is an affiliate of a group of nonprofits whose work includes the AbilityOne Program, the largest source of employment for people with disabilities across the United States. Mark Hall, of ServiSource, described the plight of their 79 AbilityOne employees who were furloughed "and just couldn't understand why and wanted to get back to their jobs."
Mail clerks, dining room attendants, facilities workers and administrative support personnel, the AbilityOne employees earn an average of over $13 per hour with an additional $4.27 in hourly health and welfare benefits. With the cost of living what it is in this area, these workers often live paycheck-to-paycheck.
BOTH PANELS offered suggestions and recommendations for avoiding similar circumstances in the future. The repeats included:
Legislation that guarantees back pay to contractor employees
Mandate processing and paying of invoices as essential activities that must continue during any future shutdown
Expand the agencies and functions considered essential to the security and stability of the country
"Like everyone else in the room today," said Connolly, "I hope that we never experience another government shutdown. However, we do not know what the future holds. Therefore, Congress must take action to lessen the impact on contractors, work with agencies to improve their communication with contractors ahead of a shutdown, and most importantly, ensure that contractor employees are able to receive back pay."