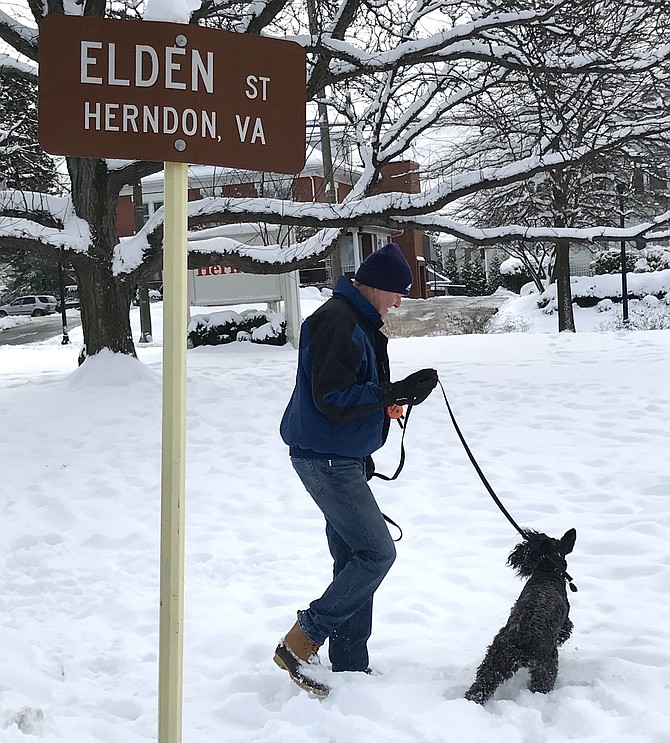 The first snowstorm of the season unexpectedly persisted through the weekend in the local area. After the first snow late Saturday, the storm ramped up Sunday, dumping a total of 9 inches of the powdery white stuff, according to the National Weather Service, creating work and play for those living in Herndon.
On Monday, Tom Speirs of Herndon sat at Green Lizard Cycling, a local gathering spot on the W&OD Trail known for its "Bikes, Beer and Coffee." Beside him sat his dog, Keira, a Kerry Blue Terrier. Snow clung in icy clumps to her soft, dense, wavy blue coat. Speirs and Keira had walked into downtown Herndon via the plowed W&OD Trail and stopped for a few minutes to play on the Town Green.
While some people let others do their shoveling, Speirs said even though he's 70-ish, he knew that over the weekend and into Monday, as the snow accumulated he'd be out there shoveling it himself.
"I started about 10 yesterday morning," said Speirs. "I do my driveway and five others – my elderly neighbors, family and good friends. I shoveled for about two hours. Then, this morning I did my second pass." Speirs decided to reward himself for his work with a little treat, a glass of beer.
Asked how Keira liked the snow, Speirs said, "Keira loves the snow, but she turns into a big snowball."