Herndon — May is National Bike Month. When spring offered clear skies, warm weather,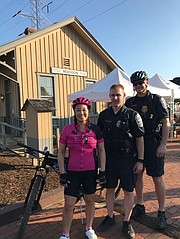 and greenery galore on Friday, May 19, it was the perfect opportunity for Washington metropolitan workers from the District of Columbia, Virginia, and Maryland to get their gear on and their wheels rolling. Between 5:30 a.m. and 10 a.m., more than 17,500 Bike to Work Day cyclists pedaled paved trails, bike lanes, and streets to begin their commutes to work. Commuter Connections partnering with the Washington Area Bicyclist Association planned the event.
Bike to Work Day featured 85-staffed pit stops throughout the metropolitan Washington area. The event celebrated bicycling as an environmentally conscious, low-cost, and healthy way to get to and from work. One of the designated Bike to Work Day pit stops was located on the Herndon Town Hall Green, corner of Lynn and Elden Streets and adjacent to the W & OD Trail. The stop was co-sponsored by A-1 Cycling and Herndon Parks and Recreation Department.
ALONG WITH VOLUNTEERS from numerous cycling advocacy and riding groups, supporters welcomed cyclists to the Herndon pit stop. Mechanics from A-1 Cycling and Green Lizard Cycling stood ready to make any needed bike repairs. Josh Taft, a bicycle mechanic for A-1 Cycling, said he hadn't seen any major mechanical problems yet that morning. "Nothing bad. People just need a little air in their tires so far," he said.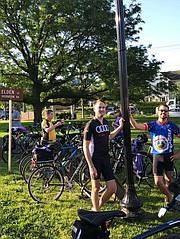 Brad Kendall, a bicycle mechanic from Green Lizard, added, "After 8 a.m., it'll really get busy with repairs. Sometimes when it's the first time riding for the year, the bike may need a little help."
Keith Gates is the owner of A-1 Cycling. According to Gates, 10 years ago only 70 cyclists registered the Herndon pit stop as their location to pick up their free T-shirt and be eligible for the prize raffle. "This year more than 450 riders registered for the Herndon pit stop," Gates said. He explained with a larger number of people choosing cycling as a means to get to work, "It helps with lobbying, better roads, and more awareness."
Like other towns and cities across the United States, momentum for cycling has steadily increased for many reasons in the past few years. Alex Rekas of Fairfax grew up in Herndon and now works in the town. He was in the initial wave of 100 or so cyclists who pulled into the Herndon pit stop before 7:30 a.m. When asked given so many reasons to ride, what was his, Rekas emphasized how cycling enables people to interact socially and enhances the sense of community.
"I love Bike to Work Day. It gets people out on their bikes, and when people are riding their bikes, it's great for the community," he said.
John Iskander works at Fibertek, Inc. in Herndon. He pulled into Herndon's pit stop shortly after Rekas. When asked what he liked about Bike to Work Day, Iskander mentioned how cycling ignites corporate team building. "I like that it gets my four or five co-workers out, bonding by riding to work together."
Even individuals, who work for automotive industries headquartered in Herndon, exchanged their four wheels for two, at least for that morning. Kylee Griffin and Will Barber cycled from Leesburg 16 miles away into Herndon via the W&OD Trail. The duo work for Audi of America headquartered in Herndon.
"This is my season," Griffin said. "We work for the automotive industry but this, we thought, was a great opportunity to ride our bikes."
For Barber, it was his first ride to work for the season. "I ride about 1,000 miles a year," he said.
WITH THE LOCAL ECONOMY BOOMING, drivers are experiencing not only congested roads but extended peak-hour traffic going to and from work, even if they are going only a short distance. While driving in congested areas is stressful, it also takes up what could be free time to enjoy the little things in life, like friends and nature.
For Vivck Ojha, who works at Fannie Mae in Reston but lives in Herndon, the thought of giving cycling a try on Bike to Work Day was a no-brainer.
"This is my first time cycling to work," Ojha said, as he pulled into the Herndon pit stop with his friend, Abhijeet Chawhan. "I just got my bike two weeks ago. I'm excited about this," Ojha said.
When asked what his main reason was for wanting to cycle to work, Ojha said while there was the convenience of the W& OD Trail connecting Herndon to Reston, what prompted him the most was the encouragement of his friend and co-worker, Abhijeet Chawhan.
"We both live in the same community and work together," Chawhan said about his friend Ojha. "He likes nature and greenery. And this amazing trail, the W&OD, goes right beside our building."
For more information on biking for transportation, fun, and fitness, including learning to ride, city cycling and community rides, visit waba.org.