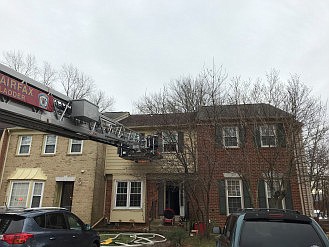 On Monday, Jan. 7, at 11:45 a.m., units from Fairfax County Fire and Rescue and the City of Fairfax Fire Department responded to a report of a townhouse fire in the 9700 block of High Water Court in the Burke area of Fairfax County.
Units arrived on scene of a middle-unit townhouse to find smoke coming from the front of the house. Crews located a fire in the basement. As units worked to extinguish the fire, two firefighters conducted search and rescue operations on the first floor. During their search both firefighters partially fell through a hole in the floor. They quickly pulled themselves out of the hole and exited the home uninjured. There were no reports of civilian or firefighter injuries.
No residents were home at the time of the fire. The family dog was home at the time. Firefighters quickly found and removed the dog. Unfortunately, the dog died.
A neighbor smelled smoke and called 9-1-1. Smoke alarms were present in the home and sounded.
Fire Investigators determined the fire was accidental in nature and originated in the space under the floor between the basement and first floor. The cause of the fire was an electrical event involving the wiring supplying an electrical outlet.
Two adults and one infant were displaced because of the fire. Red Cross assistance was offered and accepted. The damages as a result of the fire were estimated to be $125,000.