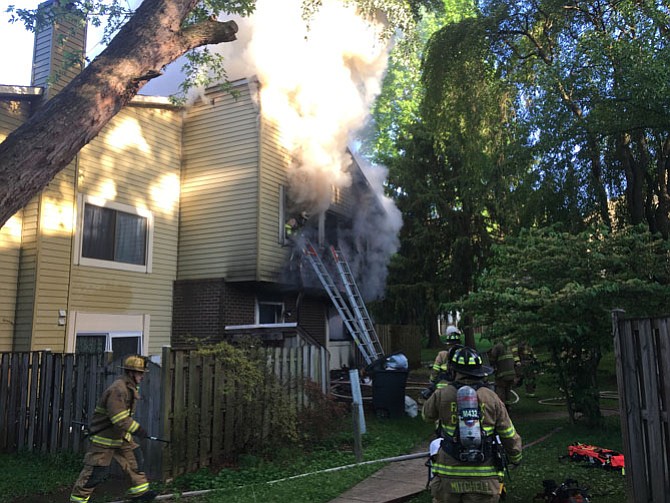 Burke — On Wednesday, May 17, at approximately 6:39 a.m., units from Fairfax County Fire and Rescue and the City of Fairfax Fire Department responded to the 10700 block of Spring Oak Court in the Burke Centre section of Fairfax County for a fire in a townhouse.
Station 32, Fairview, arrived on scene to find a two-story townhouse with fire visible from two floors. Firefighters quickly began an aggressive attack on the fire. Three occupants were discovered outside in the rear of the townhouse. Two occupants suffered burn injuries and one sustained injuries as a result of jumping from a second floor window. The fire was brought under control in approximately 20 minutes. There were no firefighter injuries reported, according to the Fairfax County Fire & Rescue Department.
The home was occupied by three adults when the fire occurred. Working smoke alarms were present in the home. One of the occupants discovered the fire prior to the smoke alarm sounding and alerted the others. Two of the occupants had to escape the home by jumping out of a second floor window.
Two dogs and a cat were found deceased. All three occupants were transported to the hospital. A total of four displaced occupants will be receiving Red Cross assistance.
Fire Investigators determined that the fire originated in the living room on the first floor. The fire was accidental in nature and caused by an electrical event involving a floor lamp, which ignited ordinary combustibles in close proximity.
Damages as a result of the fire are estimated to be approximately $253,062.