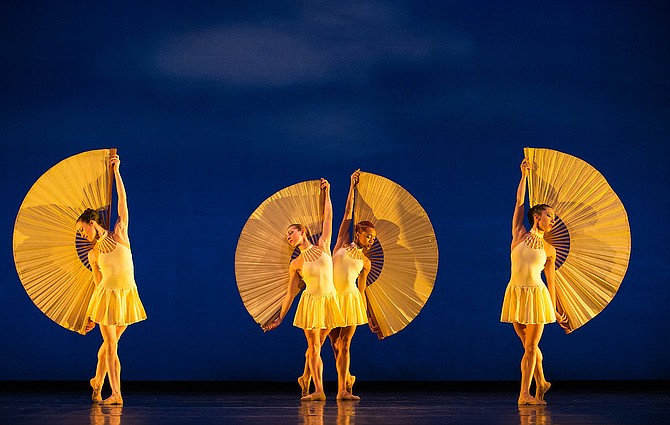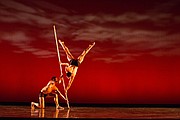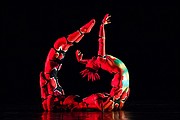 The mysteries of the American Southwest landscape with its many animals and sounds will come alive as the sculpted bodies of MOMIX dancers perform on the Center for the Arts stage. It is an evening with "Opus Cactus" aiming to be "an artistic bridge across the country traveling over dusty trails" from the chill of winter in Northern Virginia to the warmth of the Sonoran desert," said artistic director and MOMIX founder Moses Pendleton.
The talent-laden MOMIX performance of "Opus Cactus" will include eye-popping precision movements of a single dancer or a group of dancers contorting into the looks of a desert reptile, the rays of sun or local flowers while attired in dazzlingly costumes and original music. The performance is meant for the whole family.
According to Pendleton, "the audience does not need to know modern dance concepts to enjoy the performance." The conceptions behind "Opus Cactus" are not so much of logic but of feelings and impressions that the audience takes in and reacts to."
Pendleton said he wants the audience "to be drawn into the physicality and emotions of the performance, to open their eyes wide to it."
What can audiences expect to see? The performance will abound with human bodies becoming towering cacti or slithering Gila lizards, beautiful images of fan shapes or dancers perpendicular on tall poles. Each created by a group of athletic human beings. It will be surreal and utterly imaginative. "Opus Cactus" is a full evening-length work that includes Native American music and music from other desert areas of the world.
MOMIX has earned an international reputation for its inventive, artistically crafted, and physical beauty. As a special treat for Center for the Arts audiences, there will be post show cocktails and conversation with MOMIX company members. The very same dancers seen on the CFA stage performing the unexpected.
"MOMIX is constantly pushing the boundaries of physical theatricality and never disappoints in providing audiences with unbelievable visual splendor. … Getting lost in MOMIX's tribute to the southwestern United States will be the perfect antidote to a cold winter night here in Northern Virginia," said Adrienne Bryant Godwin, Programming Manager, College of Visual and Performing Arts.
Where and When
George Mason University/Center for the Arts (CFA) presents MOMIX at 4400 University Ave, Fairfax. Performance: Friday, Jan. 25, 2019 at 8 p.m. Tickets: $50, $43, $30. Half-price tickets are available for children and youth through grade 12. Call 888-945-2468, or visit www.cfa.gmu.edu. Note: Cocktails and gathering with MOMIX company members in the CFA lobby after the performance with "Questions & Answers" conversations.