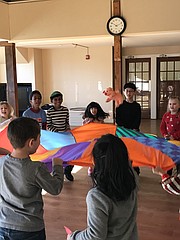 The Sias family arrived early to Frying Pan Farm Park Visitor Center in Herndon on Martin Luther King Jr. Day, Jan. 21, 2019. Andre and his wife Blake brought their two sons, Cole, 5, and Cameron, 7, to participate in the park's first ever Dr. Martin Luther King Jr. National Day of Service. The park planned the event to help children learn how to give back to the community, and practice working together. Andre Sias of Reston said, "I wanted my children to see the significance of Dr. Martin Luther King Jr. and the history."
The hour-long program proved to be very popular. Children and parents poured into the Visitors Center, many bringing a new toy to donate to needy children. Madeline Herman, Frying Pan Farm Park Recreation Programmer, split the program into three segments.
"The first station is focused on the history and Dr. King," said Herman. Children heard Doreen Rappaport's picture-book biography, "Martin's Big Words: The Life of Dr. Martin Luther King Jr.," illustrated by Bryan Collier. The reader shared King's history intertwined with his famous quotes.

Next, the children played team-building games. "Working together helps us to solve bigger problems," said Herman. Parachute games drew squeals of laughter as the children worked cooperatively in the team-building exercise to bounce a stuffed animal up and off the cloth and create a synchronized "wave" to move the animal around the perimeter. "You are an important part of the group when you work together," said instructor Claire Thomas.
At the final station, Rayyan Tall, 11 of Fairfax, momentarily paused his work at the watercolor art donation station. He sat beside Miranda Thomas, 4, to look over the book about Martin Luther King Jr. Johann Tiilikainen, 6 of Centreville, painted a watercolor picture. Beside her sat William J. Gock, 8 of Fairfax who filled in colors for his rainbow. Gock said, "I'm painting it because it makes me happy and I think it will make other people happy too."
"(The) watercolor station will allow them to create art to donate (as a service project) to the residents at the Fairfax Nursing and Rehabilitation Center," said Herman.