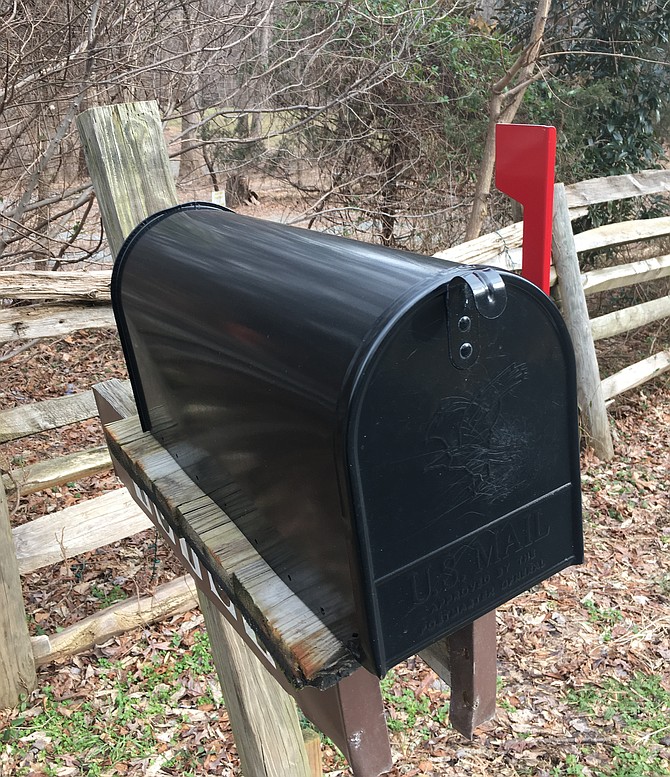 "If you see someone suspicious near a mailbox or see them steal mail, call police immediately, then report it to Postal Inspectors at 877-876-2455." —U.S. Postal Inspectors website
Mailbox red flags may alert more than the postal carrier that there is outgoing mail in your box.
The Avenel Community Association Newsletter of Jan 15 contained the following note:
"Mail Theft Alert
"Recently we have heard of four instances where an owner's outgoing mail was stolen and checks were altered and, in some cases, subsequently cashed. In three instances, it was reported to us that the theft occurred after the owner placed their mail in the blue postal mailbox on Beman Woods Way. It appears that the incidents all occurred on Jan. 2. In another instance the mail was taken from the homeowner's personal mailbox with the red flag up. The ACA has reached out to the U.S. Postal Investigator in an effort to obtain more details but to date have not been able to establish contact. It is unknown if the checks were somehow removed from the postal box directly, or subsequently after collection, however, we encourage all residents to use caution when handling your outgoing mail.
"We recommend that residents who placed outgoing mail in the postal mailbox, particularly on or around Jan. 2 review your bank statements for any fraudulent activity. The Association would also like to encourage all residents not to place any outgoing mail in your personal mailbox, but rather drop off important outgoing mail at local post offices, hand it to your letter carrier, or have sensitive documents delivered with a signature required for delivery. If you place mail in the blue postal mailbox, postal investigators have recommended that it be deposited during the day time hours prior to the scheduled pick up time of 1 p.m.
"The Association will keep residents updated with any new, pertinent information. If you believe that your mail has been tampered with, please file a report with the Montgomery County Police by calling the non-emergency number at 301-279-8000. In addition, report it immediately to the U.S. Postal Inspection Service at postalinspectors.uspis.gov or 877-876-2455. After the authorities have been contacted, please contact Avenel Surveillance at 301-299-1518, or the ACA office during regular business hours at 301-299-5916."
The mail theft goes farther afield than Avenel. Take heed of the story Potomac resident Donald Sladkin wrote in a recent email.
"…on Columbus Day morning, Oct. 8, 2018, I dropped into my home's street-side mailbox an outgoing envelope with check for $631 made out to Toyota Financial Services, forgetting that the Post Office does not collect on Columbus Day. I checked around 6 p.m. that day, and the envelope was still there, and so I left it for pick-up the next afternoon. The following morning, while picking up the newspaper, I checked the mailbox and found it empty. Suspicious, but unbelieving that someone would have stolen the letter for a nefarious purpose, I let the matter rest but checked my bank account each day. Sure enough, on Oct. 10 my statement showed the check had been cashed in full, with the Pay To line changed to read the name "Meek." Also, in the" For" line to the left of the signature space, they had altered my account number to read as if it were a phone number, including a fake but legitimate area code. The stamps on the back of the check were virtually illegible."
Thus, started Sladkin's quest to get his money refunded and his account secure again.
"After working with Capital One, my bank," Sladkin wrote, "I had to provide information for the investigation and change to a new checking account, as the bad guys now had my account number and signature. I was, in the end, reimbursed the $631 by the bank."
Sladkin said he posted his story on the River Falls Chat, his community newsletter, and heard from two other neighbors who said they had checks stolen the same evening. Their checks were cashed too.
Anthea Higgins, who lives next door to Sladkin, had mail stolen the same night Sladkin did last fall.
"Yes! I did have this happen," Higgins wrote in an email. "Very surprising. I put an envelope in my mailbox with a check made out to my landscaper on Sunday night before Columbus Day forgetting it was a holiday. It was stolen then I believe. It was cashed at a branch of my bank (M&T) in Bethesda they think. The payee in the check was not altered, so don't understand how it was allowed. I did not end up reporting to police as I was waiting to hear back from my bank, about their theft investigation (and then the holidays hit…I need to circle back with them)."
Higgins said she did not notify the post office of the theft either. But she has decided to use a Postal Service box instead of leaving outgoing checks and documents in her own box with the flag up.
Mail theft is a Federal Issue, according to local Postmaster Rick Rucker. But, he said, residents should call [local] police if mail is stolen.
"Because that's your personal property," he said.
Potomac Post Office branch manager Wes McMahan said he was not able to speak with the press except to say the situation, "is being looked into."
The U.S. Postal Inspectors website offers the following information:
"If you see someone suspicious near a mailbox or see them steal mail, call police immediately, then report it to Postal Inspectors at 877-876-2455. If you believe your mail was stolen, report it immediately by submitting an online complaint at postalinspectors.uspis.gov or calling us at 877-876-2455."