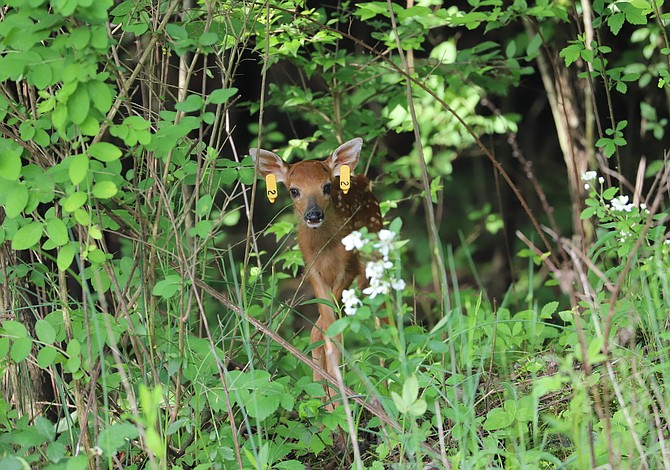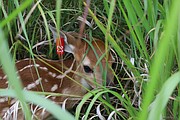 Now in its third year, Montgomery Parks is tracking the movement of deer by tagging fawns whenever possible.
And they are asking for help from the public.
"White-tailed deer are giving birth now. So, you may find a fawn in the parks or even your yard," Montgomery Parks said in a statement. "If you do, leave the fawn alone. Then, call our wildlife ecologists at 301-962-1353 to help with our fawn tagging program. The program helps us learn how deer move in the parks."
Guy Metzler, a Natural Resources Specialist with Park and Planning Stewardship Division said the Fawn Tagging Program is an attempt for Park Naturalists to learn about deer distribution in the area.
"By tagging a fawn, we know when it was born and where," he said. "We get an idea of how far they are traveling from birth to death."
Studies show that adult does usually don't travel more than a square mile in their lifetime, Metzler said. Bucks travel considerably farther, looking for their own territory, he said.
In 2017, the first year of the program, Metzler said they tagged 16 fawns, in 2018, 22 and so far this year, 34 fawns have been tagged.
When a fawn sighting call comes in, they drop everything and go for the tagging. They catch the fawn, put a blindfold on it to reduce stress, get the fawn's weight and gender and put a tag on each ear.
This is the birthing season for deer, he said.
For the first two or three weeks of life, does (mama deer) leave their fawns in grasses or bushes while they go foraging for food. The mother returns to feed the fawn, so there is no need for people to intervene in the care of the fawn.
"They are really only dropping deer from mid-May until the end of June or mid-July," Metzler said. "The fawning window is actually small."
"We need to reinforce that if people see a fawn on its own it is not abandoned," Metzler said. "Leave it alone."
He said fawns feed on their mother's milk for the first few weeks then follow her around learning what they can eat.
Those early weeks are when Montgomery Parks naturalists tag the fawns. If you spot a fawn that has not been tagged, call 301-926-1353. Tags used this year are red.
"The more calls we get, the more successful the program," Metzler said.