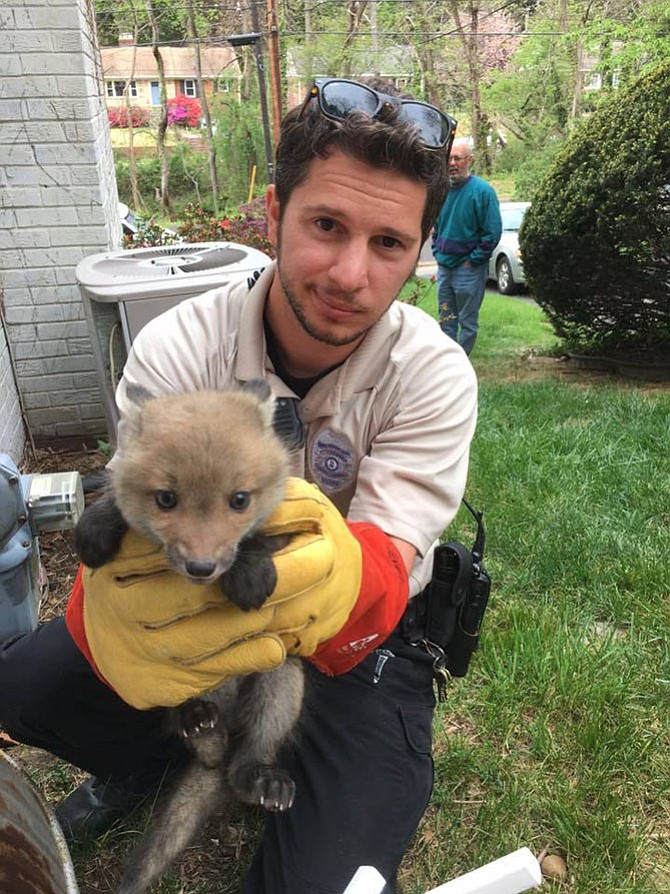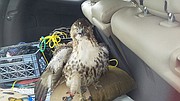 Alexandria counts thousands of pets among its residents, but it also hosts a significant population of wildlife — birds, squirrels, raccoons, rabbits, opossum, deer and other wild animals. In one month this winter, four different citizens called the Animal Welfare League of Alexandria (AWLA) shelter to report hawks in distress. Two of the birds appeared to have been hit by cars on Interstate 395.
Hawks and other raptors are extremely strong and have sharp talons, says AWLA Animal Services Chief Brian Rees, requiring the shelter's officers to don thick elkhide gloves to handle them. "Citizens shouldn't try to pick up an injured hawk," he said. "It's best to call the AWLA for help." Fortunately, three of the four hawks rescued by AWLA Animal Services Officers were successfully released back to the wild after specialized care from wildlife rehabilitators.
Spring's the time when people most often encounter wild animals, especially young ones. AWLA receives 300 to 400 calls each spring from city residents reporting baby birds in yards or on sidewalks. "Birds learn to fly from the ground, so the mother is likely nearby," Rees said. If a young bird does appear to be in harm's way, such as in a street or near prey animals, the bird should be placed back in the nest or near the tree where its nest is. Contrary to common belief, the bird's parents will not be frightened away by a person's scent on the young.
Here are some of the wildlife Alexandrians might encounter — and how best to handle those situations:
Squirrels: Gray squirrels nest twice a year —in late winter and summer. Baby squirrels found on the ground are generally not orphans —they just need to find their mothers. If it's not injured, an infant squirrel (that is, without a fluffed-out tail indicating greater age) needs to be guided back to its mother. An AWLA Animal Control Officer can help do this.
Rabbits: Eastern Cottontail rabbits give birth during spring and summer, making nests in shallow depressions in the ground and covering them with grass; mother rabbits are frequently away from the nest. Rabbits set out on their own by three weeks of age and should be left alone unless they appear to be injured. Any rabbit smaller than a softball with eyes still closed should be placed back in the nest if possible (or assisted by AWLA). Residents should check lawns for rabbit nests before mowing to avoid injuring the young.
Opossums: Opossums breed from February through September. Babies remain in the mother's pouch until they are two months old and may ride on her back for a few more months, depending on her for food and shelter. Opossums at least eight inches long from the tip of the nose to the base of the tail are old enough to survive and do not need human assistance. Injured animals, especially infants found crawling next to their dead mother (often killed by cars) need help. AWLA can provide that.
Raccoons: Most raccoons in Virginia are born in April and May and stay in nests in tree branches until they are about five or six weeks old. Babies seen unattended are often waiting for their mother to return and move them to a new nest.
Deer: White-tailed deer fawns are born April through July. Fawns are left alone while their mothers go off to feed, returning at dawn and dusk. Fawns standing very close to roads can be moved to safer locations, but generally the best option is to leave the fawn alone.
In general, baby wild animals should not be given food or water because it can harm them if given improperly. Special care should be taken with species at higher risk for rabies, such as raccoons, skunks, foxes, bats and groundhogs. "We have to remember that some wildlife carry diseases that can be transmitted to humans; it's best to let the professionals handle animals when they are in trouble," Rees said.
The Animal Welfare League of Alexandria, celebrating its 70th anniversary, is an independent, local, 501(c)(3) non-profit organization. The AWLA is committed to ending animal homelessness, promoting animal welfare, and serving as an educational resource for the City of Alexandria community. More information is at AlexandriaAnimals.org.