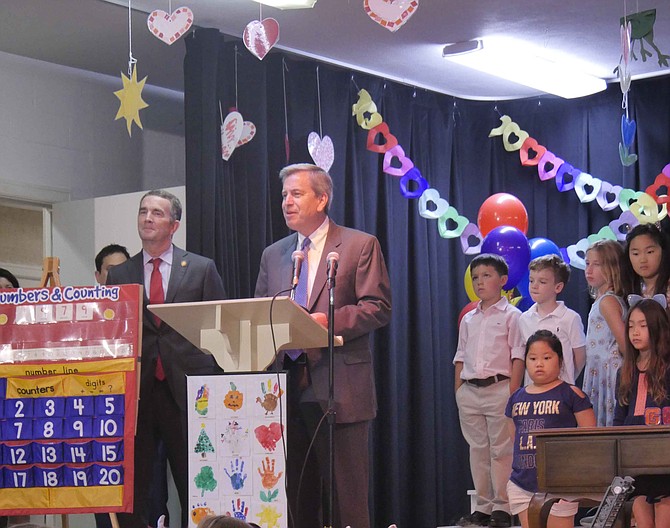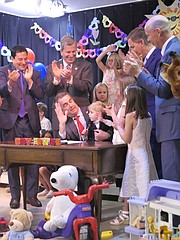 Jacob Warner Olson Timmons sat on the lap of Gov. Ralph Northam and grasped the Governor's large pen. They were at Walker Chapel United Methodist Church, where the governor would sign HB 1979 (Jacob's Law) on June 25. The ceremony was being held where Jacob attends Walker Chapel Preschool, and the room was full of children twirling in circles, bouncing on the bench, and tugging at their seersucker suits and floral spring dresses.
"Think back to what you were doing four years ago today. I know what Rick and I were doing," said Jay Timmons. "It was this exact day and almost this exact minute that Wisconsin reserve judge Sarah O'Brien granted us parental rights six weeks before our son Jacob was born. It made C.J. and Ellie very proud sisters. "
Jay Timmons and Rick Olson's two older daughters, 9-year-old, C.J., and 7-year-old, Ellie, had been born in California where Olson and Timmons had no problems getting parental rights. But events didn't go as expected when they attempted to get parental rights for Jacob in Wisconsin where they had found a surrogate mother and which had a Supreme Court ruling validating surrogacy contracts. After the initial favorable court ruling by reserve judge O'Brien, a court vacancy was filled by a judge who ignored the state law by "imposing his own personal views instead of upholding the law." A surrogacy expert at the time called it "the craziest thing I've ever heard of."
In an article for the Independent Journal in 2016, Timmons laid out the twists and turns of the 10 grueling months from the initial favorable court decision through the months of depositions, multiple hearings, and voluminous additional legal findings required by the new judge who Gov. Scott Walker had appointed to fill a vacancy on the court: "Judge Jim Troupis appeared to be on a mission. He set aside Judge O'Brien's order, more or less ignoring the state law, and the existing court precedent governing surrogacy."
Timmons explains an uncontested case that should have taken no more than two days was strung out over months as the judge extended the proceedings with no clear end in sight. "He came in for no reason with a disgraceful ruling and took our rights away, leaving Jacob an orphan and accusing us of human trafficking."
This set off what became a prolonged legal battle involving 11 lawyers, mounting legal fees, and, "the anxiety of losing Jacob was ripping our hearts out." After 10 months of legal battles, prejudice and insecurity, the battle for parental rights was won and the family survived. "But we are forever changed by the heartache and pain caused by the officers of the court."
Although Olson and Timmons had won the surrogacy battle in Wisconsin, they wouldn't have been able to pursue surrogacy in Virginia because the Virginia law prohibited same sex couples from the right of parentage. It also required that the child be related to one of the intended parents, which Jacob is not.
"Somewhere along the way we encountered Del. Rip Sullivan and he decided to attempt to change Virginia law, introducing HB 1979 in this year's General Assembly. We could have stopped," Timmons said, "but we could not accept that others would be treated the same way."
Olson explained, "We did this for others."
Timmons added, "Progress is only possible when you stand up for what is true."
Sullivan said, "I am a bit player but I knew I had to at least try. I knew there would be a lot of opposition, and there was, but we had a secret weapon. It was that little guy in the middle," he said pointing to Jacob. "The family was my exhibit A during testimony. I asked why would we not want a fabulous family like this in Virginia." Sullivan said all the Democrats and nearly half of the Republicans in the Virginia House voted for the bill. "This is how it is supposed to work — working together."
Before signing the bill, Northam said, "We say it takes a village. This is one of those ideas where you reach out to legislators. It doesn't happen in a vacuum." As he looked around the room at the children lined up behind him on the bleachers, sitting cross legged on the floor and perched on their parents' laps in the audience, Northam observed as a pediatrician that he has never seen this large a group of well behaved children. He concluded this legislation is a win for equality and for Virginia. "This is the 50th anniversary of the Virginia slogan "Virginia is for Lovers. We celebrate Virginia is for all lovers."
Timmons said, "When the Governor signs this today, it will be new ground for Virginia where people can start their own families. A faceless bureaucrat can't stand in the way telling them their child has no right to exist." He quoted John 1:5: "The light shines in the darkness, and the darkness did not overcome it."
Article corrected July 8, 2019 for name of Gov. Scott Walker and date of June 25.