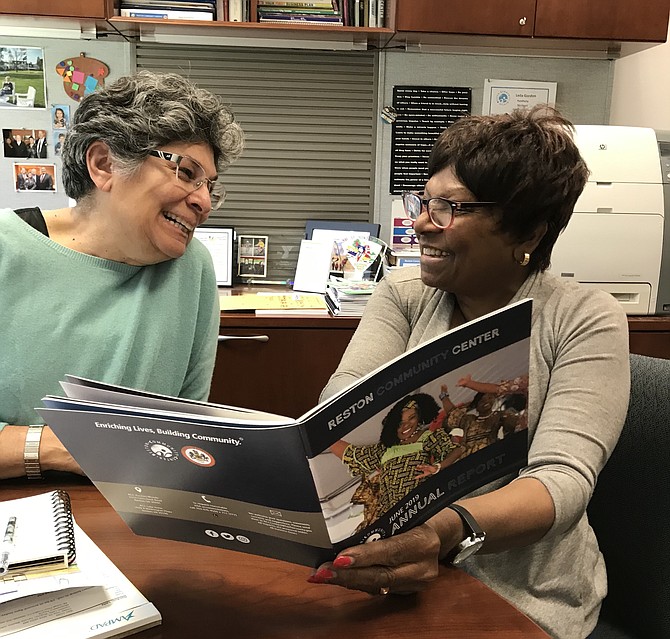 Robust commercial development in Reston is heading to an approximate 50/50 split with residential, unlike most other areas of Fairfax County, which have a much more imbalanced ratio, according to Leila Gordon, Executive Director, Reston Community Center. She considered this a win-win for all. "RCC treats employees based in Reston who may not live in Reston just like residents. This is a tangible benefit for the contribution that commercial property taxpayers make to the offering RCC has for the community. Essentially, those tax receipts (Small District 5 tax) subsidize the participation of Reston residents," Gordon said. She added that taxes paid by Small District 5 subsidize RCC offerings. "This enables us to provide a huge volume of free or low-cost programming to all in the Reston community. It also provides for the ongoing maintenance and updating of our two facilities," Gordon said.
A FEW DAYS before Reston Community Center (RCC) held its Annual Public Hearing on June 17 for its FY20/FY21 Programs and Budgets, RCC Executive Director Leila Gordon and Chairman of the RCC Board of Governors Beverly Cosham shared information about RCC's funding sources, significant budget and program highlights, and opportunities. RCC provides a wide range of arts, aquatics, enrichment and life-long learning programs and events between its two centers, RCC Hunters Woods at 2310 Colts Neck Road and RCC Lake Anne at 1609-A Washington Plaza. The agency also reaches out to new neighbors and under-served areas through offsite venues.
Gordon said the purpose of the public hearing was to allow the community an opportunity to weigh in on priorities. "People with focused input about those issues should provide comments within a couple of weeks in order to influence the process of finalizing the upcoming budget and its priorities," she said.
Gordon noted that while RCC is a Fairfax County agency and functions within the regulatory framework it offered, unlike General Fund agencies, RCC's local Board determines what RCC does for Reston. "It also limits RCC's service to the Reston community as a priority, and thus non-Reston participants must pay more for anything requiring a fee. In many cases for high-demand program offerings, they pay double what Reston patrons pay," said Gordon.
RCC is supported by two revenue streams, Small District No. 5 tax and user fees. The Fairfax County Board of Supervisors, the governing body of Fairfax County, established the Small District No. 5 Tax in the Hunter Mill District in 1975, to construct, operate and maintain a community center paid for by Reston property owners, both commercial and residential. Reston Community Centers (RCC) at Hunters Woods and Lake Anne are the result of this special tax for Small District No. 5.
"About 85 percent of our annual costs, the core costs, are underwritten by the tax revenue," Gordon explained, with the remaining 15 percent of RCC's costs coming from user fees. "Those are ticket sales, class registrations, activity fees and rental payments," said Gordon.
The tax revenue officially referred to as "Small District 5 tax," pays for a significant portion of RCC's costs. "It is an additional tax, above and beyond property taxes paid by residential and commercial property owners in Reston." Gordon stressed that the tax revenue, Small District 5, comes from "all of Reston, including the transit corridor, Reston Town Center and North Reston, 20194 located between Great Falls to east and Herndon to the west. It includes 20190 and 20191. Gordon said that unlike most of the County which has an imbalanced ratio between residential and commercial property owners," there is now roughly a 50/50 split in Reston with it having a higher percentage of commercial property owners than the County does.
Each year, there are approximately 200,000 participations in programs, rental uses, community events according to RCC.
Asked to detail significant items announced at the Public Hearing regarding budgets and programs, Gordon flagged two. "This year, the Board will increase the ceiling of the agency's (RCC's) Capital Reserve Account from $3 million to $3.5 million, because of the increase in the cost of Capital Projects." Gordon spoke about the current aquatics renovation at Hunters Woods, solar panels, theater projects and others, both capital improvement and maintenance.
CITING ANOTHER PRIORITY, Gordon said that the RCC Board planned to extend outreach and offsite programming, "to reach new residents and neighbors in the transit corridor and in neighborhoods where residents aren't able to access (RCC) services as robustly.
"An innovation fund is being established to take advantage of unique offsite or outreach opportunities that might occur throughout the fiscal year. That is approximately $40K in funding for that purpose," said Gordon.
According to RCC, looking ahead, in July the Board Finance Committee will review the year-end actuals, and those results would be posted after the full Board reviews them in early September. RCC looks to launch a committee survey, redesign its website, complete the Aquatics project and launch new programming, achieve CAPRA accreditation, explore a new performing arts venue while planning for capital reinvestment in the existing facility and build community awareness, pride and cohesion.
Materials about Reston Community Center's deliberations are available on the RCC website, said Cosham. Gordon noted that people with input should provide comments within a couple of weeks "to influence the process of finalizing the upcoming budget and its priorities." Send comments or statements to RCCContact@fairfaxcounty.gov