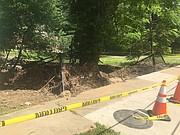 The on-line networks in Arlington are abuzz with unhappy comments about flood insurance, storm drain projects, building permits, and Arlington County responsiveness to flood damages. It wasn't just homes that were damaged: footbridges and fencing in parks, and stream banks themselves, were affected. As politics and putrid basements joust for priority, here are two sites that could be helpful to residents.
Arlington's Solid Waste Bureau is doing its best to manage the large piles of debris on the streets. According to Katie O'Brien of the Solid Waste Bureau, residential customers with storm-related debris and trash should be properly prepared for pickup on their designated collection day. For large and/or bulk household items, follow these guidelines: https://recycling.arlingtonva.us/residential/trash-recycling/.

If you live in Arlington and you suffered damage that won't be covered by insurance, it's in your interest to provide your data to the county:
www.crisistrack.com/public/arlingtonVA/citizenRequest.html.