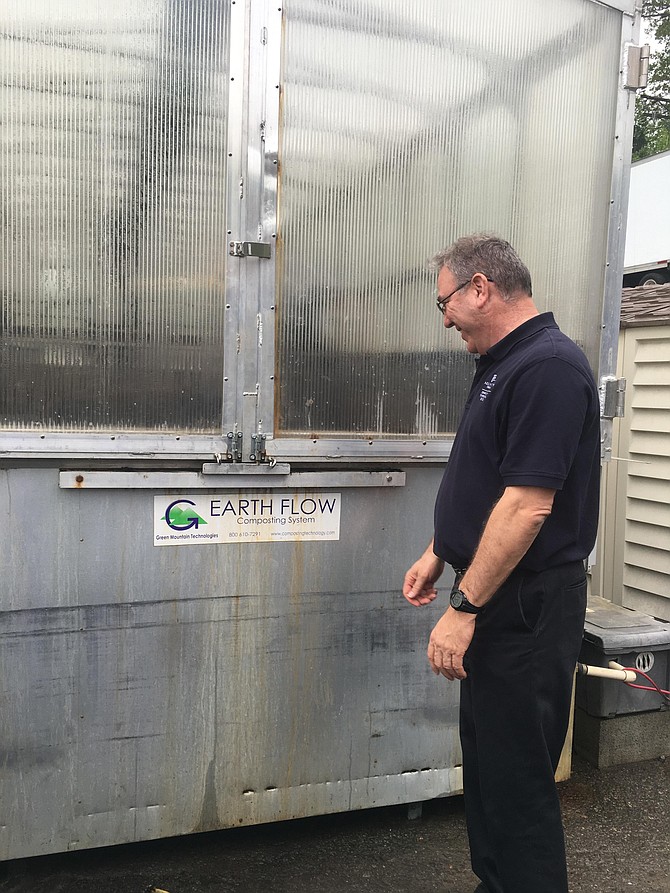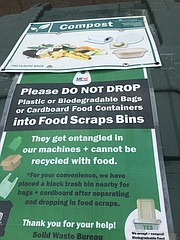 Erik Grabowksy's father tells people, "My son made me proud: he got a law degree …and became a trashman." Grabowsky, who is Arlington County's chief of the Solid Waste Bureau, had been with the Marine Corps in Iraq and Kosovo, was attending law school at Catholic University at night, and needed a day job, when he answered an ad for "Refuse Collection Supervisor."
He figured that as a captain in the Marines, he could supervise just about anything. When they offered him the job as bureau chief in 2003, his father said being a lawyer or a solid waste guy was about even: they were never going to run out of criminals …or trash.
"Almost half of what Arlington is putting in its blue recycling bins shouldn't be there," said Grabowsky. That isn't because people don't care, for the most part, it's because people "wish cycle," that is, they think that by putting material in the blue can that they "think" or "wish" could be recycled, that it will be. It won't. It raises the cost of recycling so much that it puts the whole system at risk, particularly now that China has stopped buying much of the U.S.'s recycling material.
Because Arlington uses a single-stream collection process, making recycling more convenient, residents must follow guidelines on what not to put in their blue carts. Right now, the Materials Recovery Facilities, or MRFs, ("MURFS") have to deal with materials that don't belong in the cart, sometimes damaging equipment that doesn't process plastic bags or small balls of aluminum foil.
On April 23, the County Board agreed to allow Arlington's Solid Waste Division to take glass out of the recycling cart. As of Aug. 1, 2019, glass bottles or jars cannot go in the blue cart. Glass can be taken to one of two separate collection facilities, one at 2700 South Taylor St. and one at Washington Boulevard and North Quincy Street, where the glass will be used for highway projects.
"It would be better to start keeping glass out of your blue cart now," said Grabowsky, "since it doesn't get recycled, it gets disposed of as trash." Some residents of Arlington have started neighborhood collection points so that one person per week takes the glass to the drop-off point.
Other residents have resisted the change to the glass recycling policy, but as Grabowsky explained to the County Board on April 23, "The issues with glass recycling in Arlington are many: limited glass processing facilities in the region, no local markets for material, the weight of glass, and the difficulty in processing it. Reducing glass increases the overall value of Arlington's recycling stream."
Furthermore, Grabowsky noted in his presentation to the County Board, in 2017 the county was receiving money back for recyclables. But in 2019, the county is paying $20.58 a ton. Since aluminum cans are worth $1,520 a ton, but glass is valued at -$12.50 a ton, removing glass will help keep recycling affordable.

Arlington residents don't have to stop using glass, but hardcore environmentalists should follow the "glass hierarchy" which according to Grabowsky means: reduce the amount of glass you buy, reuse glass containers when practical, recycle glass by taking it to one of the county's drop-off centers, or, as a last choice, place glass containers (minus their metal lids) in the trash.
"AND WE ARE a bargain for residents," said Grabowsky. "We are the least expensive and best solid waste division in the area," he said. "As of July 1, 2019 the price residents pay goes down to $306 per year; in contrast, our neighbors in Alexandria pay $411. It comes down to economics and what the residents want to pay: The recycling cart is $72 a ton to process; the trash cart is $43.16 a ton to process. Glass drop-off is $10 a ton to process. At the MRF, they commodity sort. Each one of those commodities has a price which changes in value from month to month. If the price the MRF gets back is less than $72, we have to pay. If it's more than $72, they pay us. We have to keep the cost of recycling down so that it doesn't become more economical to dispose of it as trash."
Grabowsky noted Arlington continues to try to improve and expand its recycling and composting. They want to set up a processing facility here; it's in process. But in the meantime, a visit to the website (https://recycling.arlingtonva.us) or the Earth Products Yard at 2700 South Taylor St. will leave the average Arlington resident believing he is well served by the county. He has options for things he cannot put in the blue cart: there is a battery drop-off at several fire stations throughout the county, there is an upcoming e-cycling event on May 4, a special collection can be arranged for pots and pans and other scrap metal, and that material will go to the scrap yard, not the landfill. Arlington also does curbside collection of electronic waste and old auto batteries.
What about the "not sure" items? Grabowsky said the debate on Starbucks cups continues: "The packaging industry wants to say their stuff is recyclable," and Washington,D.C. allows the cups and lids. But a lot of it depends on how the MRFs are able to sell the bales as a raw material once they process: China won't take paper now, but they will take pulp. Some places allow the cups, some places don't. So Grabowsky said, "Go ahead and put your coffee cups in recycling for now." Grabowsky also cautions that "mixed materials" need to be separated. Mixed plastic and metal is the most common: the metal top on a jar, or the metal cover on a yogurt cup. Take the foil top off and collect it until you have a ball that is bigger than four inches in diameter. Throw the plastic cup in without the top. Check the values on your items: recyclable items are labeled by numbers 1 through 7. If there is no number, it's not a recyclable item. Number 6 is not recyclable.
But when in doubt, Grabowsky says, look it up on the website, ask the Solid Waste Bureau, or put it in the trash. His pet peeve is when people put things in recycling just because it "makes them feel better." His other mantra is: "Do 10 things right rather than 20 that are half right." And, he begs Arlingtonians, "stop putting your recycling in garbage bags."
For more information, see: https://recycling.arlingtonva.us or download the app.
Not These
What not to "wish cycle" in the blue cart:
red plastic solo cups
plastic film of any kind - Saran wrap to binder sheets
garden hoses
plastic bags - these can go to the grocery store
mixed plastic/glass/metal: (glass grinder, plastic top)
pizza boxes
broken plates/ceramics
glass (take it to glass collection sites)
pots and pans - see metal collection
plastics #6 - clamshells, takeout containers, solo cups
flourescent lightbulbs (any light bulbs)
Styrofoam
Textiles (clothing, belts, purses)
Wood
Batteries - see battery recycling
electronics - see e-recycling
paper plates, paper towels, napkins, tissues
hangers - metal
food -see composting
used motor oil or antifreeze containers
plastic toothbrushes - trash
shredded paper (see list of events for shredding)
Recycling Events
Upcoming schedule of events for Arlington residents who recycle:
May 4
8 a.m.-4:30 p.m.
Free Paper Shredding & Inert Material Drop-Off
Earth Products Yard
May 4
8:30 a.m.-3 p.m.
E-CARE Spring 2019
1425 N Quincy St
June 1
8 a.m.-4:30 p.m.
Free Paper Shredding & Inert Material Drop-Off
Earth Products Yard
June 8
9 a.m.-3 p.m.
Rock-n-Recycle: Solid Waste Bureau's Open House
Arlington County Trades Center
July 6
8 a.m.-4:30 p.m.
Free Paper Shredding & Inert Material Drop-Off
Earth Products Yard
Aug. 3
8 a.m.-4:30 p.m.
Free Paper Shredding & Inert Material Drop-Off
Earth Products Yard
Sept. 7
8 a.m.-4:30 p.m.
Free Paper Shredding & Inert Material Drop-Off
Earth Products Yard
Oct. 5
8 a.m.-4:30 p.m.
Free Paper Shredding & Inert Material Drop-Off
Earth Products Yard
Nov 3
8 a.m.-4:30 p.m.
Free Paper Shredding & Inert Material Drop-Off
Earth Products Yard
Dec. 7
8 a.m.-4:30 p.m.
Free Paper Shredding & Inert Material Drop-Off
Earth Products Yard