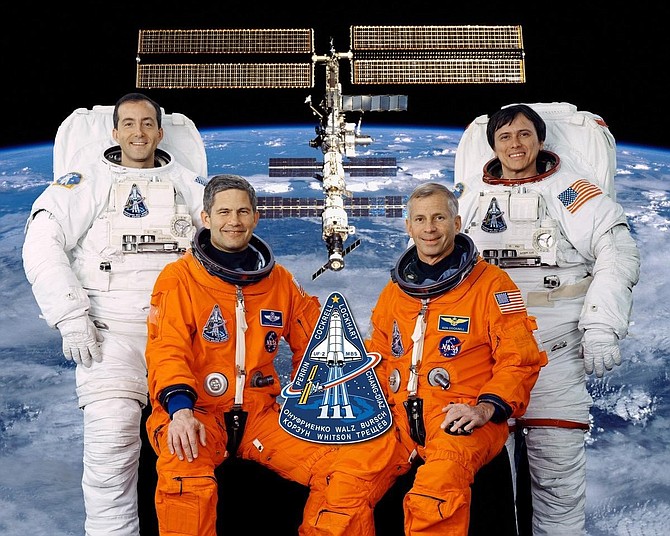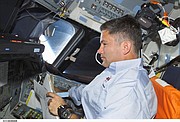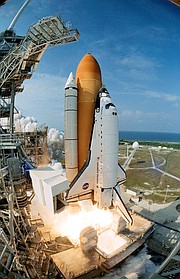 It was one small step taken 50 years ago. Around the world, eyes were collectively riveted to grainy pictures on a television screen as others gazed up at the sky in wonder. America had conquered the impossible: A man was on the moon.
"I remember that night vividly," said Paul Lockhart, a retired NASA astronaut who now works in Alexandria. "It was a clear night in Texas and I was outside with my friends thinking 'Wow! There is somebody up there about to step onto the moon.' It was very exciting."
Lockhart's fascination with space exploration began even earlier, when he watched the space launches of the early '60s.
"One of the few things that all the news networks covered at the time were the space launches," Lockhart said. "I was 5 or 6 and the idea of the unknown really captured my imagination. At the same time, I had an aunt who was a trailblazer in her own way — she was the first female CPA in the state of Texas and flew in open biplanes so she was a bit of a risk taker. She kept putting books on exploration, like Lewis and Clark, in front of me, so along with those early space flights I knew this was something I was interested in."
A native of Amarillo, Texas, Lockhart received a BA in mathematics from Texas Tech and a master's in Aerospace Engineering from the University of Texas at Austin. He was commissioned in the U.S. Air Force in 1981 and flew as a test pilot for the F-16 aircraft when he was selected as an astronaut candidate in 1996.
Lockhart's two space missions, STS-111 and STS-113, both in 2002, were missions to the International Space Station aboard the Space Shuttle Endeavour. He piloted the STS-113 mission in December of 2002, the last shuttle mission before the loss of the Space Shuttle Columbia and its crew the following February. The commander of that mission, Rick Husband, was a childhood friend.
"Rick was from my hometown and we knew each other in high school," Lockhart said. "Although we all know the risks, it was a hard loss and since I had just completed two shuttle missions, I felt the time was right to leave NASA and return to the Air Force."
Lockhart retired from the Air Force in 2007 and returned to NASA in an administrative position. He currently works as director of engineering for PEMDAS Technologies and Innovations, a woman-owned, service-disabled veteran-owned small business.
As the 50th anniversary of the first moon landing approaches on July 20, Lockhart believes we still have more to learn from space exploration.
"I think space exploration is vital to who we are as a nation," said Lockhart, noting that the last moon landing took place in 1972. "Space technology is critical and has such wide-ranging consequences. Every time you use your phone, every time you watch a satellite feed, every time someone uses an ATM or is rushed to the hospital in an ambulance — much of that is traceable back to the sciences that NASA developed."
While many are focused on putting a man on Mars, Lockhart believes there is more to learn before that can happen.
"I believe the right thing to do is return to the moon," Lockhart said. "While the technology is there, there is still so much that we don't know about deep space flight. We need to develop the capabilities and resources that will allow us to eventually reach Mars but more importantly return safely."
As America celebrates the imagination, dedication and courage that united the nation and conquered what had once seemed impossible, Lockhart added without any hesitation, "The decision to do this program took the same resolve and willingness to assume a high level of risk that our forefathers did when they signed the Declaration of Independence in 1776 and again in 1944 when America and its allies executed Operation Overlord: D-Day."
Lockhart credits the Apollo program as one of America's greatest examples of risk undertaking.
"We commenced a project that was technically very difficult, fraught with uncertainty and outcome and achieved remarkable success within a very ambitious timetable set by President Kennedy," Lockhart said. "It was truly a national effort as there were tens of thousands of Americans working on the project, either for the government or at major corporations and even small mom and pop businesses."
And for Lockhart, July 20, 1969, captured everything a young boy would be interested in.
"I wasn't sure how I would get there, but my path to NASA was about trying to do something significant," Lockhart said. "I believed then and believe now that NASA is a part of our national character. It is recognized and respected around the world and represents the best of what America is."