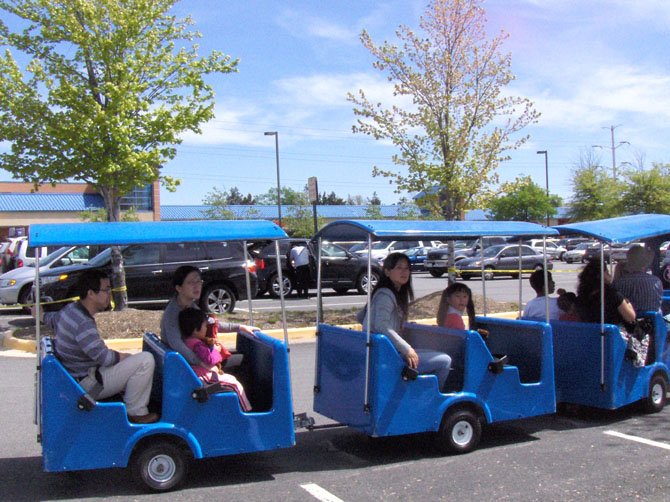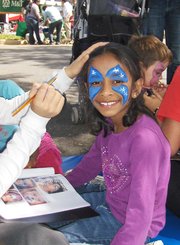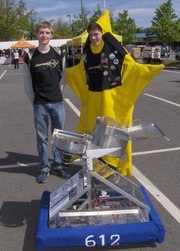 Chantilly — Fun for the whole family is planned for the third annual Chantilly Day celebration, Saturday, May 17, at the Sully Place Shopping Center, off Route 50 West in Chantilly. There'll be two U.S. astronauts, live music and dancing, food and children's activities.
The festival runs from 11 a.m.-5 p.m., rain or shine, in the Kmart and Babies R Us parking lots. The day's events will include onstage performances by the Chantilly High Jazz Ensemble and Latin Dance Club, School of Rock Centreville, a pet adoption, trackless train, robotics demonstration, business expo and awards ceremony.
"We have even more and varied activities than last year, so we want people to come out and support everything Chantilly," said event Co-Chairman Carl Brown, assistant general manager of Staybridge Suites Chantilly. "Help celebrate our community as the Air and Space Capital of Virginia."
The other co-chair, Mark Beeson, owner of 110RPM, a graphic-design and marketing company, is also looking forward to Chantilly Day. "It's a great event, mixing businesses, music and fun with a Taste of Chantilly," he said. "People can learn about the businesses in their area, enjoy the entertainment and eat some great food."
The Chantilly-Centreville Chamber of Commerce (an offshoot of the Dulles Regional Chamber of Commerce), in partnership with the Westfields Business Owners Association, is putting on the event. Host sponsor is the shopping-center owner, Beatty Management Co.
Dulles Chamber President Eileen Fulton has been involved in the festival since it first began. "We realized there was a void in celebrating the businesses in Chantilly and, wearing our community hat, we decided to address that — and that's how Chantilly Day was born," she said.
"I think we have a wonderful, cross-representation of our community, including our restaurants, performing arts, children and schools," she continued. "Chantilly Day is meant to create a sense of community and to promote living with purpose, and we're very excited about it."
Furthermore, added Brown, "It's also Armed Forces Day so, in celebration, NJVC has agreed to be the military-appreciation sponsor. It'll sponsor the armed forces recruiting booths, as well as Our Military Kids, a charity that assists the children of wounded warriors."


Astronauts to Appear
Guests of honor at this year's event will be Paul Lockhart and Daniel Tani, two former NASA astronauts from the local community. They'll participate in the opening ceremonies and will be on hand to meet festival attendees and sign autographs. They'll discuss life in space and will meet the public and answer questions at a special tent next to the space-shuttle moonbounce in the Babies R Us lot. Read more about Paul Lockhart and Daniel Tani below.


Dignitaries/Guests of Honor
The following individuals will be the guests of honor at the Chantilly Day opening ceremonies:
Former NASA Astronaut Paul Lockhart
Former NASA Astronaut Daniel Tani
Sen. Dave Marsden (D-37)
Del. Tom Rust (R-86)
Del. Jim LeMunyon (R-67)
Fairfax County Board of Supervisors Chairman Sharon Bulova
Fairfax County Supervisors Michael R. Frey (R-Sully) and John W. Foust (D-Dranesville).
Opening and Awards
Opening ceremonies and the presentation of awards will kick off the day at 11 a.m. at the stage in the Kmart parking lot. Children's activities, rides and the Taste of Chantilly will begin at 11:15 a.m., and the stage entertainment will start at 11:20 a.m.
The Chantilly Academy's Air Force JROTC Color Guard will present the colors at 11 a.m., followed by the singing of the National Anthem. Fulton will recognize and introduce the local dignitaries and guests. Then the Chantilly-Centreville Chamber will give out business, nonprofit, partnership and citizen of the year awards.
It will also present several $500 STEM scholarships (science, technology, engineering and math) to graduating seniors at Chantilly, Centreville, Mountain View and Westfield high schools and The Chantilly Academy – a Governor's STEM Academy. The money for these scholarships was raised at the Chamber's annual Casino Royale event in January and was made possible by sponsors Systems Furniture Gallery and Telos.


Children's Activities
The children's activities are free; they're provided by the Chantilly-Centreville Chamber and its sponsors and are being coordinated by the Chantilly Youth Association (CYA). They'll be in the Kmart lot, closer to the store than last year.
Besides returning rides/attractions such as the rock wall, moonbounces and trackless train, CYA is planning an assortment of sports-themed activities. These will include an obstacle course with opportunities to engage in aspects of sports such as football, basketball and baseball.
Also in that area, members of Chantilly High's Hispanic Leadership Club will be doing face painting, and there'll be children's entertainment at a stage there.


Food
The Taste of Chantilly food area will be in the Kmart lot. Some of the vendors and their offerings will include: Café Rio, crispy tortilla chips topped with handmade pico de gallo, salsa fresca and chile con queso; Chick-fil-A, chicken sandwiches, chocolate chunk cookies, potato chips and beverages;
Similans Thai Eatery, chicken fried rice, chicken Pad Thai, chicken satay, mango with sticky rice and Thai tea; Hooters, chicken wings and barbecue; and Bungalow Billiards, pulled pork and chicken sliders.


Stage Entertainment Schedule
Stage Entertainment Schedule*
11 a.m. - Opening Ceremonies with Chantilly Academy Air Force Junior ROTC
11:45 a.m. - Wholesome Campus Thunderbirds Competitive Jump Rope Team
12 noon - Creative Dance Center
12:45 p.m. - Chantilly High School Jazz Ensemble
1:30 p.m. - Chantilly High School Latin Dance Club
2 p.m. - School of Rock Centreville
2:45 p.m. - Chantilly High School Hip Hop Dance Club
3:15 p.m. - The Hummingbyrds
4:20 p.m. - Retro (Barbershop) Quartet
4:50 p.m. - Chantilly Academy Air Force Junior ROTC
Schedule subject to change.
Entertainment
There'll be a variety of entertainment for all ages, including the Wholesome Campus Thunderbirds Competitive Jump Rope Team and performances by Creative Dance Center, Chantilly High Jazz Ensemble,
Chantilly High Latin Dance Club, School of Rock Centreville and the Chantilly High Hip Hop Dance Club.
"Traditionally, we've had bands play during the day," said Beeson. "But this year, we're mixing it up with more representation from high-school and middle-school kids and more dance groups than in the past. It's more family-oriented that way."
Also performing will be the Hummingbyrds, an acoustic duo playing alt-country music; the Retro Quartet, singing 1930s and '40s music standards in barbershop style; and the Chantilly Academy's Air Force Junior ROTC.


Other Attractions
A pet adoption is being sponsored by Virginia Heritage Bank, with pets provided by A Forever Home Rescue Foundation; this activity will be in the Babies R Us lot, next to the moonbounce. People will be able to adopt pets on the spot and take them home.
Various Chantilly High clubs and classes will also be participating in the day's events. Always a big hit is the Chantilly Academy's Robotics Club which will do robotics demonstrations for the crowd. Academy students will do a carpentry demonstration, as well. And Fairfax One, the Fairfax County police helicopter, will be on display in the Babies R Us lot.


Chantilly Day Sponsors
Westfields Business Owners Association: Presenting Sponsor
Beatty Management Company: Host Sponsor
PS Business Parks: Stage Sponsor
NJVC, LLC: Military Appreciation Sponsor
Kaiser Permanente: Business Expo Sponsor
Chantilly Youth Association ''CYA'': Kid Zone Sponsor
Inova Fair Oaks Hospital: Chantilly High Sponsor
Cox Business: Welcome Booth Sponsor
F3 Tactical: Rock Wall Sponsor
Sandy Spring Bank – Chantilly: Business Awards Sponsor
Western Federal Credit Union: Community Awards Sponsor
110RPM: Design Sponsor
Blue Collar Objects: Taste of Chantilly Sponsor
The Goddard School: Trackless Train Sponsor
Virginia Heritage Bank: Pet Adoption Sponsor
The Connection Newspapers: Media Sponsor
Gold Sponsors: Staybridge Suites Chantilly, Comfort Suites Chantilly, and Fantasy World Entertainment
Silver Sponsors: Fairfax County Times, Burke & Herbert Bank, United Bank – Chantilly, and Kwon's Champion School
Business Expo
More than 90 local businesses are participating in the Chantilly Day Business Expo. It gives area residents a chance to see what's available to them in their community. Businesses range from finance to health, home and auto repair. Many will be offering giveaways and prizes to people who visit their tables.


Donate Food to WFCM
This year's Chantilly Day includes a food drive for Western Fairfax Christian Ministries (WFCM). This Chantilly-based, nonprofit provides food, clothing and emergency financial aid to local families people in need.
But it needs help restocking its food pantry to gear up for summer when the need is greatest. That's when many children who depend on free and reduced-priced breakfasts and lunches in school no longer have food to eat.
So people attending Chantilly Day are asked to bring with them nonperishable food to donate to WFCM. For each food item they contribute, they'll receive a raffle ticket for prizes, so those bringing the most items to the table outside the Kmart entrance will have the best chance to win.


Parking
Free, offsite parking with shuttle service to and from the event will be offered. Staybridge Suites, at 3860 Centerview Drive, is providing the free shuttle buses; service will be available every 15 minutes from 10:30 a.m.-5 p.m. So visitors are encouraged to use the nearby parking area at 3900 Skyhawk Drive (off Centreville Road). Signs will mark the parking lot. People are also welcome to walk the quarter mile or so from the lot to the event.


Meet the Astronauts
Astronaut Paul Lockhart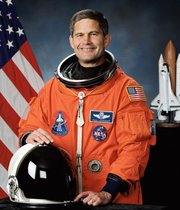 A graduate of both the Air Force ROTC and Air Force Squadron Officer School, Paul Lockhart has received numerous military medals, ribbons, recognitions and commendations. He was commissioned a 2nd lieutenant in the USAF in 1981. Upon graduation from pilot training in 1983, he was assigned to the 49th Fighter Interceptor Squadron flying T-33s.
In 1986, he transitioned to the F-4 and flew operationally with U.S. Air Forces, Europe, in Germany from 1987-1990 as an instructor pilot for F-4 and F-16 aircrew in the tactics of surface-to-air missile suppression.
In 1991, Lockhart reported to Edwards Air Force Base for year-long training as a test pilot in high-performance military aircraft. Upon graduation, he was assigned to the Test Wing at the Air Force Developmental Test Center at Eglin Air Force Base, Fla., performing weapons testing for the F-16 aircraft.
During his tour at Eglin, he was selected as the Operations Officer for the 39th Flight Test Squadron. Much of America's state-of-the-art weaponry was first tested under his guidance there.
Lockhart has logged more than 5,000 hours in more than 30 different aircraft and the Space Shuttle. A veteran of two space flights, STS-111 (June 2002) and STS-113 (November 2002), he's spent 26 days, 39 minutes and 82 seconds in space. STS-111 was the second Space Shuttle mission dedicated to delivering research equipment to the space platform. STS-113 was the 16th Shuttle mission to visit the International Space Station.
After retiring from the Air Force in March 2007, Lockhart worked at NASA headquarters in Washington, D.C., and now works in the private sector as the senior vice president for QinetiQ North America. It supports defense, security and intelligence organizations, as well as federal civilian agencies, such as the State Department, General Services Administration and NASA.


Astronaut Daniel Tani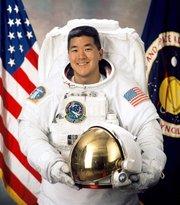 Dan Tani obtained a master of science degree in mechanical engineering from MIT. After working on the STS-51 mission in September 1993, he became launch operations manager for the Pegasus program at Orbital Sciences Corporation in Dulles.
In that capacity, he headed the development of procedures and constraints for the launching of the Pegasus unmanned rocket. He also trained and led the team of engineers who worked in the launch and control room.
Selected as an astronaut candidate by NASA in April 1996, Tani completed two years of training and evaluation and qualified for flight assignment as a mission specialist in 1998. In 2002, he was a crew member on the Aquarius undersea research habitat as part of NASA's Extreme Environment Mission Operations. Tani then trained for and qualified as the backup Flight Engineer for Expedition 11.
After his flight on Expedition 16, he became branch chief of the International Space Station branch. He also served as a capsule communicator for the International Space Station and for Expedition 26.
Tani flew on STS-108 Endeavour (Dec. 5-17, 2001), the 12th shuttle flight to visit the International Space Station. Endeavour's crew delivered the Expedition 4 crew and returned the Expedition 3 crew to Earth. The crew unloaded more than three tons of supplies and science experiments, and Tani performed a spacewalk. STS-108 did 185 Earth orbits, traveling 4.8 million miles in 283 hours, 36 minutes, including a spacewalk lasting 4 hours, 12 minutes.
On his second spaceflight, Tani served as Expedition-16 flight engineer and spent 120 days living and working aboard the International Space Station. While there, he performed numerous robotic operations in support of the installation, logging 34 hours, 59 minutes during five spacewalks. He left NASA in August 2012 to become vice president of Mission and Cargo Operations in Orbital Sciences Corp.'s Advanced Programs Group.