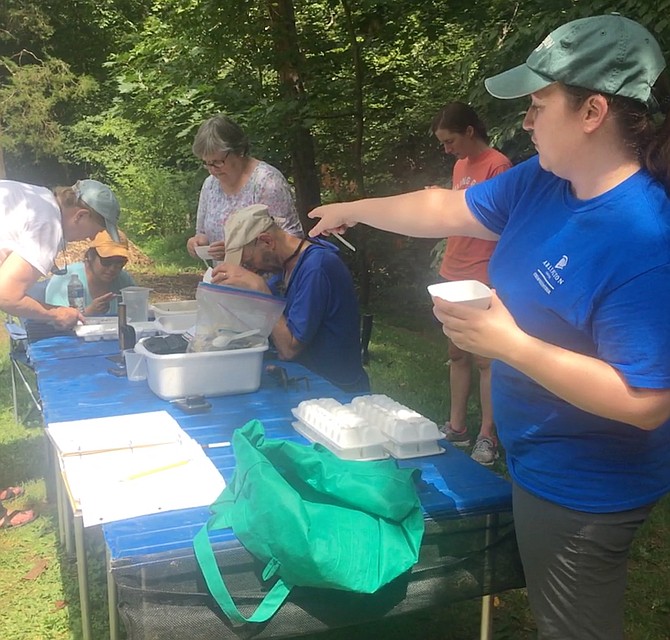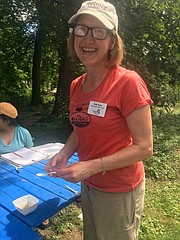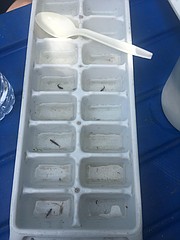 A day or two after the big flood in Arlington, a group of about eight volunteers fished through Gulf Branch to see how the invertebrates were doing. To do this, they coaxed the little squiggly creatures into bags and then put them in ice cube trays to get a better look. The upshot? The floods had wreaked havoc on the stream, so it was hard to say this time, but overall the trend has been steady. In other words, neither getting better nor getting worse.
"That is not to say that the stream is healthy and therefore not changing," said one team member: "Rather, we would like to see an increase in the population since it is not as high as it should be."
These volunteers are all Arlington County residents who go through training to be able to collect and identify macroinvertebrates who live in local streams. They come every season to the same sites in Arlington to count how many of the critters they can find; stream health is indicated by the numbers of macroinvertebrates they find.
Asked about whether the streams in Arlington are OK for dogs to play in and drink from, the team indicated they were not qualified to address that question. However, the signs along Four Mile Run dog park indicate local streams are full of e-coli bacteria and runoff which may contain harmful chemicals, glass, and other pollutants. Several dog owners appeared to be increasing the chance of e-coli in the stream by jettisoning their poop bags into the stream bank instead of using trash cans.
For more information or to volunteer to monitor streams, see: https://environment.arlingtonva.us/news-macroinvertebrate-monitors/