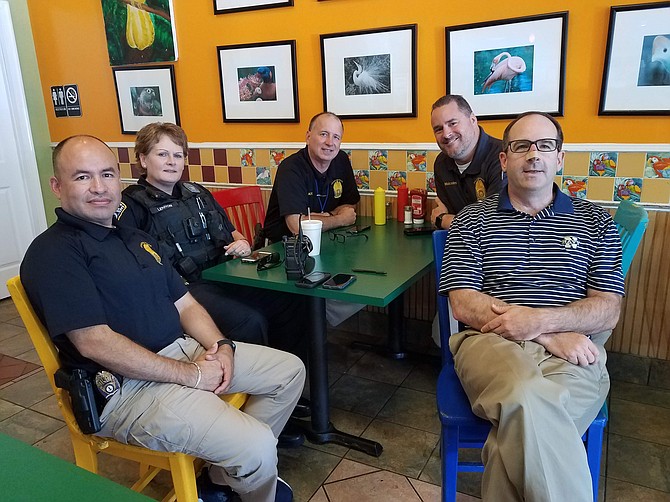 Mike Cantwell, president of Yorktown Civic Association, met with four Arlington County Police Department (ACPD) officers on Friday, July 12 to discuss neighborhood concerns about a recent increase in car larceny in North Arlington. Statistics released by ACPD on July 5 indicated 354 reported larceny from vehicular and auto tampering in the last three months.
Arlington crime statistics reflect 189 larcenies in the incident comparison for the last 60 days in 2019 compared to 81 in the same time period in 2018, an increase of 133 percent.
Cantwell said, "It was the right thing to do to meet face to face talking this out with the increased break ins." He said he had laid into them the week before by telling the police that the first word out of their mouth shouldn't be to blame the victim for unlocked cars.
Cantwell continued, "We had a good dialogue. I was impressed they sent four officers for the meeting. They told me what they are doing and encouraged residents to do the right thing."
ACPD recently announced "9 P.M. Routine," a new public safety campaign "aimed at promoting crime prevention strategies to reduce and prevent thefts from vehicles and homes."
Signs have been put up around affected neighborhoods reminding citizens to lock their cars and homes nightly at 9 p.m.
"9 P.M. Routine" advises citizens to set up a reminder at 9 p.m. each evening to ensure that vehicles, residences, garages, windows, gates and sheds have been locked; security devices have been activated; and valuables have been brought inside. According to Ashley Savage, media contact for ACPD, the ACPD data show the majority of reports involve vehicles that were left unlocked.
A barrage of citizen concern has been shared on Nextdoor neighborhood email exchange, which reaches over 15,000 addresses. Bob Grammar from the Yorktown neighborhood says that twice in the last three years, that he knows of, a group came by and tried to break into his cars.
He says the neighbors told him it is not a new problem and happens occasionally. It's just a nuisance. But there was an increase in frequency and "in May it just blew up."
He wondered if this was just anecdotal. "And this is what prompted me to go back and do the maps." Grammar used the ACPD Nexus-Lexus database to compare reported larceny and stolen cars in 2018-2019. "It blew me away when I looked at it, especially north of Lee Highway."
Neighbors have reported individual stories ranging from unlocked cars, to multiple car break ins of the family's locked vehicles to several who captured the burglary on video, to suspicion that their cars were accessed through devices that can read keyless entry fobs.
Cantwell said the policy officers told him, "It is virtually impossible that these people are using electronic fobs. You would need a sophisticated ring to do this." Cantwell said the officers indicated it was not impossible but it would have to be an expensive device. Savage added the reports of key fob access are "not consistent with evidence located during investigations."
Grammar says there is no evidence that there has been key fob access in the Arlington reports but "based on what I've read and online videos it's not that sophisticated and the devices only cost $100-150." Grammar says a common theme in the stories is to be careful because these electronics are available. Some of the neighbors suggest putting your key fob in a coffee can, aluminum foil or the freezer. Others say it hasn't worked for them.
A Tech Digest report indicates Ford is introducing new security technology to its Fiesta and Focus models which prevents illegal hacking of the keyless entry fobs when not in use. The report indicates, "Keyless entry fobs of all makes of cars have been targeted by thieves with relay box equipment used to extend the signal from fobs in homes to unlock and start vehicles parked outside."
Simon Hurr, Ford security specialist, said, "The online availability of devices which have no place in public hands has long been a problem for Ford, our industry and our crime fighters."
Meanwhile residents continue to report:
"My car was broken into in our driveway last night. Belongings in the glove compartment were scattered over the floor and the battery was drained."
"Our car was locked and the alarm went off at 2:30 a.m. but by the time I got there, the burglar had left."
"I forgot to lock it. Won't do that again."
"I suspect there is just one remedy. Lock Your Doors.''