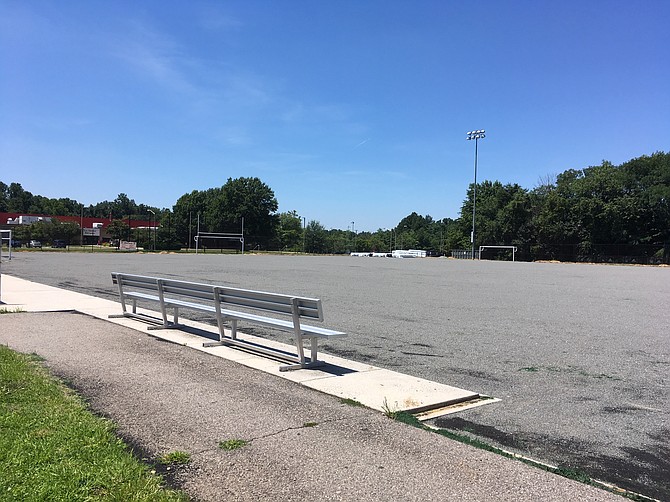 The soccer facilities at Lee District park are getting a field makeover, replacing the synthetic turf on the upper field as part of the county's 10-year resurfacing program. The new surface will allow the leagues to extend their schedules and have consistent playing conditions, said Judy Pedersen, the Public Information Officer at the Fairfax County Park Authority. The rectangular fields support five different sports including soccer, men's and women's lacrosse, football and field hockey.
Even though the field is used for other sports as well, the Lee-Mount Vernon Soccer Club is looking forward to using the resurfaced field, which should be ready for games in early September. "We are very excited about the work that is being done at Lee District Park," said Jennifer Deems, the director of marketing and public relations at the soccer club. "Our Travel Soccer program has started summer training, and will begin league play the end of August," she said. There also is soccer going on throughout the summer in one way or another.
"On Friday, July 26 we are even hosting a free pick up soccer game for ages kindergarten through eighth grade under the supervision of our professional licensed coaches," she said.
The synthetic turf field at Lee District has been in use for 10 years, Pederson said. The synthetic turf was at the end of its scheduled 10-year lifecycle and the replacement cost is $413,000. The total annual operating cost of a synthetic turf field, including maintenance and utility costs, is comparable to a lighted and irrigated natural grass field because of the nature of year-round use, Pederson said.
There are 90 synthetic fields in the county, including high school fields.
At Lee-Mount Vernon Sports Club, Fall Rec Soccer Registration is currently underway, and they will be hosting more than 1,600 recreational soccer players and sponsoring more than 400 financial assistant families.
Currently, LMVSC is providing summer basketball for the second summer in a row and is happy with the growth experienced in that youth sports program. These sporting activities are a good way to occupy the long summer days.
"I've heard from some of our players that they practice every day even if their team isn't practicing," she said.