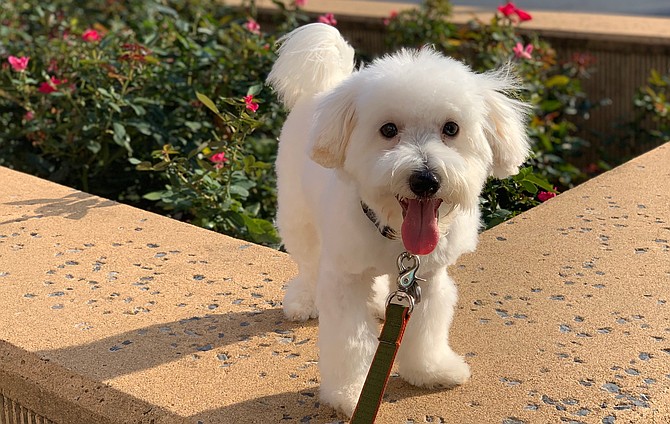 When dog breeder Alice Whittington's clients pick up their new puppies and journey back to their homes, she has specific guidelines that she insists the new pet owners follow.
"Traveling can cause dogs, especially young puppies, to become distressed, she said. "I ask that everyone who buys one of my puppies travel with the pup in the cabin under the seat. Each airline has their own set of rules for traveling with pets, so you have to check before you buy your ticket. If they're spending the night, they should also check to make sure the hotel is pet friendly."
August is one of the biggest travel months of the year, as families pack in one last vacation before the bliss of summer comes to an end. For those who are traveling with pets, part of the pre-vacation prep includes planning for the four-legged friend that will be in tow.
"Before people decide whether or not they should bring along their pet on vacation, they should consider the animal's temperament," said Tammy Harlow, a dog trainer in Reston. "Cats almost always are better off when left in their own home. For dogs, you have to consider whether or not they get carsick; if they're comfortable being left alone. Do they bark a lot? Are they comfortable with strangers and other dogs?"
When a vacation includes a hotel stay, in addition to making sure the hotel is pet-friendly, owners should ask about special pet policies. They should also create a comfortable space for their furry companions, says Whittington. "Bring along your dog's favorite toys, food bowl and blankets or bed," she said. "That will make the new environment less jarring for the pet. If your dog tends to bark at noises, request a room in one of the quieter parts of the hotel and definitely away from the elevator."
For pets who experience anxiety while traveling, a veterinarian is the best source of information on calming. "I'm always in favor of trying natural remedies before medication," said Jim Navolio, a retired veterinarian who now lives in Bethesda. "I've seen owners successfully use aroma therapy, meditation music, DAP (Dog Appeasing Pheromone) collars, and even CBD (Cannabidiol) oil."
For those traveling by plane, Navolio discourages using medication if the pet is traveling in the cargo section. "Some medications can interfere with the animal's ability to control their own body temperature," he said. "That is extremely dangerous. Likewise, if you think your dog, especially a small, short-haired dog, might get cold in a hotel room, on a plane or in a place where you can't control the temperature, pack a sweater."
If a vacation calls for car travel, Harlow advises pet owners to take several precautions. "Cats should always be kept in a carrier. Dogs should be kept in a car seat or on a seat mat for larger breeds and be tethered to the seat. It's best to let pets ride in the back seat next to a family member."
Advanced planning is a must, continued Harlow. "Don't wait until the day before you leave to think about all the supplies that you'll need for your pet or to learn about airline regulations and hotel policies."