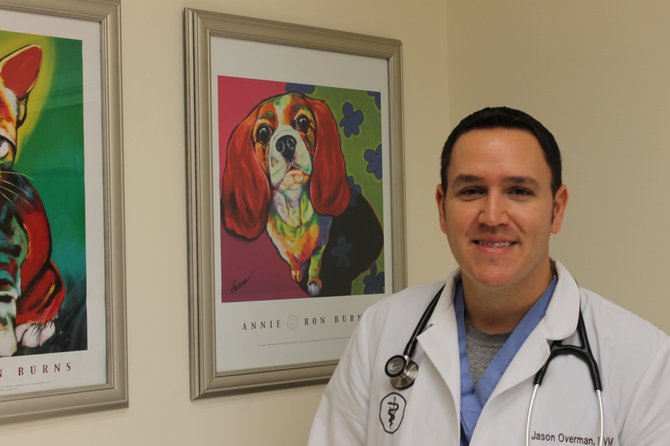 Even for those pet lovers who pay close attention to the health and well-being of their pets, it's not uncommon for owners to be unaware of when their pet is reaching the point of becoming a senior.
Because the lifespan of pets can vary, it's important to do extensive research, and to take pets to the vet at least once a year.
Generally, smaller dogs are considered seniors when they reach ages seven or eight, and larger dogs are considered seniors around age five or six, said Jason Overman, veterinarian and medical director at Springfield Animal Hospital.
"For dogs, it can vary depending on the breed," he said.
Common health problems for older dogs include arthritis, dental disease, kidney problems, cancer, heart problems and more.
"It's important to look out for a change in appetite and water consumption, and generally any behavior they may be doing that they typically haven't before," Overman said.
Dental diseases are common among dogs, so it's important for owners to start using dental products on their dogs as soon as possible.
"Most people don't really think about what's going on in their dog's mouth. They really don't ever look at it until we show them here at the vet. They're usually very surprised," Overman said.
Cats are generally considered seniors around age 7. Common problems in older cats include hyperthyroidism, kidney disease and arthritis.
According to Overman, there are several things pet owners can do to help assure that their older pets are comfortable.
"For dogs, it's important to put down rugs on any hardwood floor areas, and on stairs, putting down runners is helpful," Overman said.
For cats, comfortable and heated beds can be helpful. Both dogs and cats appreciate a high-quality bed, Overman said.
Overman also advises pet owners to avoid giving their pets any over the counter medications without first consulting a vet, and to avoid any human medications.
"Cats can be very sensitive to these and it can lead to other problems," Overman said.
Pet insurance is also crucial for pets, as it can be more difficult to get insurance when pets become older. Fish oil supplements are also helpful for pets as they get older.
Nutrition can help dogs and cats live healthier lives, said Nikki Logan, manager at natural pet food store Felix & Oscar in Springfield.
"A lot of senior pets are overweight. Foods that are higher in fiber and have less artificial ingredients can help keep a pet's weight to a minimum," Logan said.
Matt O'Leary, a longtime pet owner and employee at Felix & Oscar, stresses that when it comes to caring for an older pet, knowledge is power.
"The more you know about the food, the better off your pet will be. A lot of it has to do with genetics, but making sure the pet is eating well is a great way to prolong a happy and healthy life," he said.
Overman advises pet owners to visit websites like the American Animal Hospital Association at www.aahanet.org to read more about caring for pets at every age.