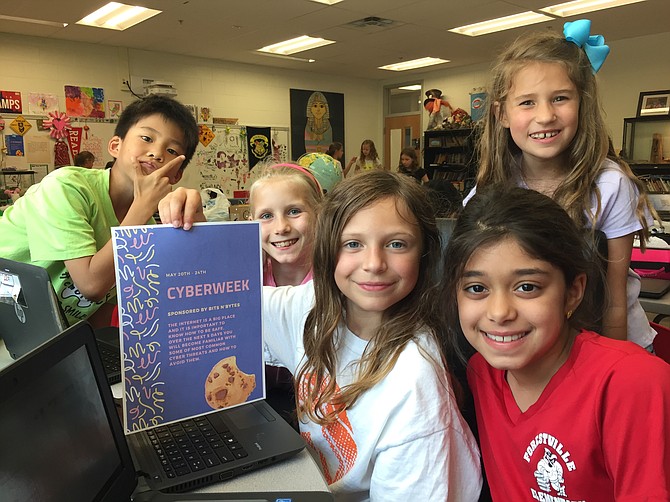 Samina Mondal, a senior at Langley High School and a fellow with the Bits N'Bytes Cybersecurity, in the week of May 20-24 participated in Langley Leap at Forestville Elementary in Jeffrey LeLoup's third grade class: Mr. LeLoup is her former teacher.
"I took the time to teach the students a new cybersecurity principle each day in a week I advertised as Cyberweek. They were absolutely amazed at how they could become safer on the internet and are now able to identify scams, phishing messages, and understand how to make a secure password. These are skills for them to carry on throughout their years and at only 8 and 9 years old, they are already ahead of the game," Samina said.
The Palo Alto Research Center reports that, by 2019, the demand for cybersecurity professionals will increase to approximately 6 million globally. With the country under numerous cyber attacks every year, it is crucial that children are equipped with cyber safety skills at a young age and use them toward helping ensure security in our schools, community, and nation.
Bits N' Bytes Cybersecurity Education is a nonprofit dedicated to educating and equipping citizens with the cybersecurity skills needed to help prevent future cyber-attacks in an age of real-time connectivity and con-artistry. Through interactive modules, animated videos, research-based blogs, social media advocacy, and engaging workshops delivered to community organizations, BNBCE spreads awareness about complex issues including password discipline, social engineering, privacy, digital identity, cloud security, and more; all in order to foster a generation of educated and empowered digital masters.

"At my time at Langley, I started my county's first Girls Who Code club, where I served as the President and Student Ambassador. I had an amazing time leading girls from grades 9-12 in the fundamentals of coding in Python and HTML/CSS. My active participation in this club has lead me to win the National Center for Women in Technology's (NCWIT) Virginia Affiliate award two years in a row. This organization has allowed me to provide funding for my club's activities, which include technology, resources, and even a schoolwide event with FCPS School Board Member Ryan McElveen. One of the best parts of my involvement in the Girls Who Code club has been my exposure to women in the field of technology. Hearing their stories and learning about their careers has been incredibly inspirational and I count many of them as role models. Education is key to opening up the opportunities I am interested in and next year I plan to take a gap year to start a long-term internship with the US Naval Research Laboratory. Afterwards, I plan to pursue a degree in IT/Cybersecurity as technology will evolve to meet the needs of our changing society, and I know I want to be part of that change, creating the solutions to problems we have yet to encounter," said Samina.